Donald Trump Says Media Ignores How He Has Paid 'Many Millions' in Federal Taxes
President Donald Trump has taken a swipe at the media over the controversy surrounding his tax arrangements, accusing The New York Times of not reporting the "many millions" of dollars he pays in federal taxes.
The president has denied the Times' report in September that he had only paid $750 in income taxes for the years 2016 and 2017. The newspaper had also reported that Trump's tax returns showed despite reporting hundreds of millions of dollars in income, he effectively erased his tax bill by reporting heavy losses.
Other revelations by the publication were that in 10 of the previous 15 years, he paid no federal incomes taxes at all.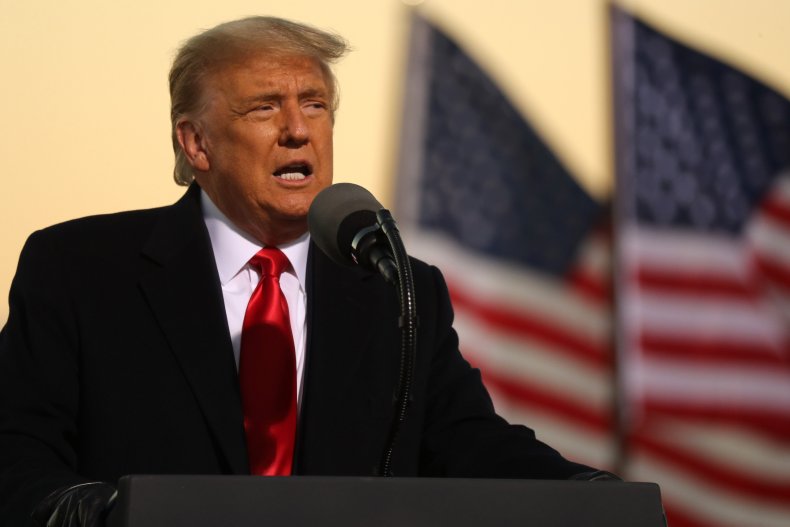 On Saturday, Trump again took to Twitter to defend himself, tweeting: "I paid many millions of dollars in Taxes to the Federal Government, most of which was even paid early, or PREPAID. MANY $MILLION.
"The Failing @nytimes never likes reporting that!" he added.
Trump's reference to pre-paying taxes also came up during his final presidential debate with the Democratic contender, former Vice President Joe Biden. When challenged on his tax bill, Trump said he asked his accountants how much he paid. "I said, 'What did I pay?' They said, 'Sir, you prepaid tens of millions of dollars.' I prepaid my tax."
"Tens of millions of dollars I prepaid because at some point they think it's an estimate," he added.
Tax experts have said that it is difficult to pinpoint exactly what Trump means about pre-paying taxes without a copy of the president's tax returns, although it could refer to his making quarterly estimated tax payments, CNBC reported.
Over 9.6 million individual taxpayers, which include independent contractors, small businesses and gig workers earning side income, made these estimated tax payments in the 2018 tax year, according to the IRS.
Trump has faced constant criticism from Democrats for not following the lead of his predecessors and making his tax returns public. His lawyers argue Congress has no valid justification to seek the records.
A lawyer for the Trump Organization, Alan Garten, said in a statement last month that Trump "has paid tens of millions of dollars in personal taxes to the Federal Government, including paying millions in personal taxes since announcing his candidacy in 2015".
Both Trump's taxes and those for Americans have been key issues on the election campaign trail, with the president warning of a higher taxation levels should Biden get elected. On Saturday, Trump tweeted: "Biden and the Radical Left are asking for the largest tax hike in the history of the U.S. Remember that when you VOTE!"