Donald Trump Calls Newsmax Removal 'Disgusting' as He Loses Key Audience
Donald Trump has hit out at DirecTV after the television provider dropped conservative channel Newsmax over a contractual dispute.
In a post on Truth Social, the former president said the company's decision to remove the news network from the airwaves was "disgusting" and a "big blow" to the Republican Party.
DirecTV, which is owned by AT&T and private equity firm TPG Capital, said it dropped Newsmax, which frequently broadcasts Trump's political rallies live, over the channel's "demands for rate increases" for its carriage fees—money cable and satellite TV providers pay to broadcasters for their content—which would have resulted in higher costs for customers.
Newsmax's CEO Christopher Ruddy described the decision as a "blatant act of political discrimination and censorship" while noting that DirecTV also declined to renew its contract with fellow right-wing news network One America News in 2022.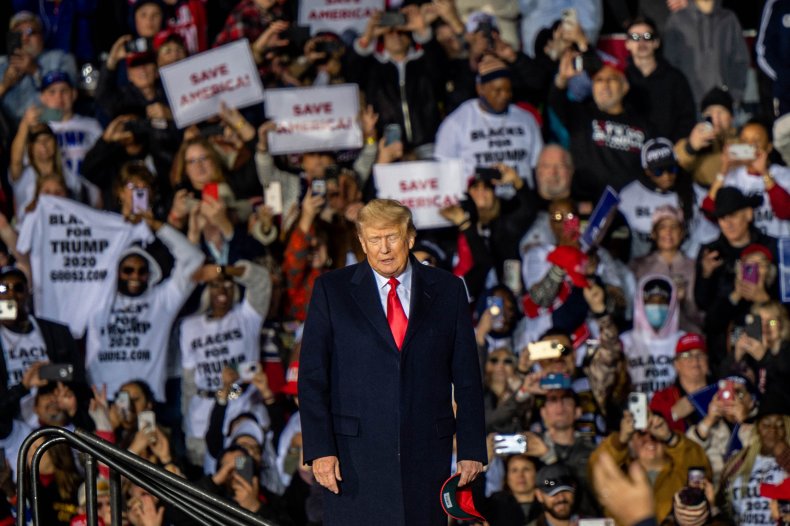 "WOW. AT&T DIRECTV REMOVES NEWSMAX FROM ITS CHANNEL LINEUP. This disgusting move comes after 'deplatforming' OAN last year," Trump said.
"The Radical Left seems to have taken over the mind and soul of AT&T. This is a big blow to the Republican Party, and to America itself. For DIRECTV to drop very popular NEWSMAX, without explanation, will not be accepted.
"I, for one, will be dropping all association with AT&T and DIRECTV, and I have plenty. This is just one of many reasons why we must WIN IN 2024!!!"
DirecTV said in a statement that "on multiple occasions, we made it clear to Newsmax" that it wanted to broadcast the network, but their demands were too high. The provider added that customers can still watch Newsmax for free via the channel's website, YouTube, or other streaming services such as Amazon Fire TV and Roku.
Other Republican figures have also condemned DirecTV's decision to drop Newsmax.
Texas congressman Wesley Hunt wrote a letter to the CEO of DirectTV, as well as AT&T and TPG Capital, accusing the television provider of "actively working to limit conservative viewpoints."
The letter, signed by 40 other House Republicans, said the decisions to remove Newsmax also "hamstrings" the lawmakers' ability to reach out to their constituents.
"I am sure that DirecTV will claim that removing Newsmax from their lineup of channels was purely a business decision, but that is hard to accept when liberal news channels like Vice Media continue to remain on the air. Vice is a ratings failure for DirecTV, yet they continue to profit from their relationship with DirecTV," Hunt added.
In response, Michael Hartman, DirecTV's chief external relations officer, said "in no way" is the company working to limit conservative viewpoints, noting it allowed Newsmax to stream online for free, despite being paid for the channel.
Hartman also said Newsmax's viewing figures accounted for just 0.1 percent of households.
"If Newsmax ceases to authorize our carriage of their channel, our customers will still have access to their clearly preferred conservative news channel, Fox News, which has more viewers than MSNBC, CNN and Newsmax combined."
Newsmax has been contacted for comment.