Donald Trump Trading Cards Sell Out as NFTs Worth Over $500k
Donald Trump's collection of non-fungible tokens (NFTs) has sold out in a matter of hours, with the "digital trading cards" now worth more than $500,000.
The former president was widely mocked for announcing he would be making a "major announcement" on Thursday, which was later revealed to be an NFT collection portraying him in guises such as a superhero, cowboy and astronaut, which could be bought for $99.
Despite this, the entire collection of 45,000 NFTs featuring Trump has been minted in around 12 hours, according to OpenSea data, with nearly 14,000 people purchasing one or more of the online tokens.
As of early Friday morning, the total Trump NFT collection currently has a value of around 460 Ethereum ($570,000).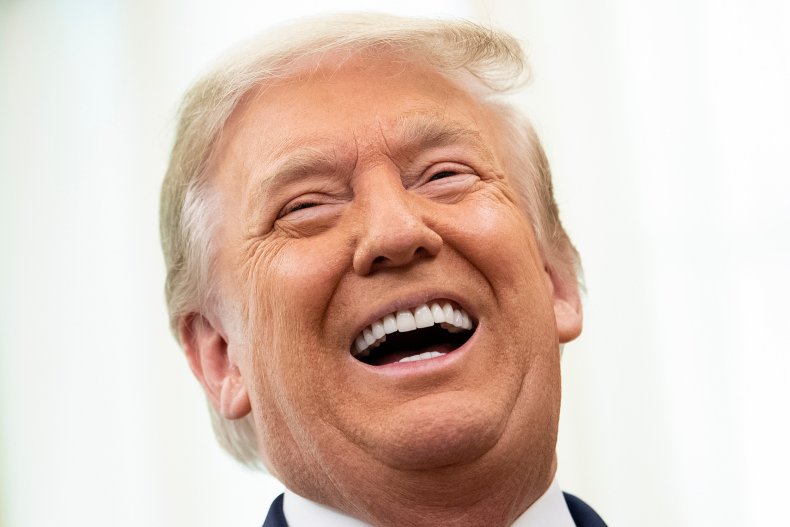 Ahead of the launch of the NFTs, some predicted that Trump's "major announcement" could be him naming who his next running mate will be, or making a shock move to run for the White House in 2024 as an independent.
Instead, Trump revealed he has moved into the NFT game and urged his supporters to buy his Trump Digital Trading Cards, which he described as "very much like a baseball card, but hopefully much more exciting."
"Would make a great Christmas gift. Don't Wait. They will be gone, I believe, very quickly," Trump wrote on Truth Social.
The money from the sale of the NFTs will not be used for Trump's 2024 presidential campaign, according to the Donald Trump Digital Trading Card website.
"These Digital Trading Cards are not political and have nothing to do with any political campaign," it said.
"NFT INT LLC is not owned, managed or controlled by Donald J. Trump, The Trump Organization, CIC Digital LLC or any of their respective principals or affiliates."
Steve Bannon, Trump's former White House strategist, was one of those who expressed their frustration that the apparent "major announcement" from the former president was selling NFTs.
"I can't do this anymore," Bannon said on his WarRoom podcast, adding that anyone who is involved in the project "ought to be fired today!"
In a tweet, President Joe Biden also mocked his potential 2024 rival.
"I had some MAJOR ANNOUNCEMENTS the last couple of weeks, too," Biden said.
"Inflation's easing, I just signed the Respect for Marriage Act, We brought Brittney Griner home, Gas prices are lower than a year ago, 10,000 new high-paying jobs in Arizona."
Do you have a tip on a politics story that Newsweek should be covering? Do you have a question about Donald Trump? Let us know via politics@newsweek.com.