President Donald Trump's niece Mary L. Trump said she was "repulsed" and "heartbroken" by the commander-in-chief's speech at the Republican National Convention on Thursday night.
The author of a scathing tell-all book about the Trump family told MSNBC that nothing surprised her about the speech, and suggested the president's nomination acceptance speech was "monarchical" and "bizarrely convoluted."
She added that her uncle was to blame for making the U.S. a country of "division and decadence," and said Trump spoke of Democratic nominee Joe Biden as if he were already in the Oval Office.
Appearing on MSNBC's The 11th Hour last night, Mary Trump said: "Nothing surprises me about what happened, but like you I'm repulsed, I'm heartbroken. The monarchical faints and the bizarrely convoluted messaging.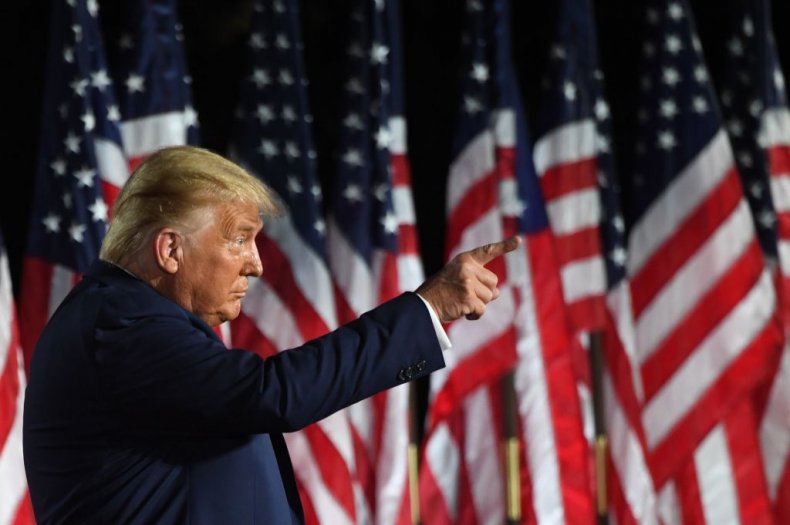 "If you listen to Ivanka it's like she's co-presidenting with her father, if you listen to Donald, it's like he thinks Joe Biden is president now and we have to save the country from Joe Biden.
"But if the country is a place of division and decadence as he describes it, then I would think that is down to him as he is currently in the Oval Office."
The president's niece added that the "lies" were "impossible" to keep track of during Trump's 70-minute long acceptance speech outside the White House yesterday.
"I see nothing admirable about this man, not one thing" Mary Trump later said. "He has no redeeming characteristics in my view. He's incompetent, he's unworthy, and all of the other things we could say about him."
Newsweek has contacted the White House for comment and will update this article with any response.
Delivering his headline speech on the fourth and final day of the RNC last night, President Trump lambasted Biden's record in office and tried to portray him as the stalking horse of a supposedly socialist Democratic Party platform.
"At no time before have voters faced a clearer choice between two parties, two visions, two philosophies or two agendas," Trump told supporters gathered outside the White House. "This election will decide if we save the American dream or allow a socialist agenda to demolish our cherished destiny."
He also claimed that the former vice president's agenda was "made in China" as he attempted to establish himself as the most hawkish candidate on U.S.-China relations.
Responding to the fourth and final night of the RNC, the Biden 2020 campaign's Deputy Campaign Manager Kate Bedingfield said the president presented a "delusional vision" for the country.
"It has never been more clear than Donald Trump made it tonight: we are in a battle for the soul of our nation," she said.