Nikki Haley Was 'Under Active Consideration' to Replace Pence on 2020 Ticket to Curb Trump's 'Unpopularity With Women,' Book Claims
Former United Nations Ambassador Nikki Haley was "under active consideration" to replace Vice President Mike Pence ahead of the 2020 election race in the hopes that having her name on the ticket might help ease President Donald Trump's "unpopularity with women," a new book written by an anonymous senior government official claims.
As Trump appears to have demonstrated throughout his nearly three years in the Oval Office, no one in the White House is "immune" to the possibility of being fired by the U.S. leader, the anonymous author of A Warning, said in their more than 250-page exposé,which hit book shelves on Tuesday.
Describing how Trump has left some administration officials "in the lurch for weeks, months, or longer," on how long their tenure at the White House might last, the anonymous author, who has only been described as a "senior official in the Trump administration," goes on to detail how Pence has long been one of those people.
"On more than one occasion, Trump has discussed with staff the possibility of dropping Vice President Pence in advance of the 2020 election," the official writes.
"Although Mr. Pence has been loyal to a fault, the president is always eager to 'shake things up,' and Trump's view of loyalty, of course, is self-serving to the extreme," they write.
According to the anonymous official, Haley's name had been floated as the ideal candidate to "step in as vice president."
Some of Trump's closest advisers had suggested that Haley, who officially stepped down from her role at the end of 2018, might "help shore up the president's unpopularity with women," the senior official writes, adding that such logic only "demonstrates how little this White House understands women in the first place."
The suggestion that Haley was "under active consideration" to replace Pence is one that the former UN ambassador has previously tried to dismiss as "false rumors."
"Enough of the false rumors," Haley tweeted back on August 21. "Vice President Pence has been a dear friend of mine for years. He has been a loyal and trustworthy VP to the President. He has my complete support," she said.
Still, speculation has continued to swirl around whether Haley might have been considering a 2020 run, particularly in the wake of her promotional tour for her new book, titled With All Due Respect: Defending America with Grit and Grace.
Haley's book, which was released earlier this month, is billed as offering a behind-the-scenes look into what her time with the Trump administration was like, while also providing first-hand insights into national and international matters.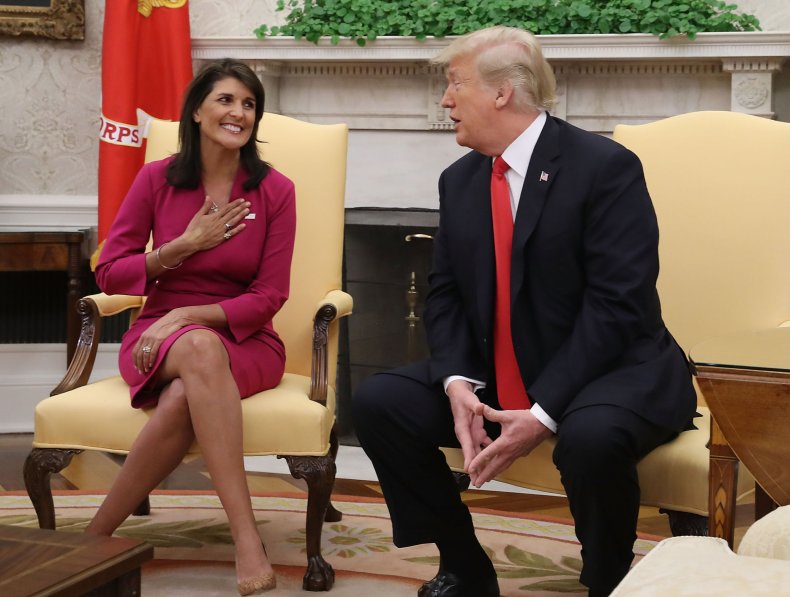 Commentators, however, have questioned the timing of the book's release, with some speculating that it could be part of an effort to highlight Haley's record and shine a light on her suitability as a potential running mate–or even as a candidate for the top job in the White House.
When she resigned in October 2018, Haley immediately sought to clarify that she had no intention of running in the 2020 election—and that she still supported Trump.
The feeling appeared to be mutual, with Trump praising Haley as she prepared to make her way out his administration's ever-revolving door as a team member who had been "very special" to him.