At Bipartisan Summit, Donald Trump Gets Cool Reception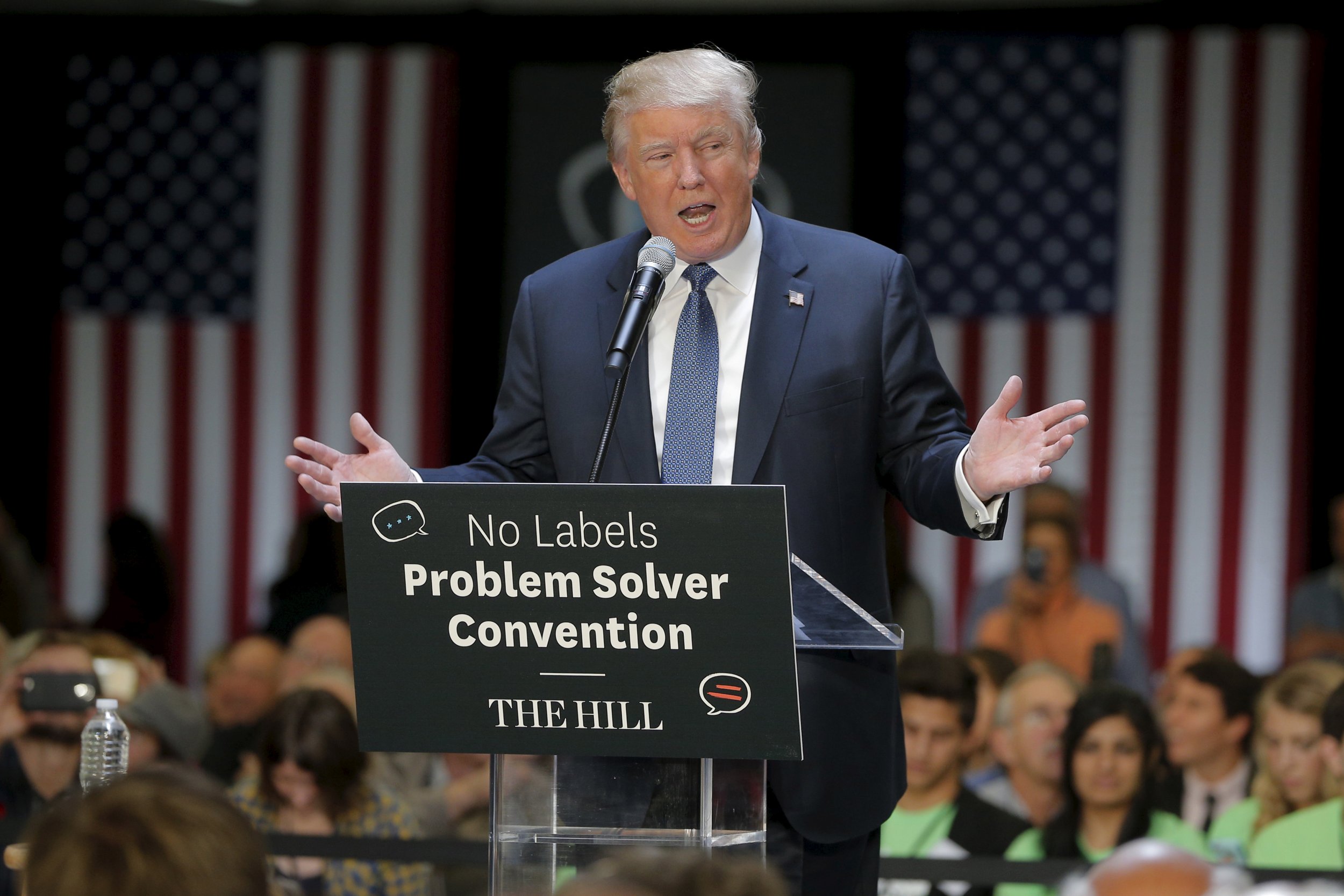 In a particularly divisive election season, the nonpartisan organization No Labels is all about bridging the gap. For its Problem Solvers Convention, the group brought together a slate of politicians from both parties, including eight presidential candidates.
There's something strange about seeing Joe Lieberman, Al Gore's one-time running mate and a No Labels co-chair, introducing Donald Trump. But the surreality doesn't compare to when Trump actually speaks.
"We did it in one contiguous pour, we did it beautifully," the real estate mogul said, describing the cementing process for an ice skating rink that he built in New York City. He said the project required him to negotiate with local government and unions. In his typical extemporaneous speaking style, Trump offered up the rink as an example of something that can be accomplished through negotiation, noting, "You can do that with this country."
The self-funded candidate drew applause for criticizing campaign contributions, something echoed by Bernie Sanders. The Vermont senator, who spoke to the No Labels audience via remote video, agreed with Trump that the official national unemployment rate of 5 percent doesn't match economic realities around the country, especially for minorities.
Sanders and Trump, the surprise insurgents in their respective parties, both talked about improving the plight of the American worker by reinvesting in infrastructure, with Trump offering a familiar refrain: "I just left LaGuardia Airport. It's like a Third World airport."
Audience members peppered Trump with questions about his campaign rhetoric and attitudes toward women. He promised to work with anyone and everyone as president, but expressed sympathy for the House members who have held the congressional majority hostage over Planned Parenthood funding. He also was shouted at for interrupting questioners.
As for all those nasty feuds with other candidates?
"I never start it," Trump said, describing himself as a pure defensive "counterpuncher." At a forum focused on unity, the irony of Trump's summer of insults was ignored. But for Trump and his competition, especially fellow PC opponent Ben Carson, what the press and party leaders consider gaffes doesn't seem to diminish voter enthusiasm.
Lindsey Graham was received warmly for, among other things, admitting that he believes in climate change and suggesting that Republicans and Democrats meet in the middle to work on clean energy.
"This is not a religion," the longshot senator from South Carolina said of climate change. Many members of his own party, including fellow candidates Carson and Mike Huckabee, have publicly denied that climate change exists.