Donald Trump Nominated for Nobel Peace Prize After 'Working Tirelessly' for Peace
President Donald Trump has been nominated for the 2019 Nobel Peace Prize by 18 House Republicans "in recognition of his work to end the Korean War, denuclearize the Korean peninsula and bring peace to the region."
There had been whispers that the president would be nominated after North Korean leader Kim Jong Un crossed the bridge into the demilitarized zone with South Korea in a historic meeting with South Korean President Moon Jae-in last week.
"Since taking office, President Trump has worked tirelessly to apply maximum pressure to North Korea to end its illicit weapons program and bring peace to the region," the letter, sent to the Norwegian Nobel committee on Wednesday and signed by Indiana Republican Luke Messer, said.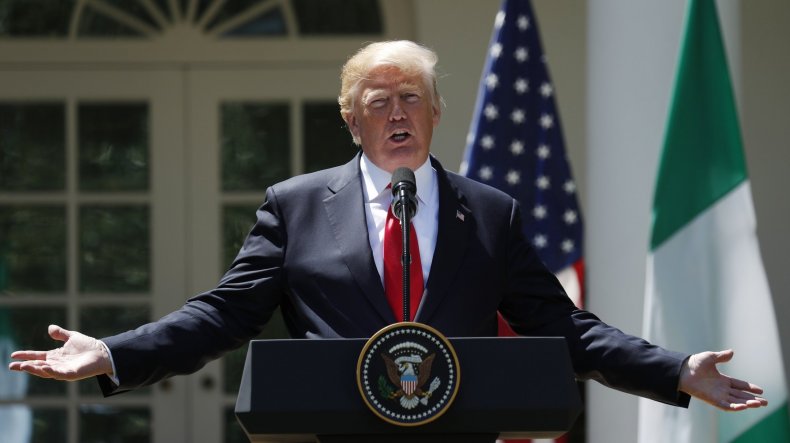 "Although North Korea has evaded demands from the international community to cease its aggression for decades, President Trump's peace through strength policies are working and bringing peace to the Korean Peninsula. We can think of no one more deserving of the Committee's recognition in 2019 than President Trump for his tireless work to bring peace to our world," the letter added.
Calls for the president to receive a Nobel peace prize have also been made by world leaders including Moon Jae-in, who said if anyone should receive the prize for efforts in North Korea, it should be Trump, The Washington Post reported.
The president's fans clearly feel the same, with the crowd at a rally in Michigan last Saturday chanting "Nobel, Nobel" as the president discussed the situation in North Korea.
"That's very nice, thank you. That's very nice," Trump said in response to the chanting.
There were 330 nominees for the 2018 Nobel peace prize, the winner of which will be announced in December, The Guardian reported. The 2017 prize was given to the International Campaign to Abolish Nuclear Weapons.
Former President Barack Obama is among the recipients of the award; winning in 2009.