Donald Trump Nominated for Razzie Award For Worst Performance in a Leading Role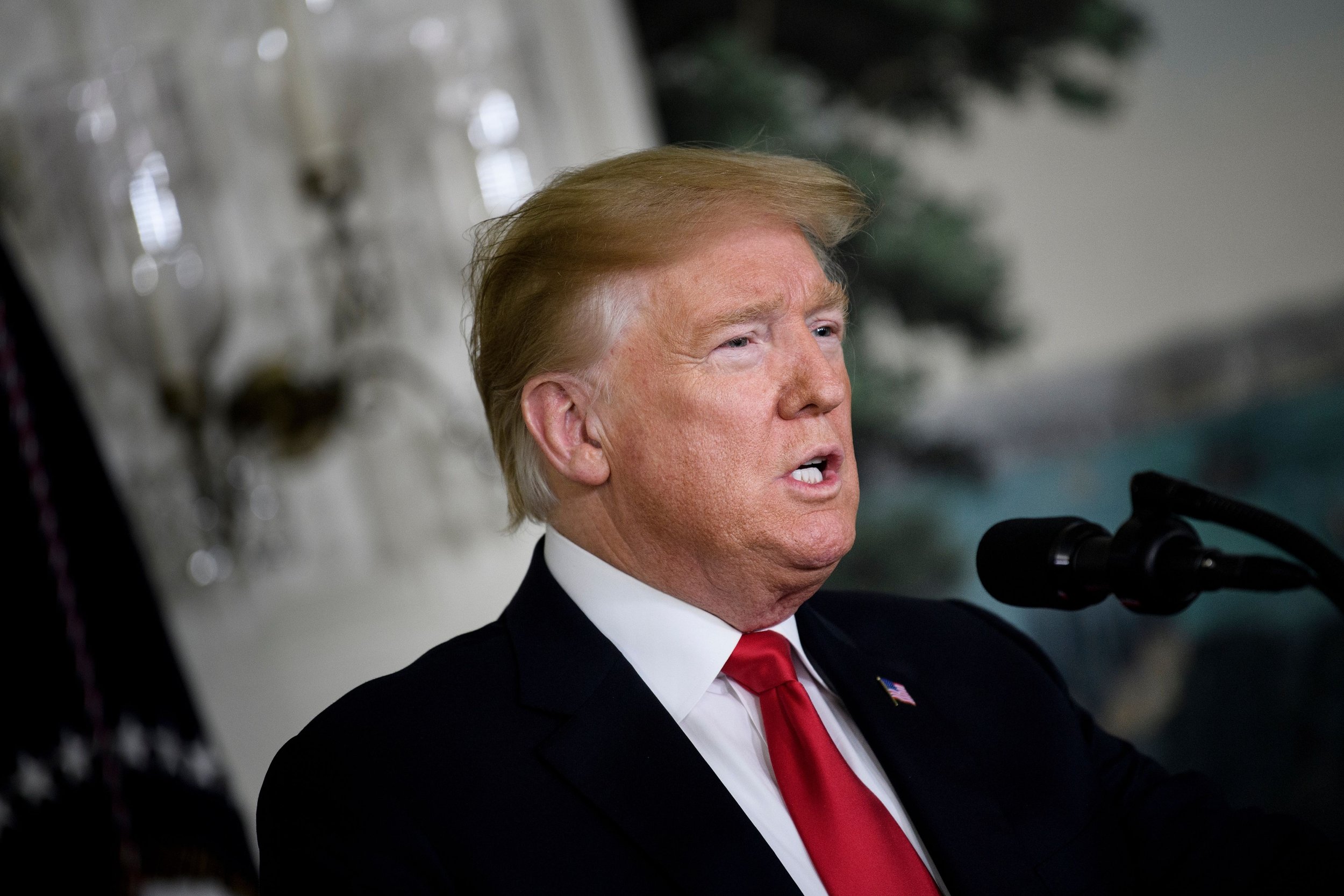 Donald Trump has been nominated for two Golden Raspberry Awards for his "performances" in two documentaries this year.
The Golden Raspberries, also known as the Razzie Awards, is an annual award show celebrating the year's worst on-screen talent, performances and films. Donald Trump has been announced as a nominee for worst actor for his roles as himself in Dinesh D'Souza's Death of a Nation and Michael Moore's Fahrenheit 11/9, as well as Worst Screen Combo alongside his "Self Perpetuating Pettiness" for the same two movies.
Trump is up against Johnny Depp, Will Ferrell, John Travolta, and Bruce Willis on the worst actor category for their roles in Sherlock Gnomes, Holmes & Watson, Gotti and Death Wish respectively.
The president will be hoping to add to his Razzie award for Worst Supporting Actor which he won in 1991 for his cameo role in Ghosts Can't Do It when the winners of the 39th annual Razzie Awards are announced on February 23.
Elsewhere, First Lady Melania Trump is also recognized in the worst supporting actress category for the role of herself in Fahrenheit 11/9. President Trump advisor Kellyanne Conway is also nominated as herself in the same category after also appearing in Moore's documentary.
Overall, Kevin Connolly's movie Gotti about the notorious New York crime boss John Gotti, the Will Ferrell and John C. Reilly comedy Holmes & Watson, D'Souza's conservative documentary Death of a Nation and the Melissa McCarthy puppet-based comedy The Happytime Murders lead the way in teams of nominations, all with six each.
The 39th annual Golden Raspberry Awards nominations in full:
WORST PICTURE
Gotti
The Happytime Murders
Holmes & Watson
Robin Hood
Winchester
WORST ACTRESS
Jennifer Garner / Peppermint
Amber Heard / London Fields
Melissa McCarthy / Happytime Murders and Life of the Party
Helen Mirren / Winchester
Amanda Seyfried / The Clapper
WORST ACTOR
Johnny Depp (Voice Only) Sherlock Gnomes
Will Ferrell / Holmes & Watson
John Travolta / Gotti
Donald J. Trump (As Himself) Death of a Nation and Fahrenheit 11/9
Bruce Willis / Death Wish
WORST SUPPORTING ACTOR
Jamie Fox / Robin Hood
Ludacris (Voice Only) Show Dogs
Joel McHale / Happytime Murders
John C. Reilly / Holmes & Watson
Justice Smith / Jurassic World: Fallen Kingdom
WORST SUPPORTING ACTRESS
Kellyanne Conway (As Herself) Fahrenheit 11/9
Marcia Gay Harden / Fifty Shades Freed
Kelly Preston / Gotti
Jaz Sinclair / Slender Man
Melania Trump (As Herself) Fahrenheit 11/9
WORST SCREEN COMBO
Any Two Actors or Puppets / Happytime Murders
Johnny Depp & His Fast-Fading Film Career / Sherlock Gnomes
Will Ferrell & John C. Reilly / Holmes & Watson
Kelly Preston & John Travolta / Gotti
Donald J, Trump & His Self Perpetuating Pettiness / Death of a Nation & Fahrenheit 11/9
WORST REMAKE, RIP-OFF or SEQUEL
Death of a Nation
Death Wish
Holmes & Watson
The Meg
Robin Hood
WORST DIRECTOR
Etan Cohen / Holmes & Watson
Kevin Connolly / Gotti
James Foley / Fifty Shades Freed
Brian Henson / Happytime Murders
The Spierig Brothers (Michael & Peter) / Winchester
WORST SCREENPLAY
Death of a Nation, Written by Dinesh D'Souza & Bruce Schooley
Fifty Shades Freed, Screenplay by Niall Leonard, from the Novel by E.L. James
Gotti, Screenplay by Leo Rossi and Lem Dobbs
Happytime Murders, Screenplay by Todd Berger, Story by Berger and Dee Austin Robinson
Winchester, Written by Tom Vaughan and The Spierig Brothers