Donald Trump Asked Kid Rock For Advice on Dealing with North Korea
Kid Rock has revealed that former President Donald Trump once asked for his advice on dealing with North Korea during his time in office.
In an interview with Fox News that aired on Monday night, the 51-year-old musician confirmed he still plays golf with Trump and admitted it was a "little different" after the election but now Trump "seems great" and "sharp."
During a wide-ranging interview with Tucker Carlson, Rock recalled the moments Trump asked for his advice, he recalled how Sarah Palin introduced the pair and called himself "uncancellable."
The Tucker Carlson Tonight Kid Rock interview covered many topics but Rock's friendship with the former president featured prominently.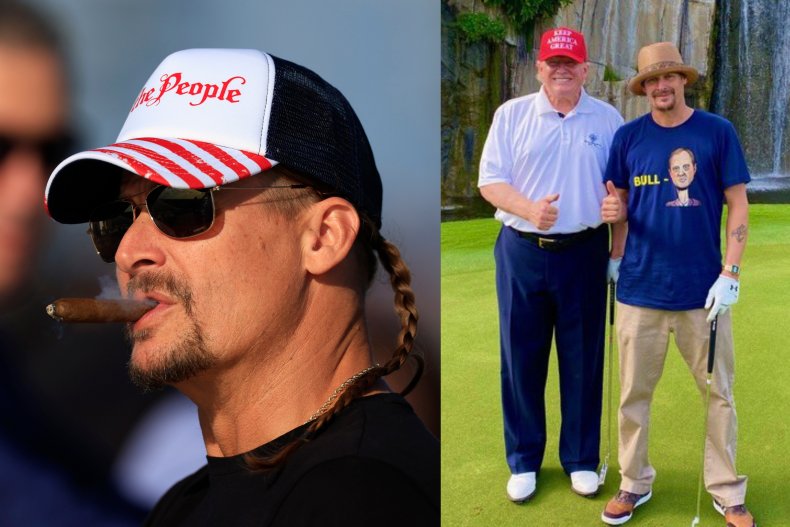 "He just knows how to have fun," Rock said when explaining why he enjoys Trump's company on the golf course. "Doesn't take it too seriously. He's engaging. He's just cutting it up, open with politics." Rock went on to describe a time when Trump was planning a tweet about the Islamic State Caliphate which he ran by Rock first.
Rock expressed his surprise that he was having conversations with a president about politics because he admittedly "makes dirty records sometimes." He laughed and said Trump had asked him, "'What do you think we should do about North Korea' and I'm like 'What? I don't think I'm qualified to answer this.'"
Rock revealed that he met his new friend when Palin invited him to dinner at the White House with then-President Trump because he wanted guests that were "interesting." From there they became "buddies" which led to their friendship sessions on the golf course.
"It's really weird to get phone calls from him and stuff. It's kind of mind blowing," Rock said while lighting up a cigar. When asked what Trump is like to play golf with, Rock replied, "Awesome. So much fun."
The pair still play golf together now in Florida and Rock said nowadays Trump "seems great."
"You know, after the election it was a little different there but he's still the same guy," Rock said. "He sits down, he just cuts it up. Just starts cutting it up. It's just how sharp he is, it's incredible."
Rock's revelation that he was asked about North Korea by a sitting president has caused a stir online, but some have suggested that in the context of the moment within the interview, it may have been a joke.
The Occupy Democrats Twitter account got thousands of likes and retweets for sharing the news, asking their followers to retweet "if you think that Trump is a fool."
@AverageJoeBe needed to take a moment after hearing that Trump asked Kid Rock for advice on North Korea and wrote, "Let that sink in." @HandToForehead actually believes Rock will have given advice on the subject when asked. They wrote, "I'm convinced that Kid Rock is too much of a narcissist to resist giving 'advice' on any subject. I bet he had a whole lot to say about North Korea."
@HoffmanHopes seems impressed that Rock refused to answer Trump's question on North Korea, and ironically wrote, "Rock, the noted geo-political and national security luminary, had the good sense to tell Trump he wasn't the best person to ask…"