Donald Trump Says Top U.S. Diplomat Not Going to North Korea, Blames China and Says Hi to Kim Jong Un
President Donald Trump said Friday he had asked the top U.S. diplomat not to travel to North Korea amid an apparent stall in U.S.-North Korea relations.
Secretary of State Mike Pompeo said Thursday he was planning to make his fourth visit to the country alongside newly appointed special representative Steve Biegun in an effort to advance a historic peace effort between Washington and Pyongyang. But the trip appeared to be abruptly canceled as the president took to social media to attack China over a current trade dispute, while still voicing his respect for North Korean leader Kim Jong Un.
"I have asked Secretary of State Mike Pompeo not to go to North Korea, at this time, because I feel we are not making sufficient progress with respect to the denuclearization of the Korean Peninsula," Trump wrote on Twitter. "Additionally, because of our much tougher Trading stance with China, I do not believe they are helping with the process of denuclearization as they once were (despite the UN Sanctions which are in place)."
He continued: "Secretary Pompeo looks forward to going to North Korea in the near future, most likely after our Trading relationship with China is resolved. In the meantime, I would like to send my warmest regards and respect to Chairman Kim. I look forward to seeing him soon!"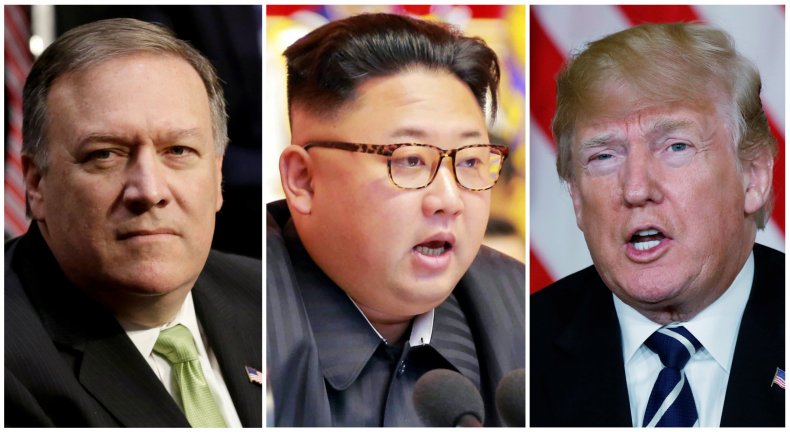 Longtime foes, the U.S. and North Korea have agreed upon North Korea's denuclearization in exchange for a lifting of sanctions and end to a decades-long hostility, but no comprehensive deal has been reached. Trump became the first sitting U.S. president to meet with a North Korean ruler in June, and gradual signs of progress following his talks with Kim emerged only to be overshadowed by new reports suggesting North Korea had slowed or even halted anti-nuclear developments.
The issue has also coincided with a worsening trade dispute with China, North Korea's traditional top ally. In what China's Finance Ministry has called "the biggest trade war in economic history," the world's two largest economic powers have launched tit-for-tat sanctions and threatened to escalate their conflict. Trump has previously attempted to leverage his ties with China and North Korea against one another and, in a reversal from last year, has appeared closer to Kim than Chinese President Xi Jinping, who has experienced a colder period in Beijing-Pyongyang relations than in previous decades.
As the pace of talks with the U.S. slowed, Pyongyang has pushed for a formal treaty to end the Korean War, a 1950s conflict fought between China-backed North Korea and U.S.-backed South Korea, which ended only in an armistice. The U.S. has maintained that peace, as well as the lifting of extensive sanctions, would only be realized through North Korea's full denuclearization. South Korea has pressed forward with a number of inter-Korean initiatives, however, prioritizing diplomacy over the removal of weapons of mass destruction that its northern neighbor has long argued was necessary to protect it from an outside attack.
While Pompeo has traveled to North Korea three times before, he only met with Kim on the first two occasions. State Department spokeswoman Heather Nauert told reporters Thursday that the former CIA director was again not scheduled to meet with the young ruler on the upcoming visit. When pressed for answers, she said, "I think what's important is that we are regularizing these meetings and these conversations with a government that we have had very, very little interaction with over the past decade or so" and highlighted Biegen's appointment.
"So I think this is just sort of more of a normalization of our types of conversations," she added. "We have long said that none of this in terms of working toward denuclearization would be particularly fast. We go into this eyes wide open. But this is all going to take some time, and I think we have been clear about that."