'We Fell in Love': Donald Trump Describes Relationship With North Korea Dictator Kim Jong Un
President Donald Trump again described his warm relationship with North Korean dictator Kim Jong Un at a rally in Wheeling, West Virginia, Saturday, saying: "We fell in love."
Trump began by talking of the massive threat that North Korea posed before he took office in January 2017. But, he said, his ability to develop a warm relationship with Kim during a summit in Singapore in June has been key to easing tensions.
"That was a big big problem," Trump said of North Korea in front of a typically raucous pro-Trump crowd. "And, you know, when I did it, and I was really being tough, and so was he. And we were going back and forth, and then we fell in love, OK. No, really. He wrote me beautiful letters, and they're great letters. And then we fell in love."
Trump then appeared to anticipate a negative media reaction to stating that he had fallen "in love" with a dictator who reports say has brutally murdered his citizens, including members of his own regime and family.
"How horrible is that, so unpresidential," Trump said in a condemnatory tone, mocking the media.
But, being presidential, Trump said, was "easy," yet it would mean there would be just 200 people standing in the audience watching him, rather than the 10,000 people he claimed were outside trying to get into the arena.
Trump then mocked former President George H.W. Bush's popular "thousands point of light," phrase, claiming it was something "which nobody has really figured out."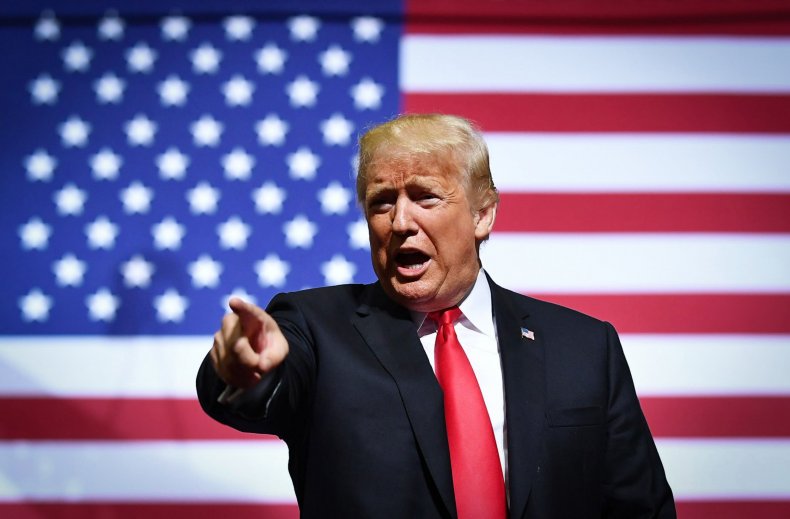 Speaking about North Korea, Trump earlier said that he "took a very hard position" on North Korea, repeatedly insisting that he gave up "nothing" in negotiations. Trump has been criticized for granting legitimacy to Kim's isolated regime by giving him a meeting with the United States' president in front of the world's media, while the U.S. also suspended joint military drills with South Korea in the aftermath of the summit.
"I like Kim, he likes me," Trump said. "I guess that's Ok. Am I allowed to say that?" Trump added that "we're going to have another meeting."
Repeating an unsubstantiated claim from a press conference Wednesday, Trump said that President Barack Obama was ready to go to war with North Korea before he left office.
"President Obama told me when I sat just before taking office, he said the single biggest problem this country has is North Korea," Trump said. "And he said he was very close to going to war but fortunately his time was up."
Trump's claims have been denied by former Obama officials.
"The Department of Defense always looks at contingencies, but the Obama administration was consistently of the belief—informed by the best thinking and analysis from our intelligence community, war fighters, and diplomats—that diplomacy was the only viable option given what we knew would be catastrophic implications of a conflict on the Peninsula," Ned Price, a national security council spokesperson in the Obama White House, told CNN.