Donald Trump Takes Strongman at His Word Again, Says North Korea's Kim Jong Un Didn't Kill American Otto Warmbier
President Donald Trump's willingness to believe a foreign strongman was on full display in Vietnam on Thursday, where the President had flown to meet with North Korean leader Kim Jong Un.
Speaking during a press conference after the meeting had ended without a deal on denuclearization, President Trump, in responding to a question, said he believed that Kim was not responsible for the death of Otto Warmbier, a 22-year-old American student who died after he fell into a coma while being held in a North Korean labor camp. Warmbier's parents said they believe their son was tortured, and doctors have concluded that the young man fell into a coma after he was abused in a North Korean prison.
"He tells me he didn't know about it, and I take him at his word," Trump said of Kim. "I don't believe he would have allowed that to happen… It just wasn't to his advantage to allow that to happen."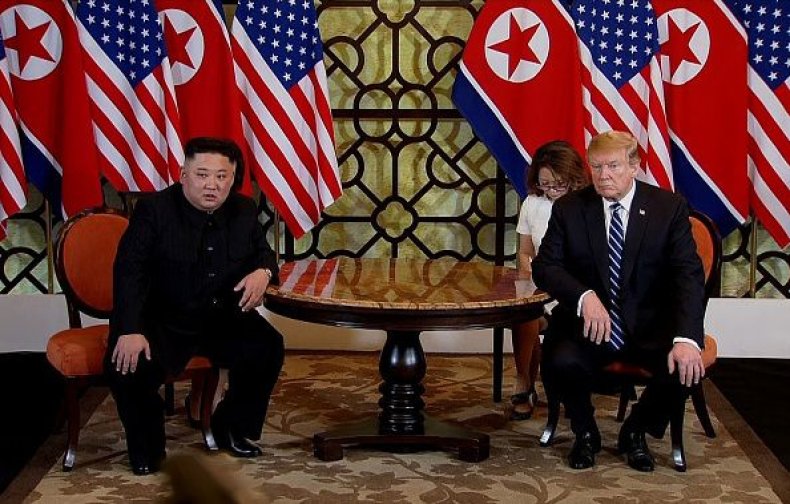 The statements seemed to mirror comments Trump made during a press conference in Helsinki last July, after he met with Russian President Vladimir Putin. Trump said he believed the Russian government had not interfered in the 2016 presidential election because Putin told him that he wasn't involved.
All U.S. intelligence agencies concluded that Russia's government was behind a well-orchestrated influence operation aimed to sway the election in favor of Trump. Nevertheless, Trump repeatedly cast doubt on that assessment.
"I have great confidence in my intelligence people, but I will tell you that President Putin was extremely strong and powerful in his denial today," Trump said in Helsinki as Putin stood by his side.
Trump has also defended Saudi Arabia's Crown Prince Mohammad bin Salman following the murder of Saudi journalist Jamal Khashoggi, who was a U.S. resident and a columnist for The Washington Post.
Khashoggi was killed in October after he entered the Saudi Consulate in Istanbul. U.S. and foreign intelligence agencies determined that the Saudi government was behind Khashoggi's death, and that the crown prince had likely orchestrated the events surrounding Khashoggi's murder.
Trump, however, cast doubt on the crown prince's role, saying, "Maybe he did and maybe he didn't," while suggesting that perhaps "rogue" actors were responsible for the murder.
In all of these instances, critics said the president had put his own relationships with foreign authoritarian leaders ahead of the facts. Human rights groups have repeatedly called on Trump to use his leverage with North Korea to pressure the country to end its alleged human rights abuses. Open source imagery suggests there are hundreds of thousands of people in North Korean labor camps.
But as Trump's relationship with Kim has warmed, he has become less willing to criticize North Korea.