White House Says Donald Trump is Not Firing Dr. Fauci, Says He 'Remains a Trusted Advisor'
President Donald Trump is not firing Dr. Anthony Fauci, director of the National Institute of Allergy and Infectious Disease, the White House said on Monday.
"Dr. Fauci has been and remains a trusted advisor to President Trump," Hogan Gidley, principal deputy press secretary said in a statement to Newsweek.
Given Trump's penchant for loyalty and Fauci's comments pushing back on some of the president's claims, rumors have circulated about whether the infectious disease expert would get the boot. The two men have denied tension in their relationship, but Trump's Sunday reposting of a tweet that included the hashtag "FireFauci" reignited speculation about the doctor's fate.
On Monday, Gidley called the "media chatter" about the potential firing "ridiculous" and said in a statement that Trump was not firing Fauci. Trump's tweet, according to Gidley, exposed media attempts to "maliciously push a falsehood about his China decision in an attempt to rewrite history."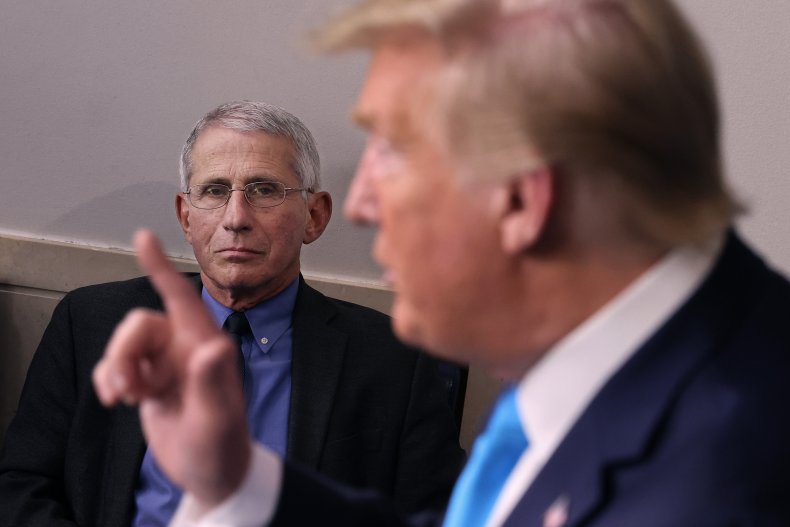 Trump retweeted a comment from DeAnna Lorraine, a former congressional candidate from California. In her tweet, she criticized Fauci for "saying that had Trump listened to the medical experts he could've saved more lives," adding that it was "time to #FireFauci."
On Sunday, Fauci told CNN's Jake Tapper that starting mitigation efforts earlier "could have saved lives" but acknowledged that making the decision to shut places down is complicated.
In adding his own message to Lorraine's tweet, Trump wrote that he banned travel from China "long before people spoke up." The ban on most foreign nationals from entering the United States if they'd been in China within 14 days of their arrival went into effect on February 2. A subsequent ban, that Trump announced on March 11, impacted most foreign nationals from 26 European countries, known as the Schengen Area.
"It was Democrats and the media who ignored coronavirus choosing to focus on impeachment instead, and when they finally did comment on the virus it was to attack President Trump for taking the bold decisive action to save American lives by cutting off travel from China and from Europe," Gidley said in a statement.
In typical Trump fashion, the president has used bold language in discussing the new coronavirus outbreak, including that he wanted the country open by Easter and that hydroxychloroquine, a drug used to fight malaria is a "game-changer." Fauci, however, has taken a more tempered approach to the coronavirus messaging, saying that clinical trials hadn't been done for hydroxychloroquine and that there's no firm date when the country could reopen.
This hasn't been a problem for his relationship with the president, though, and Fauci told the New York Times on March 21 that Trump has taken his comments in a "good way."
"It's a risky business," Fauci said. "I say it the way it is, and if he's gonna get pissed off, he's gonna get pissed off. Thankfully, he is not. Interestingly."
Fauci also called it "really unfortunate" that the media has focused on emphasizing the two leader's differences during a Morning on the Mall podcast interview. Pitting them against each other isn't helpful, Fauci said, adding that Trump has listened to what he's said and taken his recommendations.