Donald Trump Not Ruling Out Restarting Family Separations at Border After Kirstjen Nielsen's Exit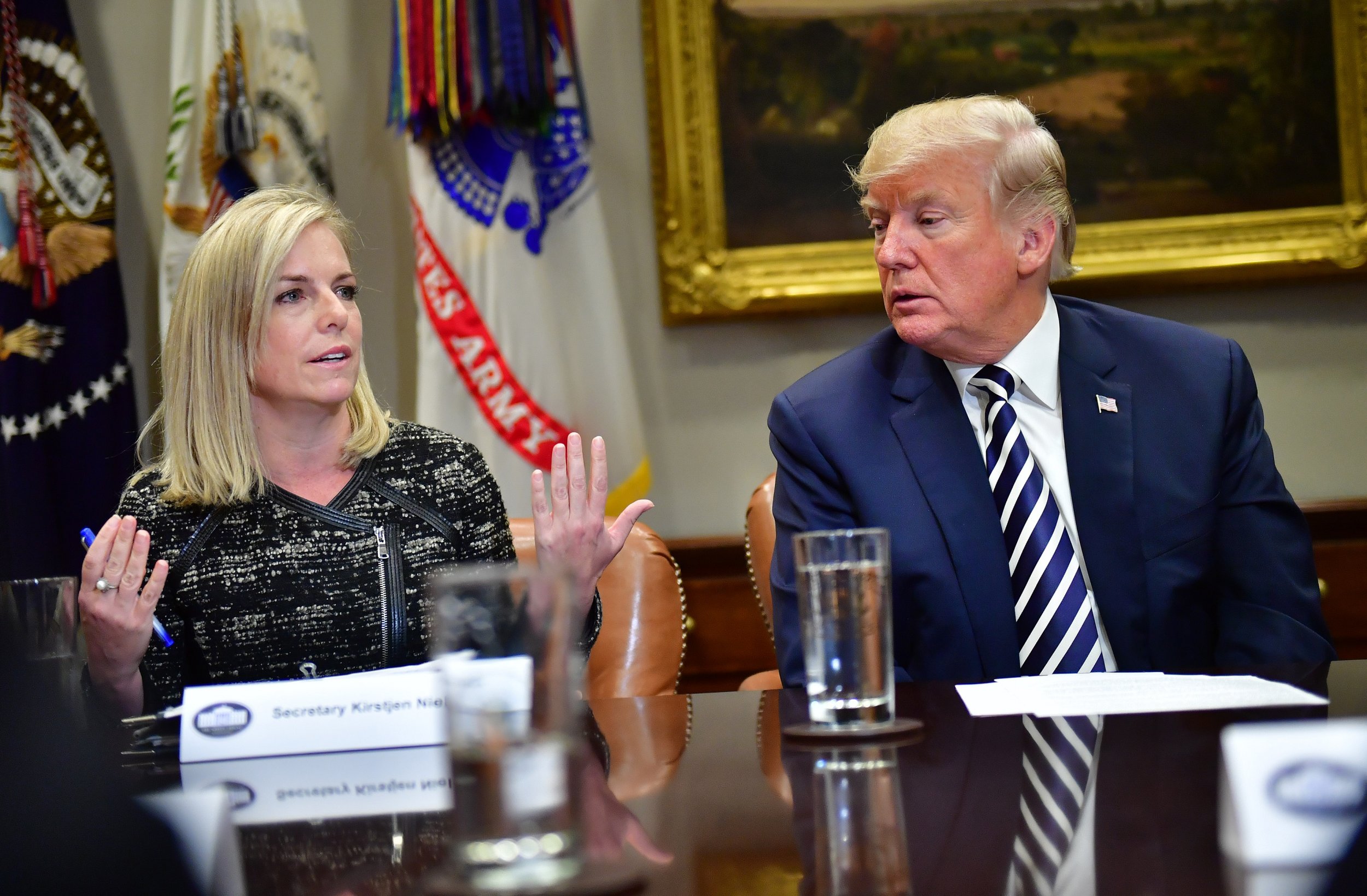 Following Homeland Security Secretary Kirstjen Nielsen's resignation, President Donald Trump has not ruled out restarting family separations at the southern border.
A CNN reporter on Monday, a day after Nielsen's resignation, asked White House principal deputy press secretary Hogan Gidley if Trump planned to reinstate the zero tolerance practice that led to hundreds of family separations at the border with Mexico.
"I've not spoken with the president directly about that; I have not heard that," Gidley said. "I don't know if he's had that conversation or not."
The White House did not immediately respond to a request for comment from Newsweek on Monday.
Nielsen, last year at a White House briefing, said that the Trump administration was simply continuing a policy from "previous administrations" that required separating children from their families if they were "in danger."
"In danger, there is no custodial relationship between 'family' members, or if the adult has broken the law," Nielsen said at the time. "As long as illegal entry remains a criminal offense, [the Department of Homeland Security] will not look the other way."
Nielsen placed blame on Congress for a "loophole" in laws in relation to the policy.
The Trump administration did not issue a formal policy dictating that parents and children apprehended at the border without documents had to be separated. However, last June, then–Attorney General Jeff Sessions announced a policy stating that adults caught illegally crossing the border would face criminal prosecution instead of civil prosecution, which led to parents being detained, charged and separated from their children, who were taken into U.S. government custody or foster care. Trump signed an executive order halting the separation of migrant families later in June after being hit with widespread criticism.
Trump announced Nielsen's departure on Twitter Sunday evening.
"Secretary of Homeland Security Kirstjen Nielsen will be leaving her position, and I would like to thank her for her service," he tweeted. Shortly afterward, Nielsen tweeted her resignation letter to Trump and said she "thanked him for the opportunity to serve in his administration."
"I am eternally grateful and proud of what you do each and everyday to protect our homeland- each of you are why I came back to serve my country," she tweeted, addressing Department of Homeland Security employees. "Our missions as a Department are vast and have never been more vital. You are in the arena- keep up the good fight."
Nielsen said she agreed to stay on through Wednesday "to assist with an orderly transition and ensure that key DHS missions are not impacted."
Trump announced that he'd named Kevin McAleenan, who currently serves as U.S. Customs and Border Protection Commissioner, as acting secretary of the Department of Homeland Security, but the validity of McAleenan's appointment is the subject of debate.
"Congress must demand that any nominee to replace [Nielsen] renounce family separation and pledge to reject any policy that would traumatize children and lock families up indefinitely," Jess Morales Rocketto, chair of Families Belong Together, a coalition of nearly 250 organizations fighting family separations, said in a statement Monday.