'Enough Facts to Indicate' Donald Trump May Have Committed a Crime When Obstruction Case Was Opened: Andrew McCabe
Former acting FBI Director Andrew McCabe has not gone as far as to say President Donald Trump definitely obstructed justice. But in an interview on MSNBC's Morning Joe on Wednesday, he said there were certainly a number of "facts" that made obstruction of justice a possibility.
On the show, McCabe was asked if, in his opinion and knowing what he knows, he would feel comfortable with an indictment of Trump for obstruction of justice.
"That's a very, kind of, a loaded question for me, particularly coming out of my previous position," McCabe responded on Morning Joe. "What I can tell you...is this: I was confident in May of 2017 that we had ample facts to indicate that the president may have committed obstruction of justice.
"That's the point that the FBI is in—we just decide when and what we investigate," he continued. "And we do it not based on politics, not because we like the guy or we don't like the guy, or we think this case will be interesting or fun. We do it because of the facts we have at the time. At that time, it was abundantly clear to me that we had enough facts to indicate that crime may have been committed."
Later, when asked if that answer meant he would feel comfortable asking the U.S. attorney to pursue the charge, McCabe said "absolutely."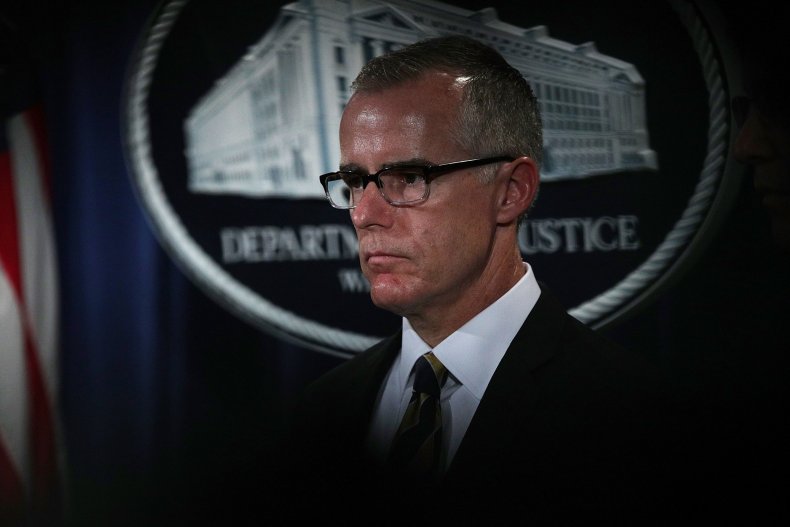 McCabe—who, like many others who've interacted with Trump, wrote a book—has been making regular media appearances. He stepped in as the head of the FBI after Trump fired former FBI Director James Comey in 2017, before McCabe, too, was fired in 2018. McCabe's interviews have been especially revealing. He would not rule out Trump being a Russian asset in an interview with CNN's Anderson Cooper this week, for instance.
"I think it's possible," McCabe said. "I think that's why we started our investigation and I'm really anxious to see where [special counsel Robert] Mueller concludes that."
The White House has, in turn, slammed McCabe. "Remember this, Andrew McCabe didn't go to the bathroom without the approval of Leakin' James Comey!" Trump tweeted this week, for instance.