Donald Trump Makes Gains in Key Battleground States After Returning to Campaign Trail, Say Bookmakers
Donald Trump has made gains in key battleground states after returning to the campaign trail following his coronavirus diagnosis, according to bookmakers.
Betting odds comparison site Oddschecker told Newsweek that the president's odds shortened on Wednesday morning on the back of a slow but steady increase in the percentage of wagers backing Trump to be reelected on November 3.
More than 70 percent of bets placed since Monday have backed the incumbent.
However, the website said any shift in Trump's favor was so far small and was unlikely to significantly shift the election in either direction.
"There haven't been any huge shifts in the past week following the reopening of the markets and Joe Biden being elevated to his best chance of all time to win the election," said an Oddschecker spokesperson.
"He had seen that gap continue to increase slightly over the past seven days, although this morning saw Trump's odds shortened for the first time 22 September, albeit infinitesimally."
Oddschecker lists Biden odds as 1-2, compared to Trump on 47-25, giving the Democrat an implied probability of winning on November 3 of 66 percent, to Trump's 34 percent.
'Improved odds'
UK bookmaker Betfair also said Trump's odds had improved in several key battleground states since Monday.
Sam Rosbottom, Betfair spokesperson, said: "Donald Trump is making gains in a number of key battleground states following his return to the campaign trail this week.
"His odds have improved in Florida from 6-4 to 11-10 and then in Pennsylvania, 100-30 to 9-5, all in 48 hours.
"The president, a 2-1 outsider to be re-elected, needs to pick his battles wisely and focus on the states he feels he has the best chance of winning to really close the gap on the 1-2 outright favorite Joe Biden."
In Texas, which last saw a Democratic presidential candidate win the state in 1976, Biden's team had made "some inroads earlier in the year, hitting their zenith in the market in the middle of August," the Oddschecker spokesperson said. "However, they have tapered away somewhat since then and it will be a surprise now if Texas does opt for Biden."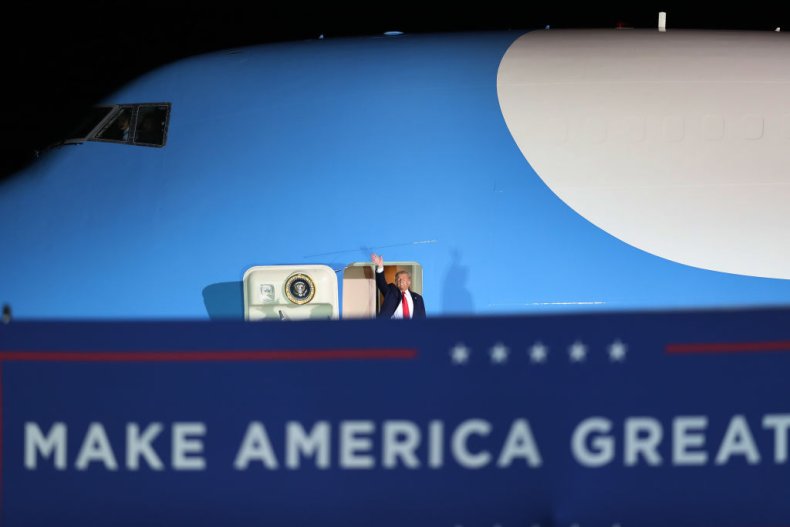 Trump returned to the campaign trail on Monday for the first time since testing positive for coronavirus.
Opinion polls continue to show him losing ground to his Democratic rival with less than three weeks to go until polling day.
The president started the week with an outdoor rally in Sanford, Florida—the first of six planned. He focused on his recovery from the illness before claiming he now had immunity and offering to kiss members of the crowd.
"I will kiss everyone in that audience, I will kiss the guys and the beautiful women, I will give you a big fat kiss," he said.
A Reuters/Ipsos poll released on Tuesday showed Biden enjoyed a growing lead over Trump in Wisconsin and Pennsylvania.
The survey showed the former veep leading Trump by 7 percentage points in both states. A week earlier, Biden was up by 6 points in Wisconsin and by 5 in Pennsylvania.
The Reuters/Ipsos opinion polls were conducted online. In both Wisconsin and Pennsylvania, 1,002 adults in each state were contacted from October 6 to October 11. The poll had a margin of error of 5 percentage points.