Donald Trump Offers Palestinians $5 Billion in Aid to Negotiate With Israel, Report Reveals
President Donald Trump's administration offered the Palestinians $5 billion in aid if they negotiate with Israel, according to a report by the Israeli business paper Globes.
The offer was an attempt by the president's son-in-law and adviser Jared Kushner and his special envoy Jason Greenblatt to bring Palestinians back to the negotiating table, according to the report. The two men are in charge of coming up with a Middle East peace plan that would find a solution to the longstanding dispute between Israelis and Palestinians.
Greenblatt, however, denied the claim. "Myth: Globes 'reporting' that POTUS is offering $5b to [Palestine] to return to the negotiating table," he tweeted.
The report was released just a few weeks after the State Department announced that it would no longer fund the United Nations Relief and Works Agency for Palestine Refugees (UNRWA), which provides humanitarian assistance, education and vocational training to Palestinians, among other services.
"The United States will no longer commit further funding to this irredeemably flawed operation," the State Department's release read.
Analysts noted that the Trump administration is attempting to use funds to pressure the Palestinians to make a deal. Trump said last week that they would be paid to make peace.
"I stopped massive amounts of money that we were paying to the Palestinians and the Palestinian leaders. We were—the United States was paying them tremendous amounts of money," Trump said during a call with reporters. "And I'd say, you'll get money, but we're not paying you until we make a deal. If we don't make a deal, we're not paying."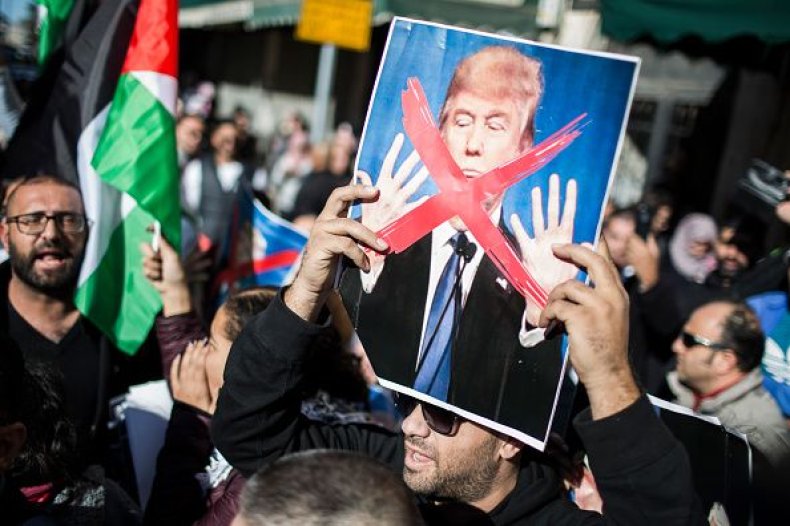 Some observers, however, have slammed the administration for using humanitarian aid as a weapon.
"This craven stick-and-carrot approach to the Palestinians is the height of cynicism. The U.S. was never an honest broker for peace between the Israeli and Palestinian governments, and now its bullying is being made public," Rebecca Vilkomerson, executive director of the California-based organization Jewish Voices for Peace, told Newsweek. "The ploy of pulling U.S. money from UNRWA, and then offering money with different strings attached as a bribe, is both cynical and inhumane."
It is unclear, however, whether such an offer will succeed in convincing Palestinians to pursue a deal. They have said they stopped seeing the U.S. as an honest broker that could facilitate a Middle East Peace plan after the Trump administration opted to recognize Jerusalem as the capital of Israel. Previous administrations had used this move as a potential carrot with which to tempt Israelis to make concessions toward Palestinians. But the Trump administration, which has forged deep ties with the government of Israeli Prime Minister Benjamin Netanyahu, moved its embassy from Tel Aviv to Jerusalem without first making progress on the peace negotiations.
The move was viewed as an acceptance of Israel's de facto control over the city, half of which has been envisioned as the future capital of a Palestinian state if a two-state solution were reached. Meanwhile, the details of the peace plan being concocted by Kushner and Greenblatt have not yet been made public.