Donald Trump Once Called Aras and Emin Agalarov 'The Most Powerful People In Russia'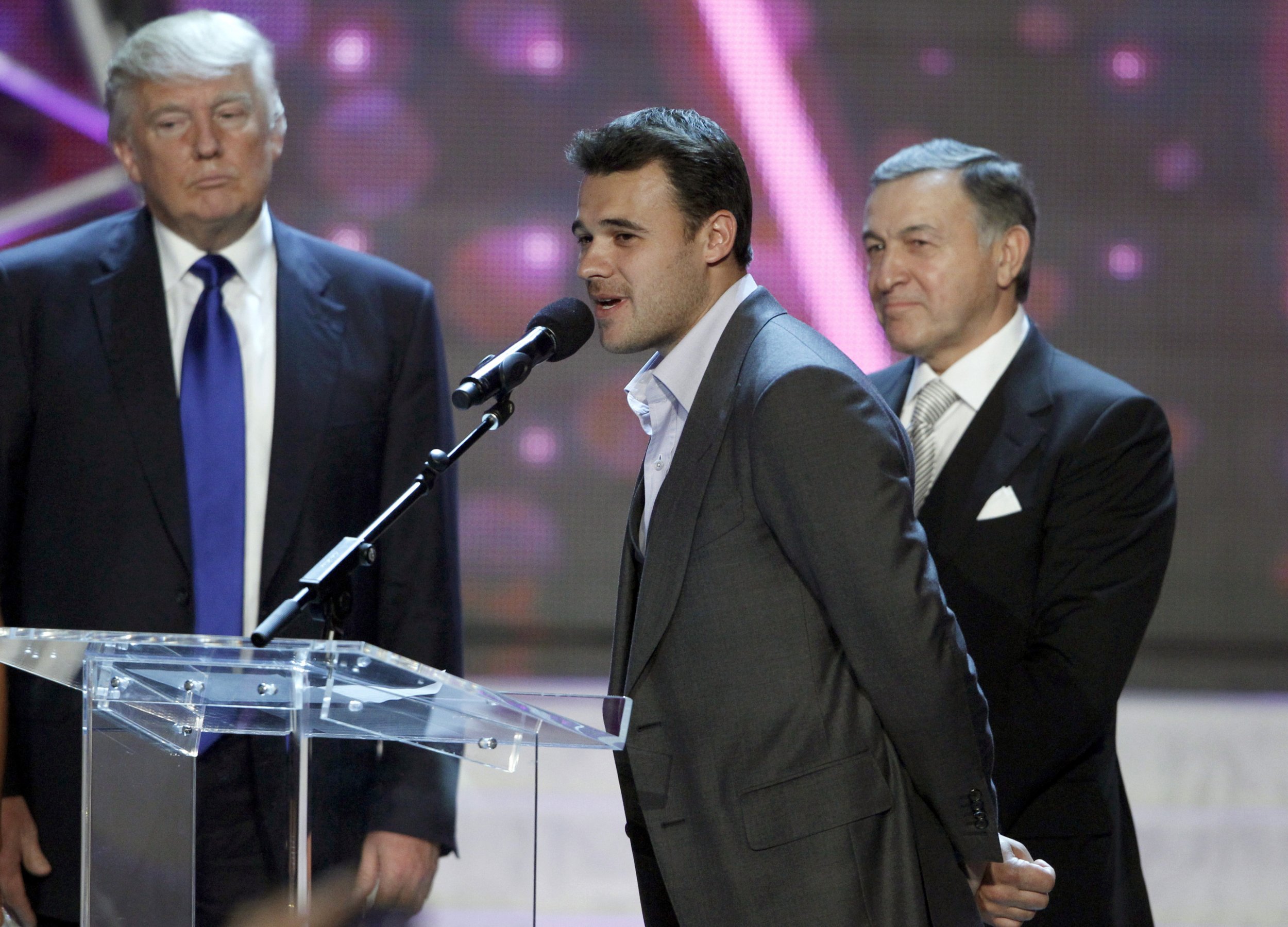 President Donald Trump once described the Russian oligarchs that his son, Donald Trump Jnr, hoped would give him incriminating information about Democratic candidate Hillary Clinton as "the most powerful men in Russia."
CNN released video footage showing Trump mingling with Aras and Emin Agalarov and music publicist Rob Goldstone, the group of men that Trump's eldest son believed would give him information that would help his father win the 2016 election.
In an email exchange from 2016, Trump Jr. accepted Goldstone's offer to meet with Natalia Veselnitskaya, described to him as a "Russian governmentattourney" to discuss compromising information about Clinton which apparently arose from a conversation between Agalarov and another man described only as a "crown prosecutor of Russia."
Read More: Trump Jr.'s letter claims are "made up." "I don't know him," businessman at the center of the letter says
Trump Jr. insists his father did not know about the email exchange with Goldstone. Trump worked with Aras Agalarov in bringing his Miss Universe pageant to Moscow and he also starred in one of Emin Agalarov's music videos.
In a video obtained exclusively by CNN, Trump is seen talking with Goldstone and Emin Agalarov, sat next to him during their visit to Las Vegas in 2013, where he and Aras Agalarov announced they would bring the Miss Universe pageant to Moscow.
The footage features a series of clips from behind the scenes of the Miss U.S.A. pageant in 2013. In them, Trump and the Agalarov family appear at ease in each other's company. Aras Agalarov has denied knowing Trump Jr. or Goldstone.
"These are the most powerful people in all of Russia, the richest men in Russia," Trump said of the Agalarov pair on the red carpet of the pageant, flanked by both Aras and a smiling Emin.
Ahead of dinner, Trump commends Emin Agalarov's mother and sister, saying: "Whoa, look at this! Now I'm glad we're going to dinner," Trump says. "What a beautiful mother you have! Well, you produce good looking stuff, right? Beautiful stuff."
Speaking in front of camera about his and Agalarov's decision to host the Miss Universe pageant in Russia, Trump veers into politics.
"It really is a great country. It's a very powerful country that we have a relationship with, but I would say not a great relationship, and I would say this can certainly help that relationship. I think it's very important," Trump says.
"I have great respect for Russia. And to have the Miss Universe pageant in Moscow, in the most important location, the most beautiful building, in your convention center, with such amazing partners, I mean it's going to be fantastic for detente, or whatever you want to say,"
"I think it's a great thing for both countries, and honestly they really wanted it in Russia—badly. ... Politically they wanted it," Trump adds.