Why You Shouldn't be Surprised by Trump's Willingness to Accept Opposition Research From Foreign Governments
President Donald Trump said Wednesday evening that he would possibly accept the aid of foreign governments during an election without informing the FBI, a shocking admission that's sure to be used against him by critics calling for the president's impeachment. However, Trump's statement is actually in line with what his advisers have been saying publicly for months.
In an interview last month, Trump's son-in-law and senior adviser Jared Kushner said "I don't know" when asked if he would contact the FBI after having learned about Russian attempts at election sabotage. Trump's personal lawyer, Rudy Giuliani, has contended that there is "nothing wrong" with taking information from Russians.
In May, Attorney General William Barr was asked by Democratic Senator Chris Coons about how campaigns should act when foreign adversaries offer them information about their opponents.
"What if a foreign adversary—let's now say North Korea—offers a presidential candidate dirt on a competitor in 2020? Do you agree with me that the campaign should immediately contact the FBI?" he asked.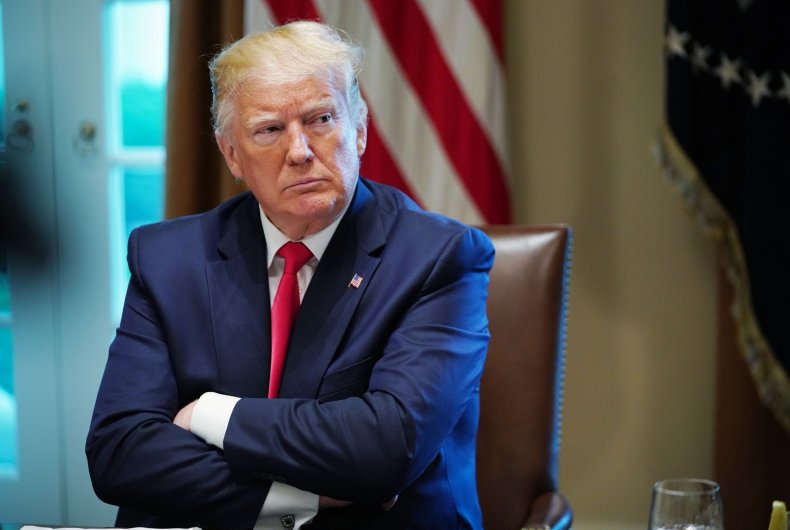 Barr paused for some time and asked Coons to repeat the question again. Finally he responded that "if a foreign intelligence service does, yes." His very specific response only mentioned intelligence services but omitted mention of representatives of foreign governments.
Some Republicans have come to the president's defense, amid increasing pressure to rein in the White House. House Democrats are trying to pass a bill, the Election Security Act, that would make it explicitly illegal to help a foreign agent or government impede in the election process, but Senate Majority Leader Mitch McConnell has worked to block it. McConnell who has referred to himself as the "grim reaper" for killing bills, has said that the Election Security Act will not come to a vote in Senate.
President Trump said Wednesday evening of foreign intelligence on election opponents that "it's not an interference, they have information—I think I'd take it," to ABC's George Stephanopoulos. "If I thought there was something wrong, I'd go maybe to the FBI—if I thought there was something wrong. But when somebody comes up with oppo research, right, they come up with oppo research, 'Oh let's call the FBI.' The FBI doesn't have enough agents to take care of it. When you go and talk, honestly, to congressmen, they all do it, they always have, and that's the way it is. It's called oppo research."
It is true that most congressmen and presidential candidates do opposition research, but they pay American staff to do it and use legal search functions, they are not getting their research from illegally hacking into emails or from foreign agents.
"When foreign governments are offering to 'help' a particular candidate, it's not because they want to have a beer with them at some point. They want to be able to change our policies — including ones that make it easier for them to do things against the interests of the U.S.," wrote former FBI special agent Asha Rangappa on Twitter. "When such help is accepted and kept hidden, it becomes a source of liability for the candidate/officeholder. This means that the foreign government then has LEVERAGE over a person who ends up in a position of public trust."
Not even Trump-pal Senator Lindsey Graham could fully defend the president. "I believe that it should be practice for all public officials who are contacted by a foreign government with an offer of assistance to their campaign—either directly or indirectly—to inform the FBI and reject the offer," he said before launching into a Twitter thread accusing Democrats of also engaging with foreign nationals for campaign research by paying former British intelligence officer Christopher Steele for a dossier of information on the Trump campaign. However, a 2018 report by a Republican-led House committee noted that merely paying a foreign citizen for opposition research is within the boundaries of the law.
Former Senator Rick Santorum, meanwhile, defended the president's words by saying that he didn't mean what he said. The president was just speaking "colloquially," explained Santorum.
"He has, sort of—as we all do, filler words that don't mean what they say, like, 'I think,'" Santorum said on CNN. "So I took the president for his word that he would do both, which I think, I don't think that's necessarily inappropriate as long as he refers it to the FBI. As far as looking at the information, maybe he should and maybe he shouldn't and I don't think it's a crime in looking at the information as long as you refer it to the proper authorities."
House Speaker Nancy Pelosi commented on the president's interview at her weekly press conference Thursday morning, but did not change her tune on avoiding impeachment chatter.
"Yesterday the president gave us evidence that he does not know right from wrong, it's a very sad thing," she said, "for the president to be so cavalier, to disregard any sense of ethics about who we are as a country, that's an assault on our democracy."
But when it comes to impeachment hearings, Pelosi said Democrats weren't ready. "Everybody in the country should be totally appalled by what the president said last night, but he has a habit of making appalling statements," she explained. "What we want to do is have a methodical approach to the path that we are on, and this will be included in that, but not any one issue is going to trigger [impeachment]. It's about investigating, litigating and getting the truth. We're going to hold everyone accountable because no one is above the law."