Video: Stephen Colbert Leads Trump-inspired Chant—'MAGA MAGA KAG KAG, MAGA MAGA KAG KAG… Fake News!'
Comedian Stephen Colbert took a scalpel to President Donald Trump's latest political rally on The Late Show Wednesday night. Trump kicked off his 2020 re-election bid in Orlando, Florida on Tuesday evening.
Poking fun at the president's attempt to "officially re-launch the campaign he has never stopped," Colbert blasted him for recycling the same rhetoric he has used for years.
During the Orlando speech, Trump claimed his Democratic opponents—"driven by hatred, prejudice and rage"—want to see his supporters splintered into "factions and tribes."
Colbert quipped in response: "Yes. Democrats want to divide America into tribes that all hate each other. Says the man speaking to an angry mob all wearing the same hat."
Deploying his Trump impression, the comedian continued: "We will not become an angry tribe. Now everybody chant: 'MAGA MAGA KAG KAG, MAGA MAGA KAG KAG... fake news!'"
"MAGA" stands for "Make America Great Again," while the newer "KAG" acronym means: "Keep America Great."
Elsewhere in his Tuesday speech, Trump criticized special counsel Robert Mueller's investigation into alleged Russian interference in the 2016 election. He said: "We went through the greatest political witch hunt in political history. They went after my family, my business, my finances, my employees—almost everyone that I've ever known or worked with."
At one point, Trump envisaged an America ruled by the Democrats, in which politicians used the law to "shut down their opponents"—something, he argued, they are already trying to do.
Implying the president's words were hypocritical, Colbert remarked: "He clearly understands that using the power of your office to prosecute your political enemies is wrong."
The comedian immediately followed up with a clip of the rally in which the president declares: "Crooked Hillary Clinton!"
In another clip, the rally audience is seen chanting "Lock her up, lock her up."
Colbert then quipped: "You know, for all his bad environmental policies, Trump is very committed to recycling his garbage."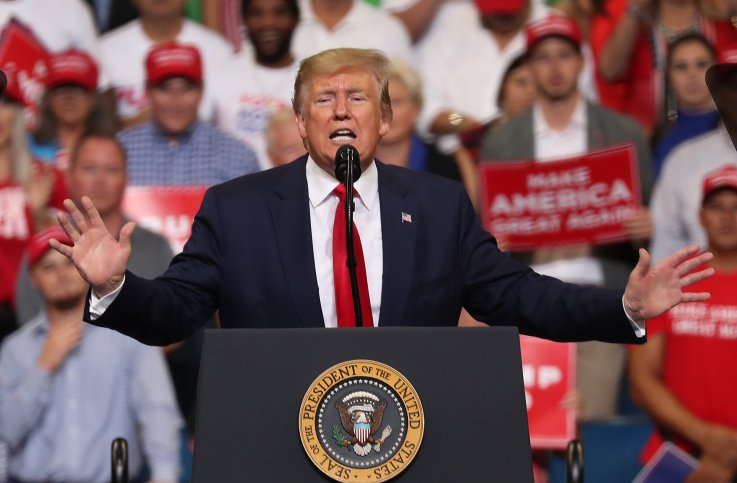 Familiar criticisms of Clinton peppered Trump's Orlando speech, even though the politician is not running in the 2020 election. The president attacked Clinton over her use of the word "deplorables," and her email server controversy—even declaring "we'll find" her emails to the crowd.
Some Democrats, like former Florida gubernatorial candidate Andrew Gillum mocked Trump for his repeated attacks on his ex-opponent. Gillum tweeted: "Hillary Clinton you must be EXHAUSTED! Cause you've been running through Donald Trump's small mind for a LONG time."
But Trump's Tuesday audience responded with enthusiasm to his frequent mentions of the former presidential nominee. Many members of the crowd were seen booing, clapping and chanting whenever he brought up Clinton's name.
Video: Stephen Colbert Leads Trump-inspired Chant—'MAGA MAGA KAG KAG, MAGA MAGA KAG KAG… Fake News!' | Politics