President Donald Trump Orlando Rally Tuesday: Live Stream, TV Channels, Schedule, Start Time
President Donald Trump is set to launch his 2020 reelection bid Tuesday at a rally in Orlando, Florida.
His campaign has already faced public setbacks, with three pollsters cut loose after damaging numbers were leaked to the media. But Trump is focusing his attention on the big rally, which is, by all accounts, already oversubscribed.
Trump tweeted Monday his campaign had received more than 100,000 ticket requests. Although the venue—the Amway Center at 400 W Church Street—seats 20,000 people, large screens outside the arena will broadcast the event to the overflow crowd.
Some keen ticket-holders began camping outside some 40 hours ahead of the rally, local station WESH reported. Several roads have been closed, and detours are in place, as WFTV9 reported.
Campaign groups—including Puerto Rican and Latino organizations—are set to protest at the event, according to Click Orlando. The giant Trump baby balloon that recently flew in London during the president's state visit to the U.K. is expected to make an appearance after a successful crowdfunding push, Florida Today reported.
But poor weather—including clouds, wind, rain and even thunderstorms—threatens to dampen the day, according to the National Weather Service. Temperatures may reach highs of 88 degrees Fahrenheit on Tuesday. The NWS Melbourne office predicts a 60 percent chance of precipitation throughout the day, with a 20 percent chance of showers and thunderstorms during the evening before 11 p.m. ET.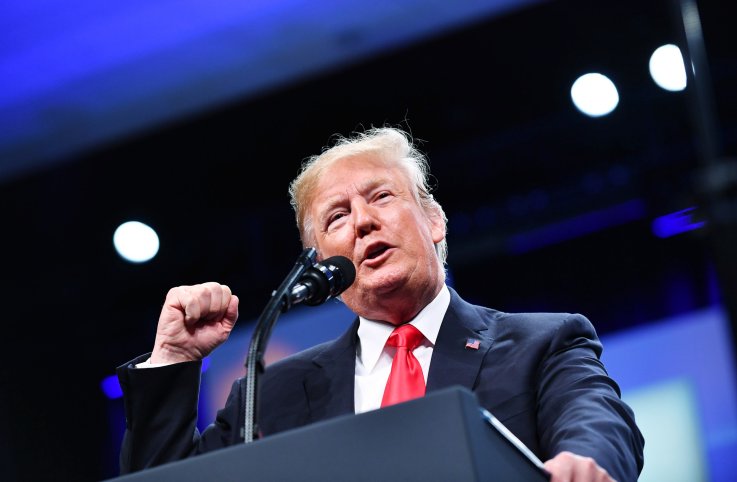 What time does the rally start?
The event itself kicks off at 8 p.m. ET. But official activities begin outside the arena Tuesday morning.
Schedule
The day will start at 10 a.m. ET with a tailgate-style celebration called "45 Fest." The event will take place outside the Amway Center, and will feature live music and food trucks, Florida Today reported.
Doors to the arena will open at 4 p.m. ET ahead of the rally itself, which begins at 8 p.m. ET.
TV channel and live stream
PBS Newshour is set to live-stream the rally via Youtube from 8 p.m ET. Local station KSAZ's Youtube live stream will begin two hours earlier at 6 p.m. ET. A live stream will also available online at floridatoday.com.
Online coverage will be available throughout the day through outlets like the USA Today Network.
Major news networks including CNN, Fox News and MSNBC have regular programmes scheduled for 8 p.m. ET—Anderson Cooper 360, Tucker Carlson Tonight and All in With Chris Hayes, respectively—but it's likely the rally will be the focus of subsequent news coverage.
President Donald Trump Orlando Rally Tuesday: Live Stream, TV Channels, Schedule, Start Time | Politics