Everything That Donald Trump Thinks Is Overrated, According to His Tweets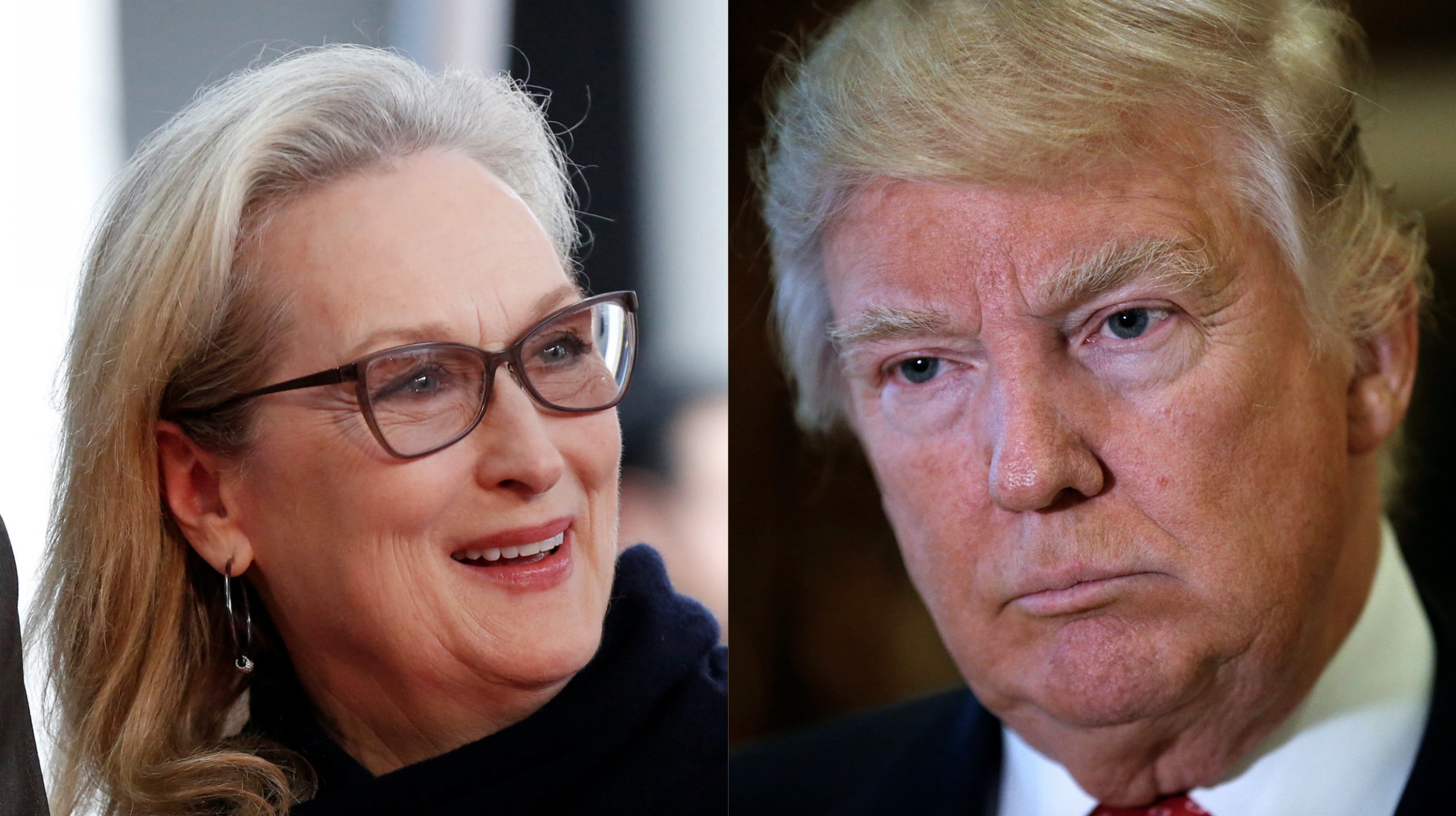 During her acceptance speech for the Cecil B. DeMille Award at Sunday night's Golden Globe Awards, Meryl Streep took a rather large swipe at Donald Trump. "This instinct to humiliate, when it's modeled by someone in the public platform, by someone powerful, it filters down into everybody's life, because it kind of gives permission for other people to do the same thing," she said in reference to Trump's mockery of a disabled reporter last November.
Streep called it the most "stunning" acting performance she had seen. "Disrespect invites disrespect. Violence incites violence. When the powerful use their position to bully others, we all lose," she said.
Related: Meryl Streep calls out Trump's bully tactics in powerful Golden Globes speech
Despite La La Land's record seven wins, Streep's speech was the story of the night, and all that was left to do after the show ended was wait for Trump's response. It came early Monday morning and was about as predictable as one could imagine. Naturally, he resorted to petty bullying. Trump tweeted that Streep "doesn't know me," that she is a "Hillary flunky" and that the beloved 19-time Academy Award nominee is "overrated," which has become one of the most reliable digs Trump uses to combat attacks from notable haters and losers.
It makes sense, given what we know about Trump. Calling someone overrated goes beyond simply calling that person "bad." If one were to call Streep a poor actress, someone else could respond by listing her accolades. Argument over. To say she is "overrated," however, calls the accolades themselves into question. When Trump says that Streep is a bad actress, or that The Daily Show is bad television, or that Hillary Clinton is not intelligent, he is saying that the so-called mainstream media are misleading you.
As his campaign demonstrated, this is an intoxicating idea. People want to believe that the truth is being distorted or withheld from them. It gives them an outlet for their anger. Damn Hollywood elites! Trump is right! Meryl Streep IS terrible! It's her fault that I didn't understand Adaptation!
The irony, of course, is that Donald Trump himself is maybe the most overrated cultural or, gulp, political figure in American history. Both his businesses and his presidential campaign were hollow shells, adorned with gold leaf, lies, misdirection and more gold leaf to distract Americans from what was underneath. He is the ultimate psychological projector, casting his insecurities on those who challenge him. Part of his subconscious knows he's a fraud, and so he calls others frauds so as not to have to confront the fact that he lacks all of the traits he values most (intelligence, integrity, class).
Here are a few more examples of this projection from the president-elect's Twitter feed.
Meryl Streep
Hamilton
Hillary's 'Brainpower'
Trump has long espoused a bizarre understanding of human intelligence, speaking about mental capacity as if it is quantifiable and the mind as if it is some sort of machine. He has often slammed opponents for not having high IQs while praising his own.
Bill Clinton
Debbie Wasserman Schultz
Barack Obama
Surprisingly, Trump has tweeted about Obama being overrated only once.
Marco Rubio
'Loser POLITITIANS!!'
This came by way of Trump's famously quoted copy-and-pasted retweets, but it's not as if Trump wouldn't have had the potential to misspell politicians himself, despite his immense brainpower.
Karl Rove
He's responsible for Ashley Judd's rise.
George Will
He gets the lifetime achievement award for being dubbed overrated by Trump. Trump first called the conservative pundit overrated in March 2012:
And then did so again in June 2016:
(Trump also called Will a "deadpan" in December 2015, but he mistakenly tagged a Twitter user with less than 100 followers named Georgina Williams. A screen shot of the tweet is now Williams's header photo.)
Jerry Seinfeld
Why not?
Trump called columnist Charles Krauthammer overrated on four occasions in 2015, also adding that he is a "dope," "dummy," "clown," "boring," "the worst" and someone who "pretends to be a smart guy."
The two most overrated people in the world of Trump are, not surprisingly, the two most prominent members of the media who have criticized him: Megyn Kelly and Jon Stewart, who memorably dubbed Trump "Fuckface Von Clownstick" in 2013.
Trump has tweeted about Stewart's unfairly lofty reputation six times, calling him an "asshole," "total phony" and "not very bright."
He's also tweeted about Kelly being overrated six times, while also calling her "crazy," "sick" and "angry."
And last but not least...
Donald J. Trump
He might be right on this last one, actually.
Read more from Newsweek.com:
- Here are the winners of the 2017 Golden Globes
- Everything that made Donald Trump 'sad' in 2016
- Donald Trump reacts to 'Hillary lover' Meryl Streep