Donald Trump Appears to Claim That Pakistan Is in the Middle East As He Makes Case for Wall at Southern Border
During a meeting with border patrol officials on Thursday, President Donald Trump appeared to imply that Pakistan is in the Middle East despite the fact that the nuclear-armed country and occasional U.S. ally is in South Asia.
During the meeting, a border official from South Texas told Trump that officials had apprehended two Pakistanis at the border on Wednesday.
"Yesterday we had 450 apprehensions, Mr. President. Out of that, 133 from countries other than the Central American countries and Mexico. India, we apprehended some Pakistanis, some from Romania, on and on and on," the border official told Trump.
"How many Pakistanis?" Trump asked. "Two yesterday," the border official replied. "So far this sector has apprehended folks from 41 different countries. Just yesterday we apprehended 133 people from countries other than Central America and Mexico. That includes individuals from India, China, Pakistan, Romania, Ecuador, Nicaragua, on and on and on," the border guard reiterated, this time addressing the cameras.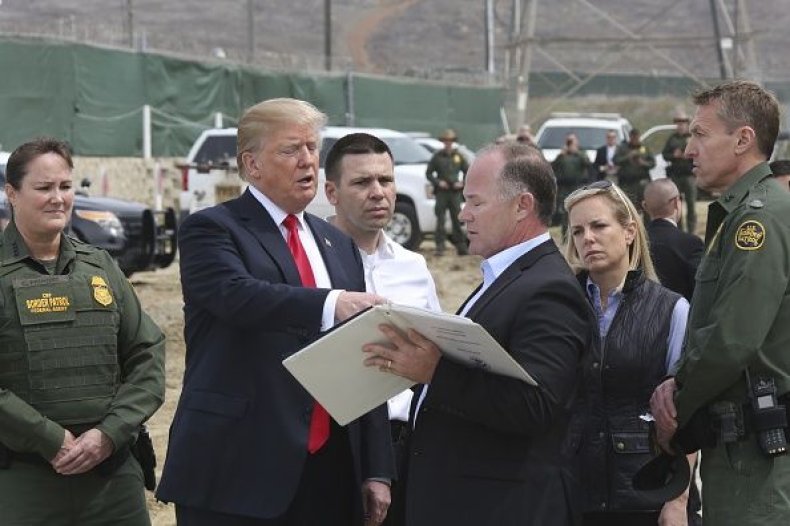 The border guard did not appear to be aware that Nicaragua is a country in Central America.
"So they apprehended people from the Middle East and they do it all the time," Trump said, apparently unaware that none of the countries listed by the border guard are in the Middle East.
The current partial government shutdown, which has been ongoing for over 20 days, could soon be the longest in U.S. history. Trump says he plans to continue with the shutdown until Congress agrees to fund a wall on the border for around $5 billion. Trump had claimed during his campaign that Mexico would pay for his proposed border wall.
In recent days, the president has said that, if he does not get his way with Congress, he is strongly considering the possibility of declaring a national emergency over the issue, which would theoretically allow him to authorize the construction deemed necessary for national defense and security. Some analysts have suggested that Trump could use laws that allow the U.S. military to undertake construction projects using money that has already been appropriated for the military, which would mean redirecting funds that have been earmarked for Army projects.
Meanwhile, around 800,000 federal employees are currently furloughed or working without pay until the government reopens.
Trump has previously singled out Pakistan and accused it of harboring terrorists, but the country appeared to be off of his radar for the past year. The president started 2018 by slamming Pakistan for providing safe harbor to the Taliban and slashed U.S. assistance to the country. Since then, however, he has remained quiet on the issue.
Secretary of State Mike Pompeo traveled to Pakistan in September, where he held high-level meetings with the country's new prime minister, Imran Khan.