#TrumpParadeFail Trends on Twitter After President Struggles Over American History in July 4 Speech
The hashtag #TrumpParadeFail was trending on Twitter the day after President Donald Trump's "A Salute to America" July 4 celebration in which he brought military tanks to the streets of the nation's capital and mangled parts of history.
By Friday morning, more than 30,000 Twitter users had tweeted the hashtag, with various reasons they considered Trump's speech and parade at the Lincoln Memorial on Independence Day evening a failure.
A major one was Trump saying in his speech that the Continental Army "manned the air, it rammed the ramparts, it took over the airports, it did everything it had to do" fighting the British in 1781. Continental Army had just as many mentions as #TrumpParadeFail, as the scenario Trump talked about was 122 years before the first flight by the Wright Brothers
Author and consultant Tomi Ahonen mocked Trump by tweeting that his campaign slogan MAGA stood for "Make Airports Great Again" and #TrumpParadeFail.
Trump also wrongly suggested that the Continental Army was named after the nation's first President George Washington and incorrectly seemed to credit the army with winning the battle of Fort McHenry, which took place more than 30 years later.
Other than the history gaffs, Trump received praise for largely sticking to the script and not bashing his critics or Democratic 2020 presidential candidates. The military tanks and hardware that Trump was criticized for ordering to Washington, D.C., were placed behind fencing rather than at a prominent location, but author Grant Stern still slammed it as "wasted military resources."
Stern also bashed Trump for fencing off a national monument and the Lincoln Memorial Reflecting Pool and wasting "a ton" of money turning a holiday and free event into a campaign rally of sort with prime seating tickets handed out by the Republican National Committee.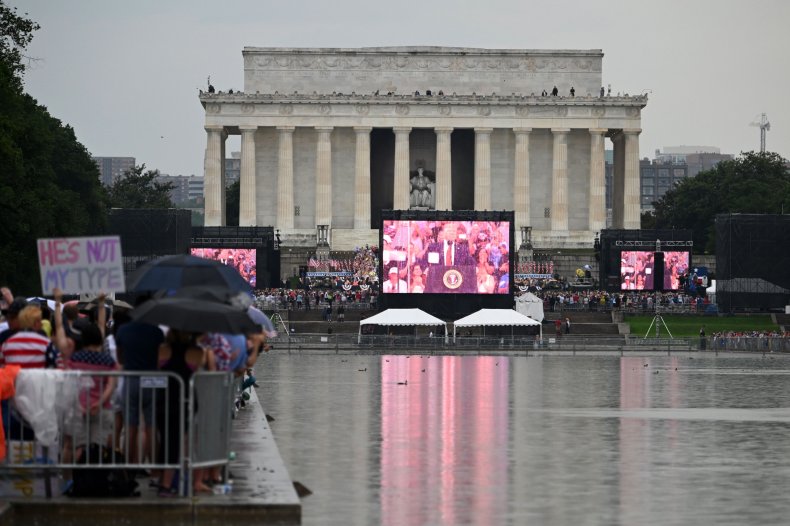 Trump and his administration were also was accused of shutting off a webcam at National Mall to avoid broadcasting a smaller than hoped crowd, though Trump supporters tweeted photos showing the space was full.
"Gosh, can anyone guess why the webcam on the National Mall was down today?" The Democratic Coalition chairman Jon Cooper tweeted with the #TrumpParadeFail.
Writer and voice actor Tara Dublin quote tweeted Cooper's post and commented, "It's like someone didn't want photographic proof of the historically low attendance or something," along with the hashtag.
The Democratic Coalition founder Scott Dworkin on Friday morning tweeted that Trump's team was not prepared for the rain and that the rain-splatter bulletproof glass the president stood behind blurred his speech.
"At least Trump baby blimp was there," Dworkin tweeted. "A true VIP."