Donald Trump 'Dangling a Pardon in Front of Manafort' Could Be Obstruction of Justice, Lead to Investigation, Says Top House Judiciary Dem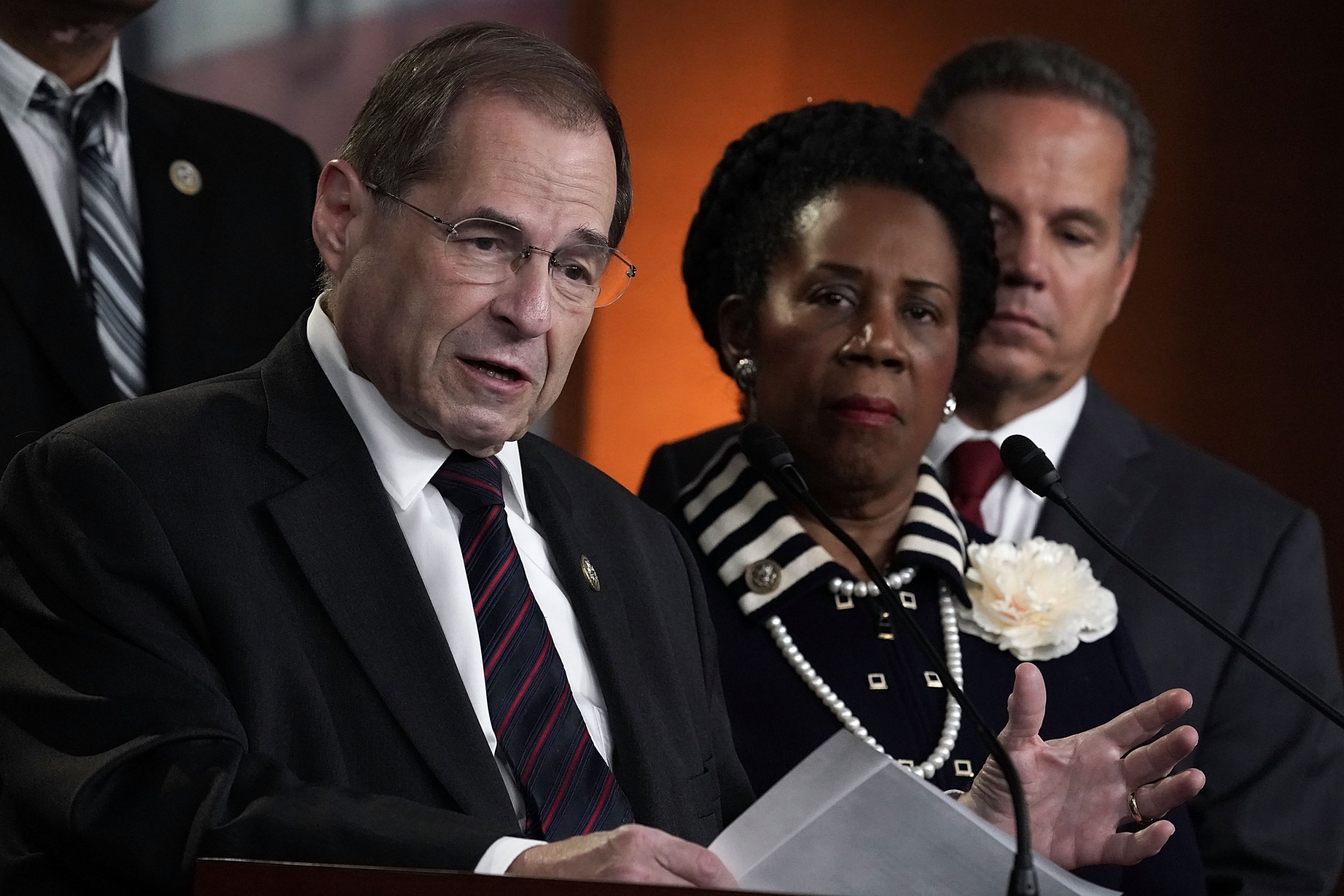 On the heels of a New York Post interview in which President Donald Trump said a pardon for former campaign chairman Paul Manafort was not "off the table," incoming Democratic chairman of the House Judiciary Committee Jerrold Nadler told Newsweek that, should the president pardon Manafort, the committee was prepared to investigate.
Nadler, whose committee would have subpoena and investigative power come January, said even "dangling a pardon in front of Manafort, who is a witness in a serious investigation in which Trump is either a subject or a target, could be viewed as obstruction of justice."
Trump's refusal to take a pardon off the table came after special counsel Robert Mueller issued a new court filing Monday night that alleged Manafort had repeatedly lied to federal investigators "on a variety of subject matters," which was a breach of his plea deal. On Tuesday, it was revealed in a New York Times report that a lawyer for Manafort had been briefing Trump's lawyers on Manafort's ongoing discussions and cooperation with Mueller and federal investigators.
Manafort's legal team disputed the allegations, saying he provided "truthful information." Trump has long claimed that Manafort had been treated unfairly by the federal investigators. After his former campaign chairman struck a deal with prosecutors in September, Trump said he was not worried about Manafort cooperating.
"You know this flipping stuff is terrible," Trump, who has repeatedly called for Mueller's "witch hunt" led by "angry Democrats" to come to an end, told the Post. "You flip and you lie and you get—the prosecutors will tell you 99 percent of the time they can get people to flip. It's rare that they can't."
In August, Manafort was convicted on eight charges involving tax fraud, bank fraud and hiding foreign bank accounts. Ahead of a second trial, Manafort struck a plea deal with Mueller's team in September in which 10 charges from his first trial were dismissed, thereby avoiding a second trial on foreign-lobbying and money-laundering charges.
Manafort has been in jail while he awaits his February sentencing. But both Mueller's and Manafort's legal teams requested in their Monday court filing that a judge move forward without delay in scheduling a sentencing hearing, making it unclear whether the February sentencing date could be moved up.
"Granting a pardon, if the purpose is to affect his testimony in any way, would be a very serious crime on a part of the president," Nadler said. "We will play a role investigating all of this, along with the intel community."
Nadler did not go so far as to say the president could face impeachment, but rather that the issue should be revisited if a congressional investigation were to uncover further troubling evidence.
Democratic Representative Sheila Jackson Lee, also on the Judiciary Committee, told Newsweek she had similar feelings about investigating a Trump pardon of Manafort. While the president does have executive authority to pardon any individual, Jackson Lee said any sign of "attachments or quid pro quos" to the pardon, such as Manafort hiding damaging information about Trump from investigators, would be "worthy of investigating."
The president does not have "full power in skewing and undermining the rule of power, not full power in obstructing justice," Jackson Lee said. "If the chain of events can connect to the president using the pardon powers to directly benefit himself, then there is a problem. That will be up for review and investigation."