Donald Trump's Pardon of Former Soldier Raises Questions About Other Pending War Crime Cases
President Donald Trump granted a full pardon Monday to a former U.S. Army lieutenant who previously served five years in prison for fatally shooting an Iraqi man detained by American forces.
The executive clemency of ex-Army First Lieutenant Michael Behenna raises new questions about ongoing U.S. military court cases involving allegations of war crimes President Trump has expressed interest in during his time in office. Among the pending cases are those against Navy SEAL Edward "Eddie" Gallagher, who is accused of killing an Islamic State fighter.
President Trump has already ordered Gallagher be moved to less restrictive confinement in a March tweet. And in December, Trump said he would be reviewing the case of a "U.S. Military hero," via Twitter and naming former Army Green Beret Major Matthew Golsteyn, who is alleged to have murdered a detainee suspected of being a bomb maker for the Taliban in Afghanistan.
While gaining support from his base, the decision to pardon Behenna has been met with criticism from veterans as well as the American Civil Liberties Union. In 2008 during a deployment to Iraq, Behenna believed Ali Mansur, a suspected al-Qaeda operative, was responsible for the deaths of two other U.S. Army soldiers whose vehicle struck an improved explosive device.
Behenna and another soldier, Staff Sergeant Hal Warner, stripped Mansur of his clothes with their knives and questioned him about the IED attack, the platoon's interpreter said at a pre-trial hearing in 2008 and reported by Agence France-Presse.
Behenna shot and killed Mansur, while Warner took out a thermite grenade from his pocket, pulled the pin, and placed it underneath Mansur's head, according to the interpreter and another platoon member, Corporal Cody Atkinson. The two soldiers hid Mansur's clothes and told the other platoon members to tell senior leaders they had released Mansur. At trial, Behenna said he acted out of self-defense after Mansur allegedly threw a chunk of concrete at him and reached for his sidearm.
In 2009, Warner was convicted of assault, maltreatment of a subordinate and making a false statement, according to the Associated Press. He was sentenced to 17 months in prison. That same year, Behenna was found guilty of "unpremeditated murder in a combat zone," and was sentenced to 25 years in prison, read the White House statement. The U.S. Army Clemency and Parole Board reduced his sentence to 15 years. Behenna was released on parole in 2014—five years into his sentence.
Efforts to reach Behenna on Tuesday were unsuccessful.
In 2017, President Trump lambasted former President Barack Obama and his handling of Sergeant Bowe Bergdahl, who walked off his Army post in Afghanistan in 2009 and was captured by the Taliban. Trump harshly criticized Bergdahl during the election campaign, calling him a "traitor." The result, however, provided new legal arguments for Bergdahl's defense team, who claimed it prevented him from receiving a fair trial.
While that defense strategy was thrown out, the military judge in Bergdahl's case, Army Colonel Jeffery Nance, said President Trump's comments would favor a lighter sentence. Bergdahl was reduced in rank from sergeant to private and ordered to forfeit $1,000 a month in pay for 10 months. He also received a dishonorable discharge.
Eric Mayer, whose law firm specializes in U.S. military case law told Newsweek that Trump's pardon of Behenna shouldn't be seen as a sure sign about the outcome of other war crime-related cases still pending in the military's justice system.
"In Bergdahl, President Trump just made the prosecutor's job harder and gave the defense fodder to make some straight-faced arguments on Bergdahl's behalf.... But if I'm the O-6 supervisor [colonel or Navy captain], and the prosecutor in, say, the Gallagher or Golsteyn case, asks, 'What do I do? This just came out. The president just pardoned this guy.' My advice to them would be, 'Do your job,'" Mayer, a West Point graduate and former Army infantry and JAG Corps officer, said.
"You can't control what the president does or how the president does it. Do your job, and at the end of the day, go home knowing that you did it as well as you can," Mayer added.
However, Mayer, who disagreed when President Obama commuted all but four months of the remaining prison sentence of Chelsea Manning, the Army intelligence analyst convicted of leaking thousands of classified American military and diplomatic documents to WikiLeaks, added that President Trump's pardon of Behenna made a mockery of the process by which the U.S. military secures convictions.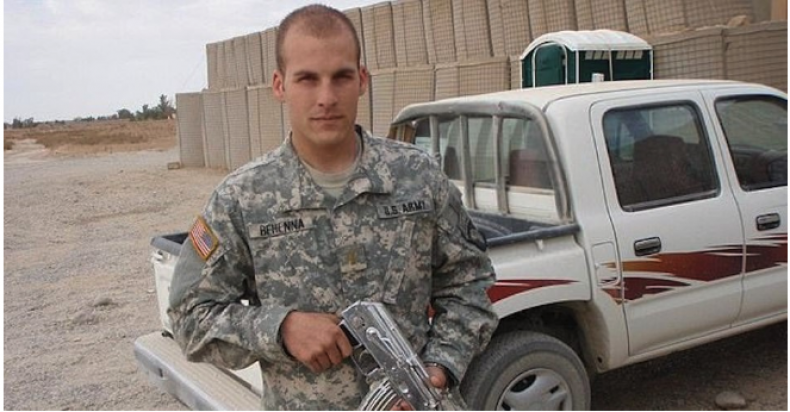 "This was a clear violation, a clear war crime," Mayer said, "but look at the procedure.... Behenna was not being judged by people from a jury pool. He was being judged by individuals who were career Army officers, people who knew the rule of law and have dedicated their lives to the profession of arms. So it's a complete disregard for the judgment of those leaders who were put there to hear all the evidence and decided whether somebody was a murderer or not…. [The pardon] is a complete second guess and basically says their perspective meant nothing," Mayer said.
In its statement, the White House said that Behenna "has attracted broad support from the military, Oklahoma elected officials, and the public." But on Tuesday, the announcement garnered mixed feelings on social media.
The chairman of the Senate Armed Services Committee Senator Jim Inhofe, the Republican from Oklahoma, thanked President Trump for granting Behenna clemency in a statement released from his office Monday.
"I am happy for Michael [Behenna] and his family as they close this difficult chapter. He served his time and the president has granted him a clean slate and a fresh start. I wish him all the best for the future."
President Trump received praise from his voting base and pundits on Fox & Friends on Tuesday morning. Former U.S. Army major and Fox News host Pete Hegseth said the Defense Department "over-prosecutes" and said Trump's clemency is "a wonderful reflection of putting the warfighter first as opposed to some academic rules of engagement which have been tying the hands of our warfighters for too long in this war."
However, advocacy groups and some U.S. military veterans opined sharp criticism at President Trump's decision to grant a full pardon to Behenna.
Hina Shamsi, who is the director of the ACLU's National Security Project said in a statement to Newsweek on Tuesday, "This pardon is a presidential endorsement of a murder that violated the military's own code of justice. The military appeals court found Behenna disobeyed orders, became the aggressor against his prisoner, and had no justification for killing a naked, unarmed Iraqi man in the desert, away from an actual battlefield. Trump, as Commander-in-Chief, and top military leaders should prevent war crimes, not endorse or excuse them."
Matt Gallagher, an award-winning author and former U.S. Army captain, said on Twitter, "Can't believe this needs to be said in 2019 America but here goes: No, it's not okay to murder a prisoner. No, it's not okay to defy the laws of war in some pursuit of justice. No, what Behenna did can't be brushed off as 'war is war.'"
"War corrupts - people and societies alike," said Gallagher.