Donald Trump Pardons John Ponder, Hope For Prisoners Founder Scheduled to Speak at RNC
On Tuesday, Republican President Donald Trump pardoned Jon Ponder, a former three-time convicted felon and founder of the post-prison re-entry organization Hope for Prisoners. The pardon came before Ponder's expected remarks at the 2020 Republican National Convention.
Trump first mentioned Ponder in his remarks on the National Day of Prayer on May 3, 2018, highlighting Ponder's conversion to Christianity while in solitary confinement. While confined, Ponder read the Bible and listened to the now-deceased Reverend Billy Graham on the radio.
At the time, Trump called Ponder "a living testament to the power of prayer," and a reminder "that prayer changes hearts and transforms lives."
On February 20, Trump hinted at possibly granting Ponder a pardon while making remarks at a Hope for Prisoners graduation ceremony in Nevada. "We are giving him absolute consideration and I have a feeling he is going to get the full pardon," Trump said of Ponder.
During the Tuesday pardon ceremony, Trump mentioned that Ponder grew up raised by his mother who was unable to keep him out of gangs and off of the "violent streets."
According to Ponder's biography on the Hope for Prisoners' website, Ponder was first arrested at the age of 12. He was then arrested for armed robbery at age 16 and went in and out of jails for the next 20 years, according to Fox News, before robbing a bank while on alcohol and drugs. The judge sentenced him to five years in a federal penitentiary, and that's when his religious conversion occurred.
Shortly after his 2010 release, Ponder received a home visit from FBI Special Agent Richard Beasley, the FBI agent who put him in prison, Trump said.
"I want you to know that I've been praying for you," Trump quoted Beasley as telling Ponder. The two men have since become best friends, according to Trump.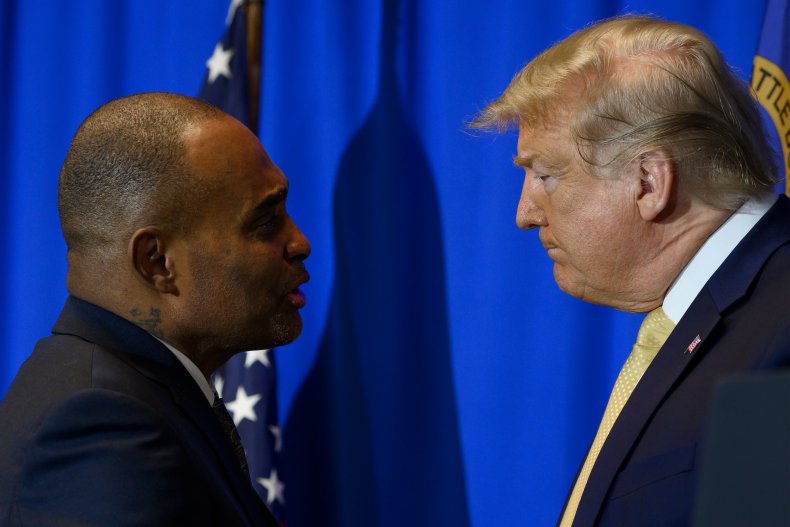 "John, we honor your devotion to showing returning citizens that they are not forgotten," Trump said during the ceremony while Ponder and his wife, Jamie, stood nearby.
"We believe that each person is made by God for a purpose," Trump continued. "I will continue to give all Americans including former inmates, the best chance to build a new life and achieve their own American dream and a great American dream."
In his comments, Ponder thanked the Las Vegas Metropolitan Police Department for the "tremendous impact" they make by volunteering their time to help re-integrate incarcerated people into the local community.
"These are the real life heroes who put their lives on the line, every day, armed with the promise that they made to protect and to serve," Ponder said, adding that he hopes law enforcement officers and communities across the U.S. can realize they have more commonalities than differences.
When invited to offer few words, Beasley, who was also in attendance at the pardoning ceremony said, "In certain parts of our country right now, law enforcement doesn't feel like they have the support from their local leaders, are being painted with a broad brush unfairly with calls for defunding."
"But as President Trump knows" Beasley continued, "the overwhelming percentage of law enforcement officers are good, smart people are doing their jobs very well. And they can change the world, working with people like John."
Trump then signed the pardon which clears him of the federal bank robbery charge.
In early March, the Nevada Board of Pardons granted a partial pardon to Ponder for his domestic violence incidents from 1994 to 2001. The pardon restored some of the rights he lost as a result of his convictions, but not his right to bear arms, according to The Nevada Independent.
Newsweek contacted Hope for Prisoners for comment.