Donald Trump Has Joined Parler According to Fox News' Sean Hannity
Fox News host Sean Hannity said on Thursday that President Donald Trump has an account on Parler, a social media platform pitched as an alternative to Twitter that has become a popular destination for conservatives.
Hannity said the president had signed up to the platform during a segment that featured former White House press secretary Sarah Huckabee Sanders alongside right-wing commentator and radio host Dan Bongino—an investor in the app.
"I saw that the president had joined it. At least there is a place, it's like Twitter, it's called Parler, I have an account there... good for you because the president joined, because they are censoring him and Dan Scavino and everybody else," Hannity said.
The comment was directed at Bongino, who did not contradict the statement that Trump has joined the "free speech" website, which is currently led by CEO John Matze with additional financial backing from Republican donor Rebekah Mercer.
Dan Scavino currently serves in the Trump administration as Assistant to the President and Deputy Chief of Staff for Communications, according to a White House release.
Hannity's suggestion that the outgoing president was now on Parler does not appear to be accurate at the time of writing, with no results for Donald Trump showing up.
A search of Parler brings up the accounts of Eric Trump, Ivanka Trump, Tiffany Trump, Lara Trump and the Team Trump election campaign—but not the president himself. An unverified profile claiming to be Donald Trump Jr. is active on the platform.
A Parler account with the handle @trump appeared to have been created some time on Friday (December 8), but did not have a profile image and had not posted at the time of writing. Despite that, it had managed to attract about 22,000 followers.
It was not immediately clear if the Fox News host had been referring to a Parler account with the handle @Thepotus45 that was claiming to represent Trump on Thursday.
The profile, which was unverified but quickly gained 15,000 followers, appeared to be soliciting financial donations from other Parler users before being made private.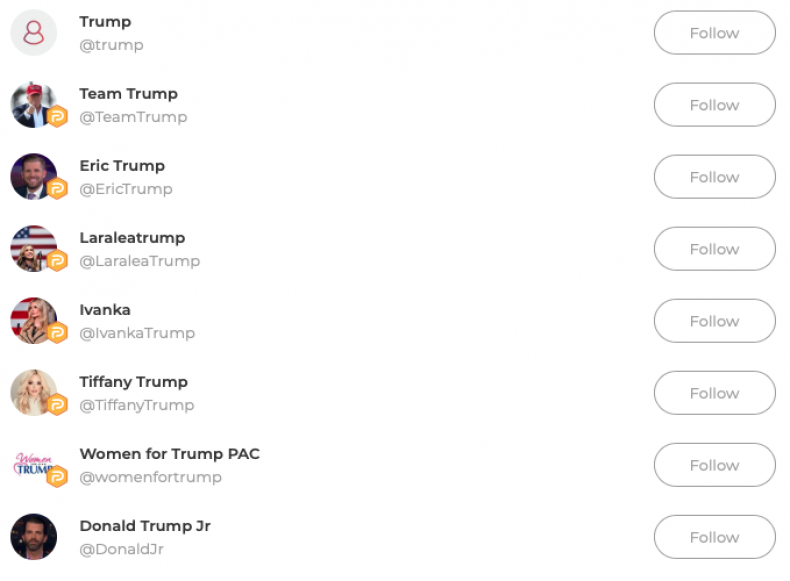 President Trump's Facebook and Twitter accounts were blocked on Wednesday after he posted updates that doubled down on false claims of election fraud and stated a violent mob of his supporters who stormed the U.S. Capitol Building were "very special."
As the riots were ongoing, Trump released a video that urged them to "go home" but did not denounce their actions. It was pulled from Twitter, Facebook and YouTube.
His Twitter profile was reinstated Thursday after a 12-hour suspension. Facebook boss Mark Zuckerberg said the same day that Trump was being blocked "indefinitely."
Bongino told Hannity during the Fox News interview that he was leaving Twitter after the platform had locked his account for 12 hours for re-sharing Trump's video address. "The speech suppression is going to get worse," he predicted in a tweet on Thursday.
The White House, Fox News and Parler have been contacted for comment.