Donald Trump Celebrates Patriotism in U.N. Speech, But the U.S. Is Less Patriotic With Him As President
President Donald Trump touted the benefits of patriotism over globalism at the United Nations General Assembly Tuesday, but a recent poll showed that Americans feel less patriotic than they have in the history of polling on the issue.
"America is governed by Americans. We reject the ideology of globalism, and we embrace the doctrine of patriotism," Trump said, crystallizing a stance that he has espoused since the very first days of his campaign for president and encapsulated by his "America first" rhetoric and policies.
Trump mentioned variations of the word patriotism three more times during a speech that began with him being laughed at by the audience for claiming his administration has accomplished more in two years than any other in history.
"Inside everyone in this great chamber today, and everyone listening all around the globe, there is the heart of a patriot that feels the same powerful love for your nation, the same intense loyalty to your homeland," Trump said.
He continued: "The passion that burns in the hearts of patriots and the souls of nations has inspired reform and revolution, sacrifice and selflessness, scientific breakthroughs, and magnificent works of art."
Trump concluded his speech with a return to the same theme.
"So together, let us choose a future of patriotism, prosperity and pride," he said. "Let us choose peace and freedom over domination and defeat. And let us come here to this place to stand for our people and their nations, forever strong, forever sovereign, forever just, and forever thankful for the grace and the goodness and the glory of God."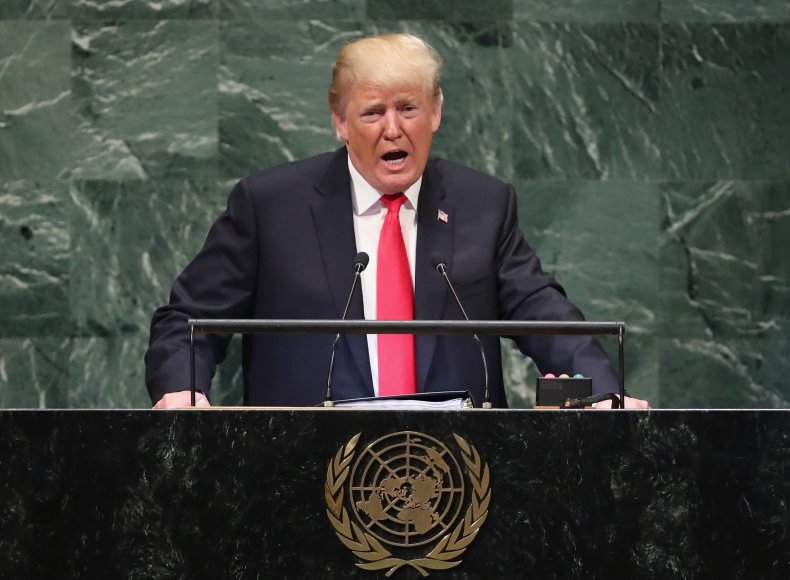 But while Trump has repeatedly emphasized American pride, the majority of Americans have not bought in. In a June Gallup poll, less than half, 47 percent, of Americans said they were "extremely proud" to be Americans. The number represented the lowest figure since Gallup began polling on the issue in 2001. Two years later, a high of 70 percent said they were very proud to be Americans. The number has fallen each year since the 2016 election campaign began.
While the percentage of Republicans expressing extreme pride has increased, the figure has decreased for both Democrats and independents. Just 32 percent of Democrats and 42 percent of independents said they were extremely proud to be Americans in the survey of 1,520 adults conducted between June 1 and June 13.
Trump's impact on Americans will be put to the test for the first time in November when the Republican Party is set to face a battle to hold onto the House and the Senate in crucial midterm elections.
Donald Trump Celebrates Patriotism in U.N. Speech, But the U.S. Is Less Patriotic With Him As President | U.S.