GOP on Defense After CBO Report Shows Millions Could Lose Insurance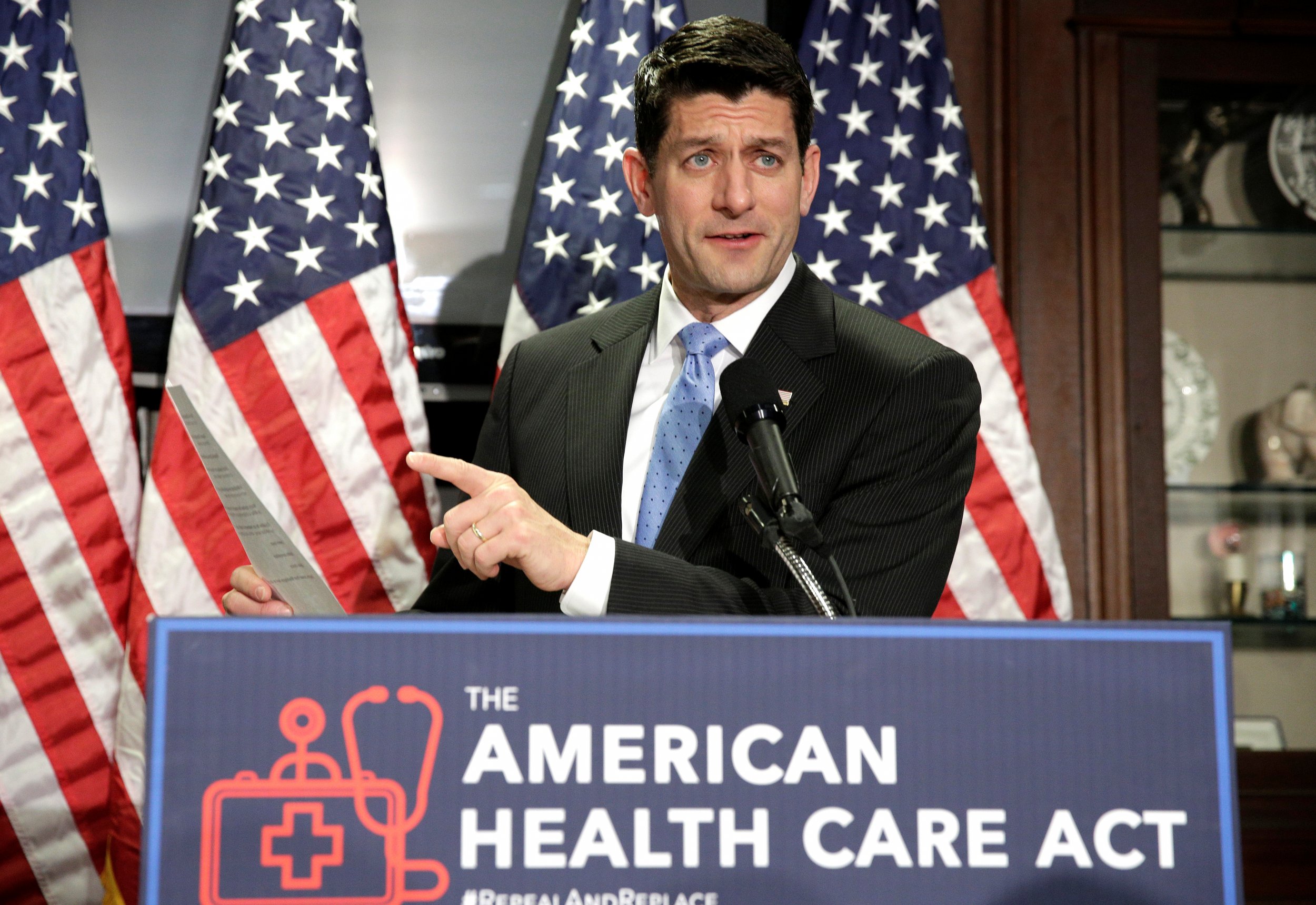 Republicans on Tuesday defended their plan to dismantle the Obamacare healthcare reform after a nonpartisan research report showed 14 million Americans would lose medical insurance by next year under the proposal even as it reduces the budget deficit.
The U.S. Congressional Budget Office (CBO) report on Monday forecast that by 2026, the number of people without health insurance would increase by 24 million if the House of Representatives' legislation to replace the 2010 Affordable Care Act is adopted.
The findings are making it harder for Republicans to sell the plan—their first major piece of legislation under Republican President Donald Trump—in Congress, especially the Senate.
The Trump administration defended the proposed healthcare overhaul, saying it will offer consumers more choices than Obamacare, Democratic former President Barack Obama's signature domestic policy achievement.
Congressional Republicans have vowed for years to undo Obamacare, which expanded health insurance to about 20 million Americans.
But their new effort faces opposition from a range of Republicans - from conservatives who think it does not go far enough to moderates concerned about the impact on coverage and costs.
Doctors, hospitals and other medical providers as well as patient advocates have urged lawmakers to abandon the plan.
Republican Orrin Hatch, chairman of the Senate Finance Committee, said he did not think the CBO report meant the end of the proposal. "No matter what you do ... you're going to have differences like that, and to be honest with you, I don't think they truly looked at all the aspects," he said.
White House spokesman Sean Spicer said the CBO's main role was not evaluating healthcare coverage.
"When you get down to it, the Congressional Budget Office is there to measure the potential impact of programs on the federal budget. Its attempts to estimate coverage have been historically faulty," he told reporters.
Democrats say the Republican plan could hurt the elderly, poor and working families while giving tax cuts for the rich. Senate Minority Leader Chuck Schumer said it "is a wreck."
"It's vintage Donald Trump: talks like a populist, but when he acts, it's hard-right, favoring the special interests and hurting the middle class and those trying to get there," Democrat Schumer told a news conference.
Republican senators held a lunch on Capitol Hill with Vice President Mike Pence and Health and Human Services Secretary Tom Price where they discussed possible changes to the Republican healthcare bill.
In one assessment that might persuade more Senate Republicans to back the bill, the CBO said federal deficits would fall by $337 billion between 2017 and 2026 under the measure.
Senate Majority Leader Mitch McConnell said the CBO report indicated a path to lower insurance premiums, a lower deficit and significant entitlement reform. He said the bill would be open to amendment once it came to the Senate, suggesting the process of shaping the legislation was far from done.
"The first step is in the House. We're hopeful and optimistic they're going to send us over something. It will be open for amendment. We're going to do our thing, and pass it," he told reporters.
Trump, who campaigned on a pledge to repeal and replace Obamacare and provide insurance for everybody, has yet to comment on the report.
Shares Fall
Shares of hospitals and health insurers slipped, partly on worries the plan would mean fewer insured patients.
Among insurer stocks, UnitedHealth Group Inc was down 0.6 percent, Aetna Inc shed 0.4 percent and Humana Inc dipped 0.3 percent.
"What that means basically is lower volume for the health insurers. It looks like it's going to be the dismantling of the individual insurance market, which again means lower revenues and the loss of the individual market for the most part for the insurers," said Vishnu Lekraj, an equity analyst at Morningstar.
Hospital shares were also lower. Tenet Healthcare Corp fell 3.3 percent and HCA Holdings Inc slipped 1.4 percent.
Republican Senator Tom Cotton, a prominent conservative skeptic of the legislation, said he believed the CBO assessment was correct and stepped up his call for House Republicans to put the bill on hold to fix its problems.
"They're right that coverage levels will go down in the coming years under the House bill," Cotton told a conservative radio interviewer. "They're also right, I'm afraid, that insurance premiums will continue to go up in the near term, for three to four years, before they start perhaps falling in the long term."
Overall, CBO projected that 52 million people would be uninsured by 2026 if the bill becomes law, compared with 28 million who would not have coverage that year if Obamacare remained unchanged.