Donald Trump 'Pee Pee Tape:' Watch Stephen Colbert Investigate That Infamous Moscow Presidential Hotel Suite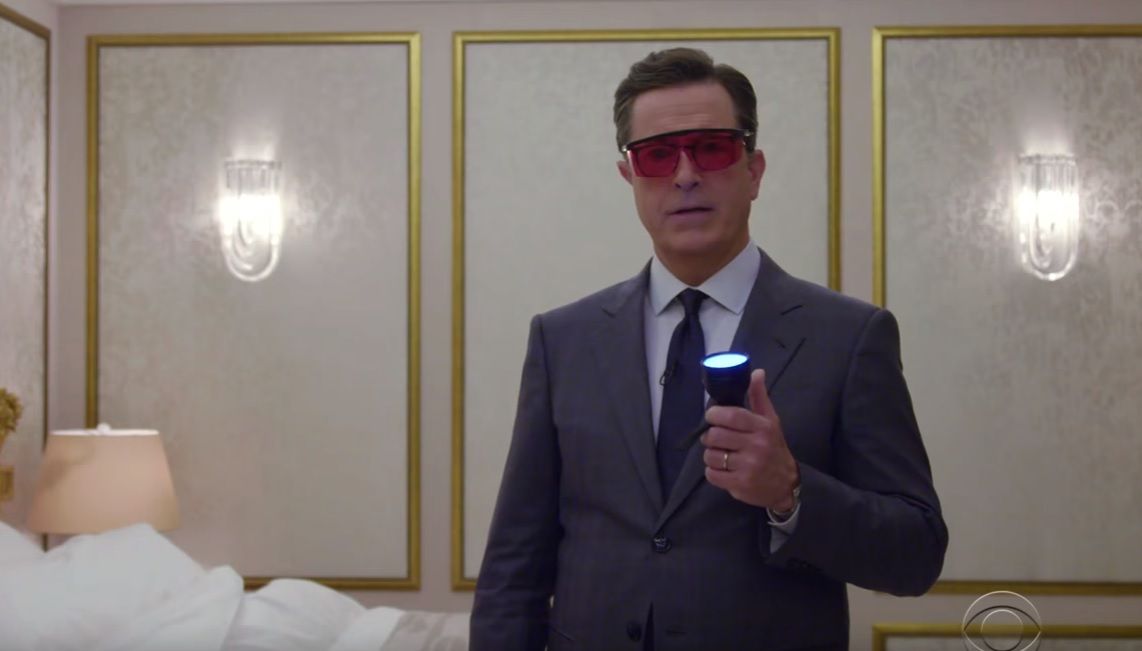 Stephen Colbert is on a one-man mission to find a recording that allegedly shows President Donald Trump watching two prostitutes urinate on a bed in a Moscow hotel presidential suite. Or, as Colbert dubbed the fabled video, "the pee pee tape."
On Thursday's episode of The Late Show, Colbert continued his Russia Week string of episodes, showing highlights of his recent trip to Moscow. "This might be my favorite night of the entire Russia Week," he began, before revealing that he really went to Russia to investigate the tape.
The alleged recording of Trump was first reported in January when BuzzFeed leaked a dossier about the president's "deep ties" to Russia. It claimed that Russian intelligence has footage of the incident and could use it to blackmail Trump.
"The wildest accusations in that dossier have never been confirmed," said Colbert on Thursday's Late Show. He said that the media deemed the "real news" in the dossier "too salacious" to investigate—so he decided to do it for them.
In a report from Russia, Colbert revealed he rented the infamous Room 1101, the presidential suite of the Ritz-Carlton hotel in Moscow. The footage begins with an MTV Cribs-style tour of the suite and its 10 rooms and views overlooking the Kremlin.
"But there's only one room you want to see in this suite…" a voiceover says, cutting to Colbert standing in the doorway of the bedroom where Trump is claimed to have invited prostitutes to urinate on the bed used by former President Barack Obama and First Lady Michelle Obama during an official state visit to Russia.
Colbert said: "The room we've heard so much about…yet no one has come to check it out. I don't know why."
Of course, the comedian soon descended into pee jokes: "This room is soaked in history. It just washes over you. It's not even like it's in the past—ur-ine history."
Any evidence of urine-soaked sheets would have obviously been cleaned by now, so Colbert did what any good investigator would do: "Hit the lights," he said, taking out a blacklight to examine the room.
No evidence of a golden shower, but Colbert did find something scrawled on the wall. "Fake news. Never happened," he read out.