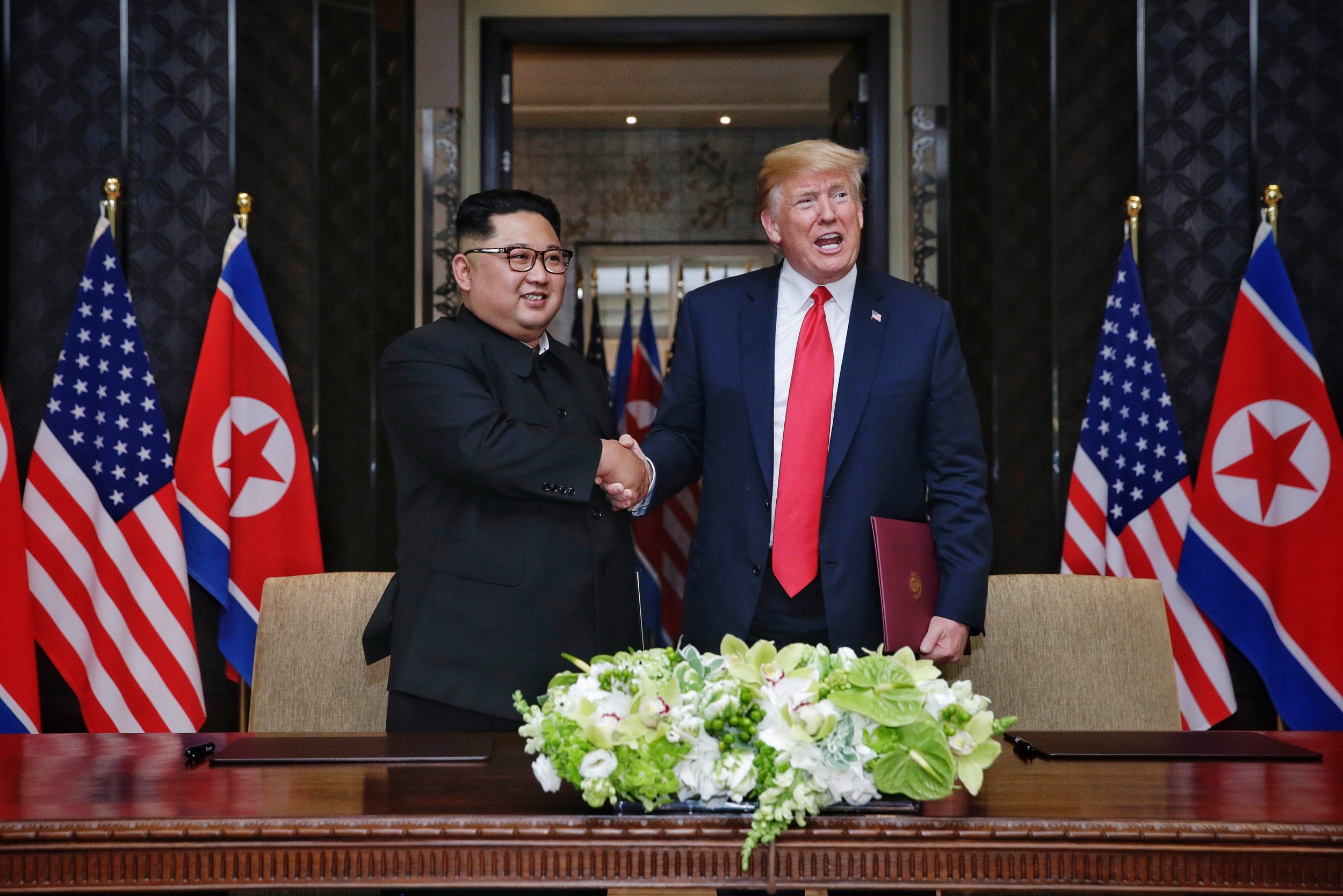 President Donald Trump's warm relations with North Korean dictator Kim Jong Un have now extended to the decoration of the White House, with photos of the two men's historic meeting last week adorning the West Wing. And, in a move that symbolically resembles the president's cooler relations with the United States's chief allies, the photos of Trump and Kim have replaced those of Trump together with French President Emmanuel Macron.
Last month a photo of the top of a West Wing staircase was shown with pictures of Macron's recent state visit to Washington D.C. featured prominently. That display has been replaced by images of Trump becoming the first United States president in history to meet with a North Korean leader, according to a photo tweeted by the Wall Street Journal Monday.
Among the six photos shown are three of the summit between Trump and Kim in Singapore, which resulted in a signed agreement committing to denuclearization. The agreement has been criticized for lacking specifics or a process of verification. In exchange, Trump pledged to give up what he called "war games" between the U.S. and South Korea on the Korean Peninsula.
Another of the photos shows a group of Americans arriving back on U.S. soil after being released from prison in North Korea. Two others depict a visit of top North Korean aide Kim Yong Chol to the White House, when he presented Trump a personal letter from Kim Jong Un that was credited with assuring the summit went ahead after the U.S. president had earlier called it off.
Since arriving back from Singapore, Trump has repeatedly praised Kim, despite the North Korean leader overseeing a litany of human right abuses, including the torture and murder of his own people and even members of his own family.
In an interview with Fox News last week, Trump even suggested, before claiming he was only joking later, that he wanted his people to respect him in the same way that North Koreans did for Kim Jong Un.
"He's the head of a country, and I mean he's the strong head," Trump said. "Don't let anyone think anything different. He speaks and his people sit up at attention. I want my people to do the same."
The criticism of Trump's embrace of Kim has been exacerbated by the fact that on his flight to Singapore he tweeted a stunning rebuke of the United States' closest allies when stating that he would not sign onto a joint communique issued by the G7. That move, together with Trump's announcement of tariffs targeting Canada and the European Union has attracted criticism from Macron, German Chancellor Angela Merkel and Canada's Prime Minister Justin Trudeau, among others.