Donald Trump's Physical Exam Shows He's in 'Very Good Health,' Doctor Says, Despite Not Following Diet, Exercise Plan
President Donald Trump took his second annual physical examination on Friday and his physician stated he "is in very good health." The positive report came despite Trump reportedly not following a diet and exercise plan set for him after last year's physical.
"While the reports and recommendations are being finalized, I am happy to announce the President of the United States is in very good health and I anticipate he will remain so for the duration of his Presidency, and beyond," physician to the president Sean Conley wrote in a memo to White House Press Secretary Sarah Huckabee Sanders. Conley oversaw the four-hour exam, which involved 11 board-certified specialists.
Trump did not undergo procedures that required anesthesia or sedation. His weight and other measures such as cholesterol were not revealed in the intial memo released late afternoon Friday.
"The President is very grateful for the outstanding care he received today, and he especially wants to thank all the doctors, nurses, enlisted and civilian staff who participated," Conley wrote.
Trump's physical exam last year found him to be one pound short of the criteria for obesity, and a diet and exercise regimen was created for him to follow.
"The president received a diet and exercise plan last year after his annual physical, but the president admits he has not followed it religiously," Hogan Gidley, the principal deputy White House press secretary, told CNN on Thursday.
Close to a dozen White House officials and insiders told CNN ahead of the exam that they do not think Trump has stepped into the White House residence fitness room.
Trump, who is 6-foot-3, weighed 239 pounds at his physical last year and Dr. Ronny Jackson, who did the first examination, said Trump should aim to lose 10 to 15 pounds. Trump's total cholesterol reading was 223, which is slightly elevated, and he has been taking Crestor to treat it.
"He is more enthusiastic about the diet part than the exercise part," Jackson, who created a weight loss plan for Trump, said at the time. "But we are going to do both."
Jackson said he would work on getting Trump on a "dedicated, defined exercise program" and that "we can build on that pretty easily."
"I would say, though, that despite that, one of the things, being with the president on a day to day basis, is that he has a lot of energy, a lot of energy and a lot of stamina," Jackson added.
Trump has reportedly made only slight modifications to his diet. He was spotted eating Dover sole prepared by chefs in the White House, but still indulges in his favorite fast foods and red meat. He was seen eating steak, French fries and shrimp at his Trump International Hotel in Washington, D.C., and apparently ordered steak to be delivered to him at the White House.
The president rather infamously ordered burgers from McDonald's, Wendy's and Burger King, fries, pizza and some salads for the champion Clemson Tigers football team when the visited the White House last month.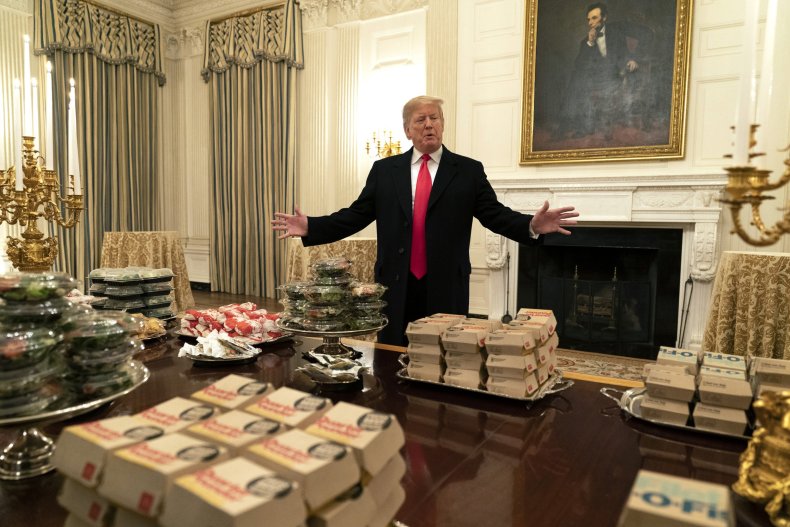 The president has considered golfing his exercise—though he navigates the course in a cart—but has not played for more than two months due to the government shutdown. He did partake in a round of golf with Tiger Woods on Saturday, ending at the clubhouse, where he normally orders a cheeseburger or several hot dogs.