Donald Trump Claims There's 100 Pictures of Mueller and Comey 'Hugging and Kissing Each Other,' Says Mueller 'Hates' Him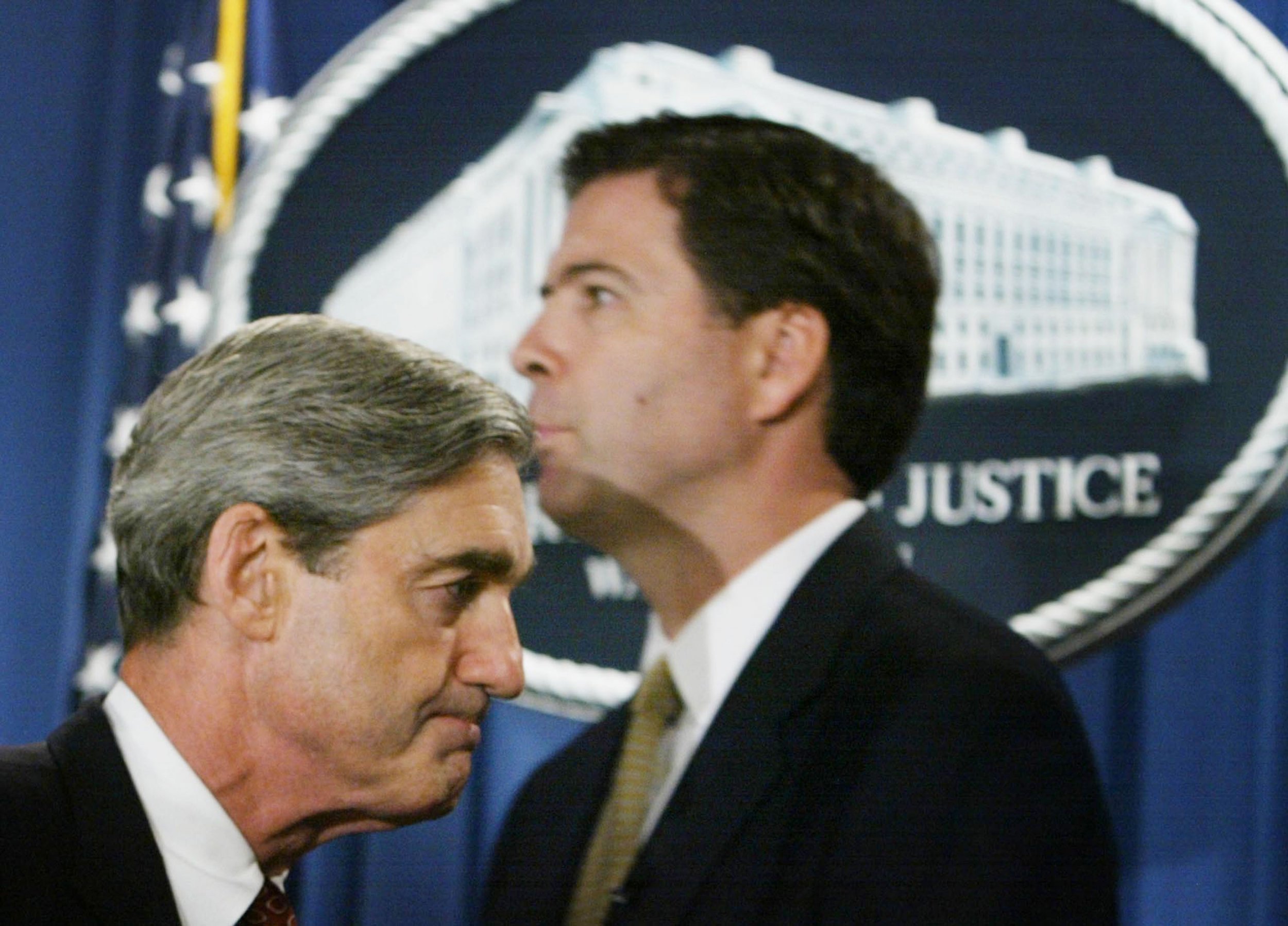 President Donald Trump claimed without evidence Tuesday that he could provide 100 photos of special counsel Robert Mueller and former FBI Director James Comey, whom Trump fired, "hugging and kissing each other."
Trump made the bizarre comment when asked by the conservative website The Daily Caller if he had interviewed Mueller for the FBI director position. Trump replied he had interviewed Mueller in a chair in the room, and, "I liked him," then elaborated on why he did not hire him for the role.
"I had a business dispute with Mueller before that. I had a real business dispute," said Trump based on the full transcript, adding, "And he's Comey's best friend.
"And I could give you 100 pictures of him and Comey hugging and kissing each other," Trump continued. "You know, he's Comey's best friend."
Trump went on to claim the alleged cozy photos of Mueller and Comey were among conflicts present in Mueller's investigation into Russian interference and possible collusion with the Trump campaign in the 2016 election.
"How can you possibly have a man who is that, and then somebody from his law firm came out and said, 'I can't believe they picked Mueller. He hates the president. He hates the president,'" Trump said. "So that's four things, that's four, then you have the conflicts of the people."
Newsweek searched two photo databases and could not find 100 images of the two men kissing and hugging each other.
Trump may have made the best friends claim based off a June 2017 story by the right-wing site Breitbart News that quoted former Assistant FBI Director James Kallstrom as saying: "Bob Mueller and Jim Comey are the best of friends and have been for over two decades. How do you appoint a special counsel who is a longtime friend? It's a massive conflict of interest."
However, Comey's attorney David Kelley told Snopes that calling Mueller and Comey best friends is an overstatement.
"Jim and Bob are friends in the sense that co-workers are friends," Kelley said of the two men who are former Department of Justice colleagues. "They don't really have a personal relationship. Jim has never been to Bob's house and Bob has never been to Jim's house."
While Trump suggested he believes that Mueller hates him, other public figures have placed faith in Mueller to conduct a fair investigation and believe he is the perfect person to do the job.