Piers Morgan, Donald Trump Interview Raises Questions If Walk Out Is Real
A promotional video for an interview between Piers Morgan and Donald Trump has sparked a debate over whether the former President got up and stormed off, as shown in the trailer.
On Wednesday, former Good Morning Britain (GMB) host Piers Morgan shared a trailer promoting his upcoming interview with the former President.
The interview is set to debut on his new show, Piers Morgan Uncesnsored, that launches next week on TalkTV, a subsidiary of Rupert Murdoch's News Corporation.
The video has been viewed over five million times on Twitter due to multiple pages sharing the 32-second trailer.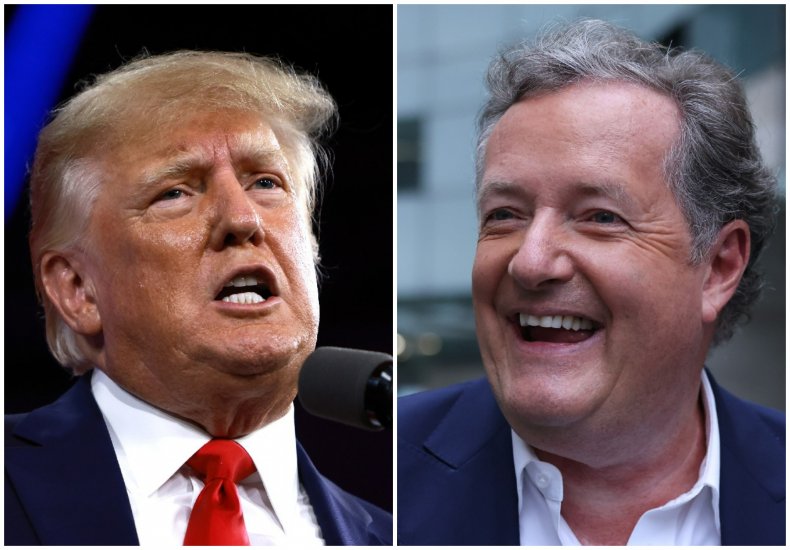 The trailer shows Morgan and Trump sitting opposite one another as the former President is asked about how honest he is and whether he still believes the 2020 election was stolen.
The snippets show the pair arguing and speaking over one another with Trump calling Morgan a "fool" for saying he, Trump, lost the election fairly.
The clip closes with Trump calling for the interview to be finished and appearing to get up and storm off camera while asking for the cameras to be turned off.
This last moment has sparked debates online as to whether this moment was real or not. Morgan has also faced criticism and condemnation for the way the trailer was edited, by members of Trump's team.
Trump's Director of Communications, Taylor Budowich, took to Twitter to dismiss the trailer.
"This is a pathetic attempt to use President Trump as a way to revive the career of a failed television host," he tweeted.
"It is also another example of President Trump being right, as he told Piers Morgan that the host was dishonest to his face."
He also shared a link to a Breitbart report that claims to have obtained an audio file that proved Trump did not cut the interview short.
The seven-minute audio clip, which can be listened to here, appeared to highlight both Trump and Morgan agreed it was a good interview and ended it amicably.
In the clip, Trump's team repeatedly ask Morgan to conclude the interview as it had run over the expected 20 minutes.
Morgan continued to ask questions to Trump, despite his team repeatedly asking for him to finish with his questions.
When Morgan did ask his final question, he thanked Trump for a "great interview" with the former President also agreeing. Trump can also be heard telling someone to turn the cameras off, recontextualizing the trailer that used this soundbite.
Following the release of the trailer on social media, Trump issued a statement where he criticised Morgan for his conduct and accused him of being fake news.
"Piers Morgan, like the rest of the Fake News Media, attempted to unlawfully and deceptively edit his long and tedious interview with me," Trump said.
"He wanted to make it look like I walked out on the interview when my time limit of 20 minutes went over by an hour.
"The good news is that the interview was taped by us as a means of keeping him honest. The interview was actually very strong on the 2020 Election Fraud, with me calling him 'a fool' if he truly believed those results."
Trump continued: "For those who want to make Piers look bad, compare his video promo and how it was doctored to the real thing,"
"Hopefully they will now be doing some big changes to their final product. It just shows, however, what I have to deal with in the Fake News Media. He went out of his way to deceptively edit an interview and got caught. That is a big story, isn't it?"
Newsweek has contacted Donald Trump for comment.