Russia and Europe: Donald Trump Will Feel at Home in Poland But Faces Questions Over NATO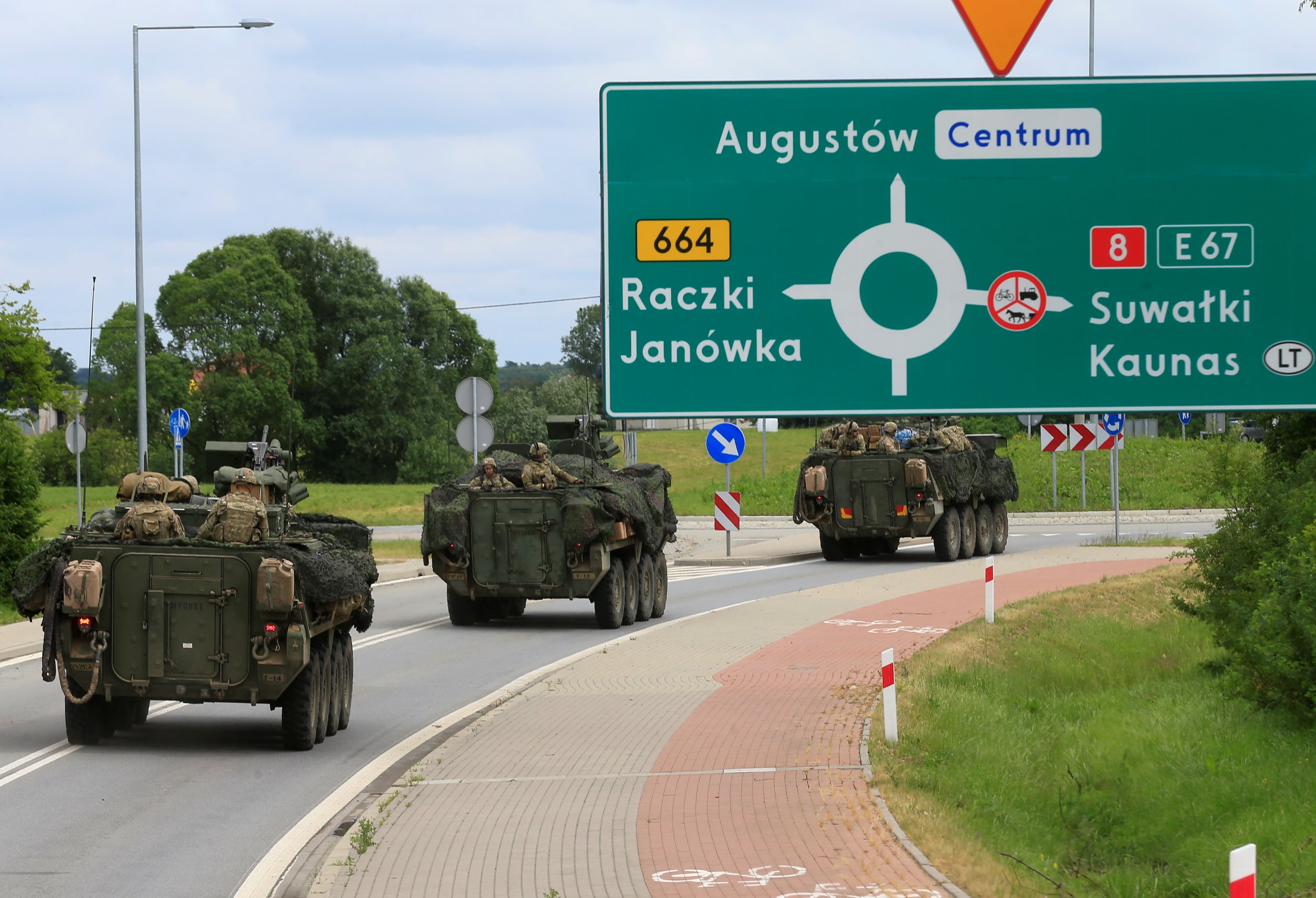 When Donald Trump touches down in Poland on Thursday, he'll get a better welcome than he would in many European capitals. Unlike France's centrist President Emmanuel Macron or Germany's cautious Chancellor Angela Merkel, the Polish government is from the hard right. Like Trump, the ruling Law and Justice party is wary of refugees, the media and social liberalism.
But however sympathetic another leader is, they always want something from the president of the United States. And in this case, according to Poland's foreign minister, they want protection against another country Trump is planning to meet with this week: Russia.
Foreign minister Witold Waszczykowski told reporters on Monday he would be seeking assurances that the U.S. and NATO troops currently in the country would remain as long as Russia was a threat. "We would like to hear that as long as the threat continues we will be supported by the U.S. and NATO troops," Waszczykowski said.
Poland shares a border with Russia, marking a crucial frontline in the escalating tension between Europe and the vast country to its east. In April, a NATO battalion arrived in the country, marking the start of a stepping up of the alliance's troops there, consisting of more than 1,100 soldiers with 900 from the U.S., 150 from the U.K. and 120 from Romania.
"Generations of Polish people have waited for this moment since the end of the Second World War, dreaming about Poland's return to membership in the just, solidary, democratic and truly free West," Polish President Andrzej Duda said at the time.
But in Poland there has been concern over the level of Trump's commitment to NATO's Article five, which states that other members will defend a member who is attacked. Trump has previously called the alliance "obsolete" (though he later backtracked), and in a May speech at a NATO summit he failed to explicitly endorse the collective defense principle. In June, after much criticism, he finally committed to the clause in a speech after meeting Romania's president. Countries in the east of Europe who would find themselves in the immediate firing line of any Russian aggression were particularly keen to gain confirmation that the U.S. would immediately respond.
For Trump, endorsing NATO in Poland may be politically easier than strongly backing the alliance as a whole. Unlike many members, the country meets NATO's minimum defense spending goalof 2 percent of GDP; that means Trump could choose to hold it up as a good example, since one of his main foreign policy priorities has been encouraging America's allies to pump more money into their own security. That, of course, might annoy other allies: Poland is locked in several battles with Brussels, and Trump taking Poland's side over other European nations would send a controversial signal.
Defense policy is likely to resurface throughout Trump's schedule in Europe, which ends with a visit to France for the July 14 Bastille Day celebrations where he'll discuss security with Emmanuel Macron, and includes Trump's first meeting with Vladimir Putin. What note he strikes on Thursday will help to set the tone.