President Donald Trump is in a statistical tie with the Democratic Party's top 2020 contenders in the crucial swing state of Florida, a new poll from Florida Atlantic University has found.
Within the Democratic Party itself, Senator Elizabeth Warren of Massachusetts is narrowing the gap between her candidacy and that of former Vice President Joe Biden, mirroring national polling which has documented her steady ascent.
In the Sunshine State, Warren, Biden and Senator Bernie Sanders were all found to lose to Trump in hypothetical matchups by a margin slim enough to be a statistical tie. Senator Kamala Harris, however, would lose decisively to Trump in the state, the poll found, above the margin of error.
Despite being underwater nationally, Trump has sustained a net-positive approval rating in Florida, at 49 percent (compared with 46 percent disapproval).
Despite Biden's similar performance against Trump when compared to his Democratic peers, the former vice president has retained a solid lead in the primary race. He now holds 34 percent of the primary electorate's support, while Warren has managed to double her share in recent months to 24 percent.
Florida's 29 electoral votes are a highly-sought plank of the pathway to Electoral College victory. Many routes to a win in 2020 run through the state, but its recent electoral history suggests that progressive gains may be more difficult than has been accomplished in other politically divided areas.
In the 2018 midterms, the Democrats suffered a high-profile loss in Florida's gubernatorial and Senate races. While residents passed a constitutional amendment restoring the voting rights of felons in the state, the government has tried to make it more difficult to actually implement that policy. Felon disenfranchisement disproportionately impacts black and brown Floridians, who are by turn more likely to be Democratic voters.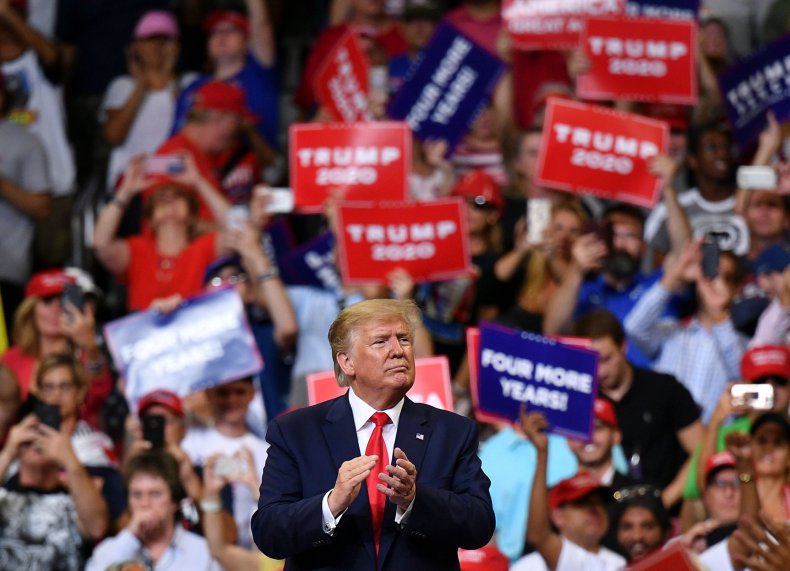 Florida is an unlikely bastion for Trump, home to his social club Mar-a-Lago. The president won the state in 2016 by just over one percentage point, and his re-election's prospects may hinge on a similarly slim share of Florida voters delivering him their Electoral College backing.
"For all practical purposes, Florida is the president's home," Susie Wiles, who led Trump's 2016 campaign in Florida, told Politico. "It has outsize importance to him personally."
But the president's own policies may make his re-election more uncertain, as Florida voters reported disapproval of key Trump administration ventures. According to the poll, 40 percent of Florida voters think the president's self-initiated trade war with China hurts the U.S. economy, while just 33 percent thought it helped.
While 75 percent of the state's electorate support expanding background checks for gun purchases to include all transactions, Trump has wavered on the issue, alternately expressing his support and wariness for such a policy.