Donald Trump Poll Numbers Drop in Battleground States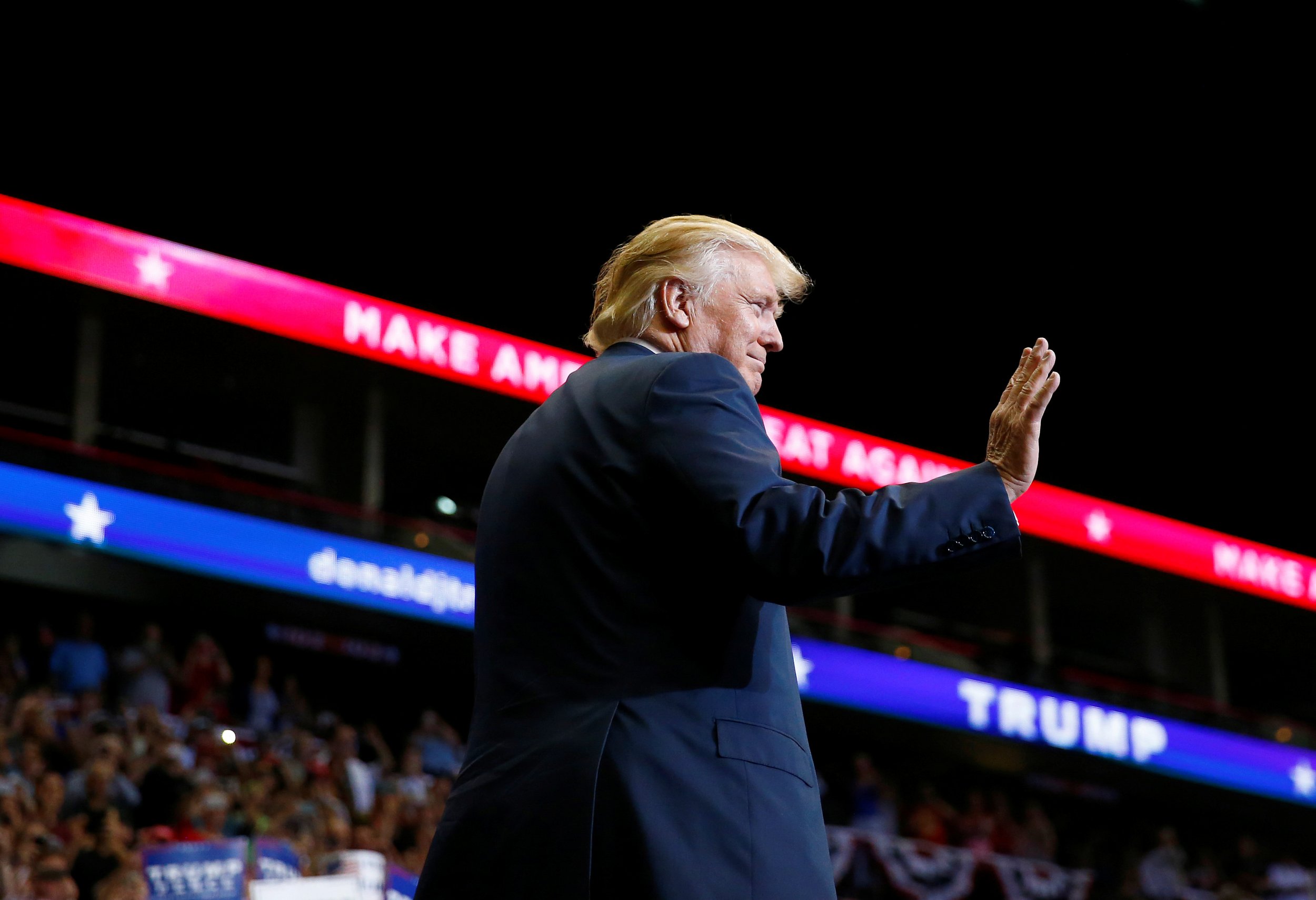 Supporters of Republican Donald Trump urged him to get back on message on Thursday after a week of dropping opinion poll numbers and a war of words with ranking Republicans over his U.S. presidential campaign.
Trump pledged to focus more on Democratic candidate Hillary Clinton, who emerged from last week's Democratic National Convention with a lead in the polls and who has been consistently attacking Trump as temperamentally unfit for the presidency. Since formally accepting the Republican nomination two weeks ago, Trump has not been able to keep the focus on Clinton. In the past week he has gotten bogged down in a public spat with the parents of an American soldier killed in Iraq.
U.S. House of Representatives Speaker Paul Ryan, who has endorsed Trump but has not received a reciprocal endorsement from the New York businessman in his re-election bid, told WTAQ radio host Jerry Bader in Green Bay, Wisconsin, that Trump has "had a pretty strange run since the convention." "You would think we ought to be focusing on Hillary Clinton, on all of her deficiencies. She is such a weak candidate that one would think we'd be on offense against Hillary Clinton, and it is distressing that that's not what we're talking about these days," he said.
Michael Caputo, a former Trump adviser who still supports him, said Trump still has time to right the ship. "Staying on message is absolutely key," Caputo told Reuters. "After 30 years of speaking his mind, Mr. Trump has to understand that the general election for president of the United States is all about staying on message."
Trump supporter Ben Carson, the retired neurosurgeon who ran unsuccessfully for the Republican presidential nomination, said Trump realized the need to focus on Clinton. "And I think you're going to see him focusing much more on the issues and on his opponent, and not allowing himself to be dragged off into the bushes," Carson told MSNBC's Morning Joe.
Trump's rough patch has contributed to a dip in support in some battleground states. A WBUR/MassINC poll in New Hampshire showed Clinton leading Trump, 47 percent to 32 percent. Other polls showed Trump down 11 percentage points to Clinton in Pennsylvania and 6 percentage points in Florida, two states that are important to his chances of winning the election.
Trump told CBS 12, a Daytona Beach, Florida, TV station, on Wednesday that "the campaign is doing really well" and he vowed, "We're going to focus more on Hillary Clinton."
Trump campaign manager Paul Manafort told CBS's This Morning that the campaign is comfortable where it stands now and said the news media have built a false narrative in which Democrats are controlling the race to the November 8 election.
Manafort said that Trump's dropping poll numbers "were expected" and that he expected the numbers to even out soon. "The framework of this election favors Donald Trump. If we run the campaign that we plan on running, we think we're going to win. We don't plan on winning in August, we plan on winning in November," he said.
Concern about Trump was spilling into at least one congressional race. U.S. Representative Mike Coffman, a Colorado Republican, has released a campaign ad in his own re-election race promising to "stand up" to Trump if Trump is elected. "People ask me, 'What do you think about Trump?' Honestly, I don't care for him much. And I certainly don't trust Hillary," Coffman said in the ad.
U.S. Representative Charlie Dent, a Pennsylvania Republican, told MSNBC he could not endorse Trump because of "all these unforced errors" that Trump is making. "It just seems that he's, at times, hell-bent on losing a very winnable election to a very seriously flawed candidate—Hillary Clinton," Dent said.
In another development, Trump's wife, Slovenian-born Melania Trump, responded to questions that have been raised about her immigration status when she came to the United States in 1996. "Let me set the record straight: I have at all times been in compliance with the immigration laws of this country. Period," she said in a post on Twitter.