Is Donald Trump Popular in Britain? Here's What the Polling Says
Donald Trump had the lowest approval rating of any president one year into his term since such data has been available in the U.S. As Trump prepares to visit Britain, his advisers should probably warn him that—contrary to his own belief—he's not popular there, either.
"The top-line numbers, the interesting finding if you like, is that the British public have quite strong, negative opinions of Donald Trump," Chris Curtis, a political researcher at the pollster YouGov, told Newsweek.
Trump will arrive Thursday night for meetings with U.K. Prime Minister Theresa May, the government and Queen Elizabeth II, fresh from a NATO summit in Brussels. After playing golf at his course Turnberry in Scotland, he will set off for Helsinki, for a meeting with Russian President Vladimir Putin.
A mass protest against Trump has been planned to coincide with his visit, with tens of thousands of people expected to show up in London on Friday. Other anti-Trump demonstrations are scheduled elsewhere across Britain.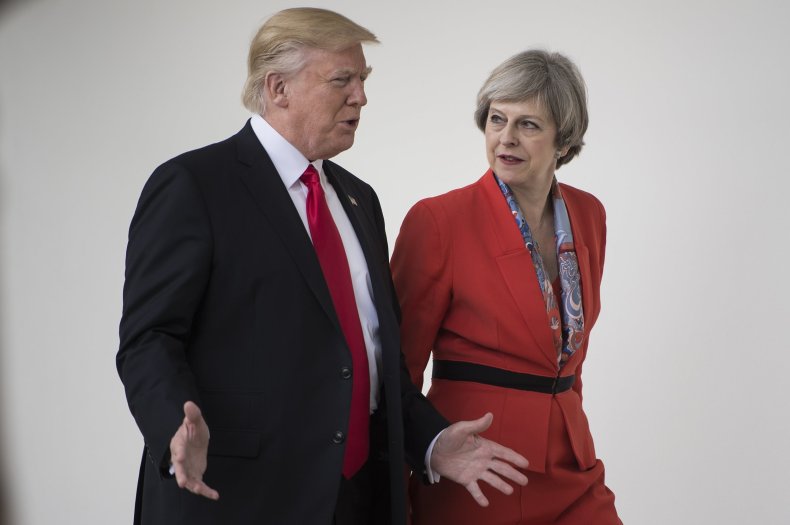 According to YouGov's polling, 11 percent of Britons believe Trump is a great or good president. But 67 percent, a vast majority, believe he is a poor or terrible president.
"However, there is also a reasonable level of pragmatism," Curtis said. "An understanding that the British government has to work with the U.S. president, for better or for worse."
When asked in May about Trump's visit in July, 55 percent told YouGov they thought the meeting should go ahead, compared with 30 percent who wanted it canceled. That is set against a backdrop of 47 percent who believe the British government should work with Trump, compared with 36 percent who say it should not.
Weighing on their minds is likely Brexit—Britain's European Union exit, which Trump supports—and the desire for a lucrative trade deal with America. "Generally speaking, there is a view of just working with the guy," Curtis said.
When it comes to Trump, whose mother was born in the Outer Hebrides, Scotland, YouGov categorizes the British into three groups.
Trump fans are the 11 percent who like him. Trump pragmatists are the 34 percent who do not like him but think Great Britain needs to work with him. Trump rejecters are the 36 percent who do not like him and think the British government should not work with him at all.
It is not only YouGov that's recording poor numbers for Trump in Britain. In March 2017, the research firm GfK found 60 percent of Britons disapproved of the Trump presidency compared with 18 percent who approved.
Before the 2016 presidential election, Britons were rooting for Trump to lose to his Democratic rival, Hillary Clinton.
According to a poll of Britons by Ipsos MORI one month before the election, 84 percent had a very or fairly unfavorable view of Trump, while 7 percent had a positive view of him, compared with 46 percent who viewed Clinton favorably and 36 percent who saw her unfavorably.
Around that time, a recording of Trump emerged in which he boasted in 2005 of sexual assault. "I don't even wait," Trump was recorded as saying on the set of a show called Access Hollywood, describing his attempts to move on women. "And when you're a star, they let you do it. You can do anything. Grab 'em by the pussy. You can do anything."
"It's probably fair to say [Britons] have never felt terribly favorable toward him," Gideon Skinner, research director at Ipsos MORI, told Newsweek.
Ipsos asked Britons at the end of 2017 if they though Trump's presidency had improved or worsened America's standing in the world. Only 6 percent said he had improved it, while 78 percent believed he had made it worse. "It was especially low amongst women, amongst graduates, and amongst Labour and Liberal Democrat supporters," Skinner said.
Ipsos, however, also found that Britons expected their government to work with Trump, respecting the office he holds if not the man.
Early in 2017, there was talk of Britain offering Trump a full state visit. At the time, Britons were in favor, with 53 percent saying he should have been invited. They were also asked with whom the prime minister should build the strongest relationship. German Chancellor Angela Merkel came out on top, at 26 percent. But Trump was second, at 24 percent.
"People did recognize that it's important to try to build a relationship with him," Skinner said.
But the pragmatism only extends so far. With a constant stream of scandals from the Trump White House—most recently the separation of undocumented children from their families at the southern border, which Prime Minister May called "wrong" and "deeply disturbing"—there is little reason to believe sentiment will improve. And definitely not in time for his imminent visit.
During an interview with Piers Morgan for ITV back in January, Trump claimed he was "very popular" in Britain.
"I get so much fan mail from people in your country," Trump said. "They love my sense of security, they love what I'm saying about many different things. We get tremendous support from people in the U.K."
The polling, however, suggests otherwise. And the chorus of anti-Trump protests preparing to greet the president may give him cause to reflect on his popularity in Britain.