For many Republicans, former President Ronald Reagan is the gold standard. It's worth noting then, that President Donald Trump on Thursday—or Day 566 of his presidency—is about as popular as Reagan was at the exact same point, according to a tracker from data-centric website FiveThirtyEight.
The tracker from FiveThirtyEight—which aggregates public polls while weighting for quality, recency, sample size and partisan lean—pegged Trump's average approval rating at 41.7 percent early Thursday morning. That's actually ever-so-slightly higher than Reagan on Day 566. His approval rating at that point was 41.1 percent, according to FiveThirtyEight.
Trump has, on more than one occasion, compared himself to Reagan. Last month, for instance, he (falsely) claimed he was as popular among Republicans as any president ever.
"Wow, highest Poll Numbers in the history of the Republican Party," Trump tweeted toward the end of July. "That includes Honest Abe Lincoln and Ronald Reagan. There must be something wrong, please recheck that poll!"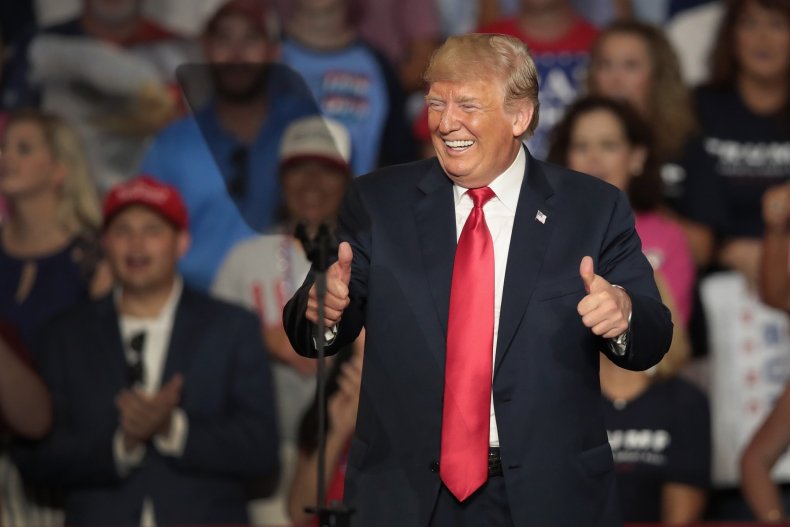 Trump has at least twice tweeted pictures of himself with Reagan and has compared parts of his presidency to Reagan's.
He tweeted in January: "I've had to put up with the Fake News from the first day I announced that I would be running for President. Now I have to put up with a Fake Book, written by a totally discredited author. Ronald Reagan had the same problem and handled it well. So will I!"
Trump is not alone in comparing his presidency to Reagan's—it has been debated by Fox News personalities, conservative commentators, analysts and pundits for quite some time.
But while Trump might have equaled Reagan's popularity on Day 566, the late GOP president saw his approval rating climb during his two-term tenure. Across his eight years in office, Reagan's average approval rating was 52.8 percent, according to Gallup. Reagan also finished his tenure with an approval rating above 60 percent and with an all-time high of 68 percent.
According to Gallup, meanwhile, Trump's term-average to date is just 39 percent and his all-time high is just 45 percent—so he has quite a ways to go.