Donald Trump Possibly Obstructed Justice, So Stephen Colbert Bought Him a Pair of Tiny Handcuffs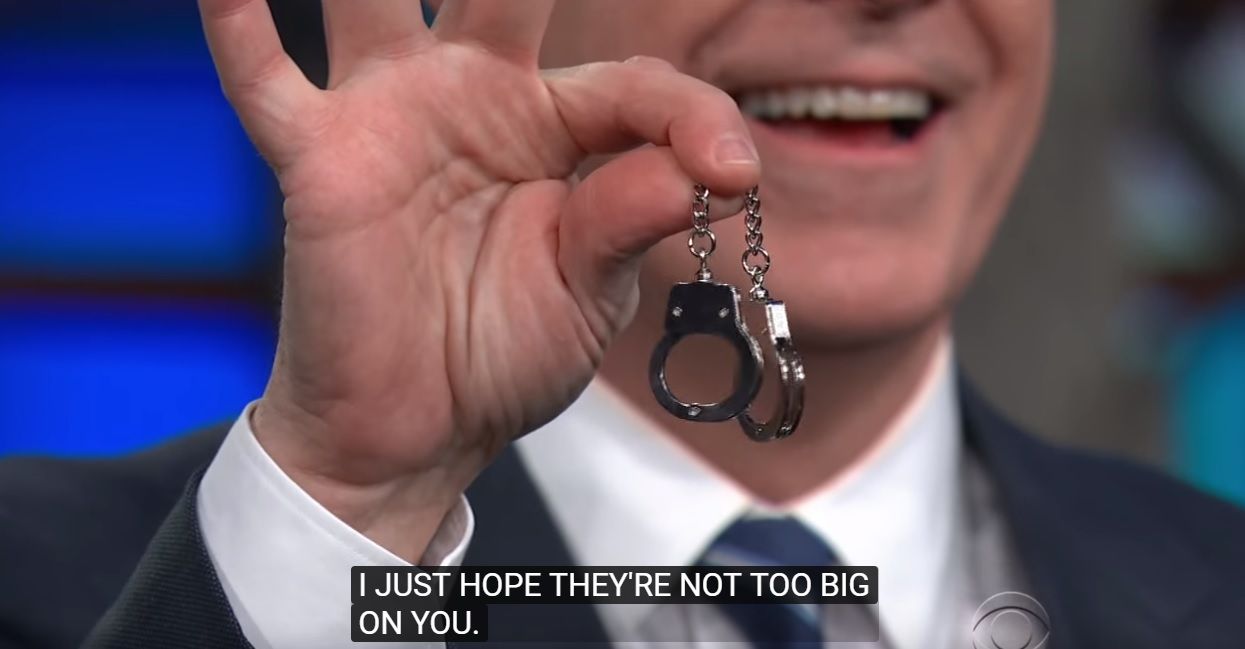 There are still 20 days to go till Christmas, but Stephen Colbert's holiday spirit is already in full swing—and he even has an early Christmas gift for President Donald Trump: a tiny, tiny pair of handcuffs.
On Monday's episode of The Late Show, Colbert joked, "It feels like Christmas is here…courtesy of Robert Mueller coming down the chimney with a sack full of subpoenas."
The comedian was referring to former national security adviser Michael Flynn entering a plea deal with Mueller, who is leading the FBI's investigation into ties between the Trump election campaign and Russia. Flynn pleaded guilty to lying to the FBI about conversations with Russian ambassador Sergey Kislyak in December.
Colbert said that Trump's tweet Saturday that he "had to fire General Flynn because he lied to the Vice President and the FBI" was basically an admission of obstruction of justice. Hence the tiny pair of handcuffs he bought the president.
Get your unlimited Newsweek trial >
"I just hope they're not too big on you," he cracked.
Colbert explained: "Here's the thing. Trump's not supposed to have known that Flynn lied to the FBI. Because, the day after he fired Flynn, [former] FBI director James Comey says Trump told him to go easy on Flynn."
The late-night host surmised that, "Many people say this situation can't get worse—to which Trump says: 'Hold my beer.'"
Get your unlimited Newsweek trial >
Making the matter all the more complicated, Trump's lawyer John Dowd has shouldered the blame for the tweet. But Colbert isn't buying that.
"They're saying Trump's lawyer wrote a tweet in the voice of his client, without the client's permission or knowledge, and said tweet indicts the client for obstruction of justice?" Colbert said. "That is malpractice. I certainly hope John Dowd has a lawyer better than John Dowd."
"No one believes this," Colbert said. "Even supporters of the administration called it 'sloppy and unfortunate,'" he added, pointing to a Washington Post article.
Colbert couldn't resist another joke at the Trump family's expense, adding: "'Sloppy' and 'Unfortunate,' also, by the way, Eric and Don Jr.'s Secret Service code names."
Donald Trump Possibly Obstructed Justice, So Stephen Colbert Bought Him a Pair of Tiny Handcuffs | Culture