Donald Trump Praises Italy's Tough Stance on Migrants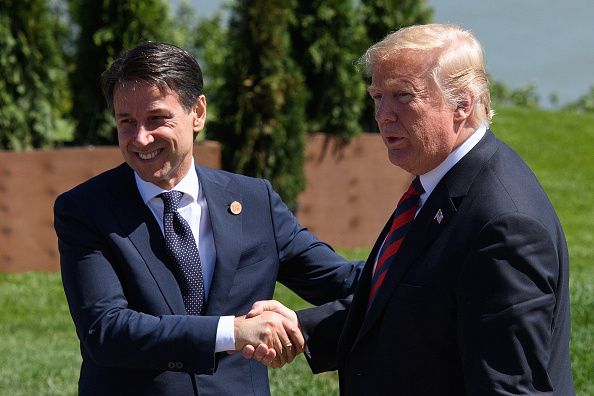 President Donald Trump lavished praise on Italian Prime Minister Giuseppe Conte on Monday, highlighting Italy's tough stance on migration as a sign that the country is heading in the right direction.
"I agree very much with respect to what you're doing with migration, illegal immigration and even legal immigration," Trump said to Conte during a joint press conference. "He's taken a very firm stance on the border, a stance that few countries have taken, and frankly you're doing the right thing in my opinion. A lot of other countries in Europe should be doing it also," Trump added to reporters.
Since coming to power in March, Italy's new populist government, a coalition of the far-left Five Star Movement and the far-right League, has espoused a number of policy positions that resemble Trump's political preferences. Italy's new leadership has questioned whether Rome should remain in the European Union and expressed an interest in developing closer ties to Russia. Some members of Italy's ruling coalition have also adopted a version of Trump's America First slogan and called for a policy agenda that puts "Italy First," and they've railed against "fake news."
Conte, an academic and lawyer with almost no political experience, was chosen as a compromise candidate to lead the new populist government. Over the past several months, he has advocated for his government's anti-immigration policies during meetings with other European leaders.
Because Italy is the first point of entry for many of the migrants who have traveled to Europe from the Middle East and Northern Africa, Rome is requesting that the European Union get rid of rules that require migrants remain in or return to the first European country they entered in order to be screened. Italy's government believes the country has shouldered a disproportionate amount of the burden from the refugee crisis, which has seen millions of refugees travel to Europe since 2015.
Most recently, Italy refused to allow a boat filled with migrants to disembark on its shores. The decision sparked a crisis until Spain agreed to allow the boat to dock there. Still, questions remain over how the European Union will handle these incidents in the future and if policies can be implemented that will appease Italy's new euroskeptic leadership.
Trump has similarly advocated for upending U.S. immigration policy, and his administration recently began separating migrant children from their parents in order to discourage potential migrants from traveling to the U.S. to seek asylum. The administration later abandoned the policy following widespread opposition from the public.
Nevertheless, Trump continues to advocate for tougher migration policy. On Sunday, he tweeted that he would be willing to shut down the government if Congress doesn't vote in favor of tougher border security. Meanwhile, he assured Conte that he would "always be treated warmly" in Washington.
"We are both outsiders to politics. We are both outsiders. Can you believe it?" Trump said to Conte, before adding that he and the prime minister were the most closely aligned of all NATO members.
In response, Conte called attention to the similarities between the U.S. and Italy. "They are both governments that represent change.… There are so many things that bring us together, that unify us," Conte said during a joint press conference with Trump, adding that the U.S. and Italy are "twin countries."