Donald Trump Predicts 'China's Going to Be Next,' Will Invade Taiwan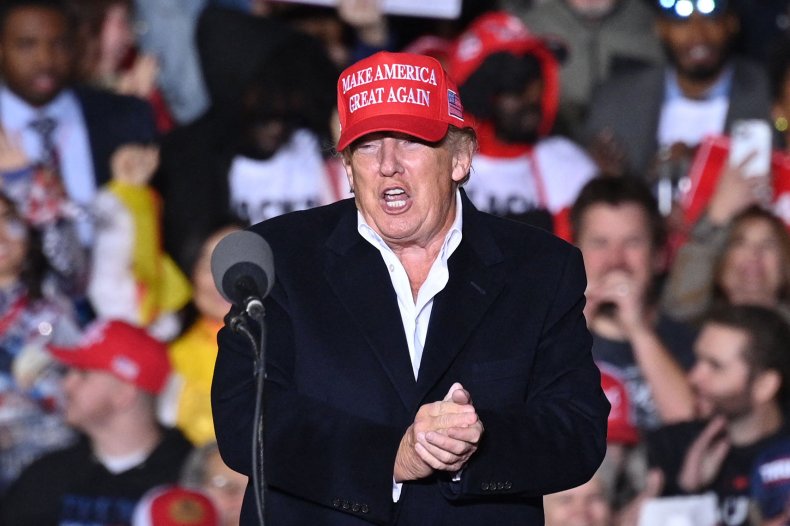 Former President Donald Trump has predicted that China will invade Taiwan after taking inspiration from Russia moving troops into Ukraine.
During a Tuesday interview on the conservative talk radio program The Clay Travis and Buck Sexton Show, Trump suggested that Chinese President Xi Jinping would follow the example of his "twin sister" Russian President Vladimir Putin by staging an invasion of the disputed island. The former president insisted that Russia would have "never" moved to invade Ukraine under his presidency, while suggesting that both Putin and Xi sensed weakness in President Joe Biden.
"China is gonna be next," said Trump. "Absolutely. Not with me, they wouldn't have ... They're waiting 'til after the Olympics. Now the Olympics ended, and look at your stopwatch, right? No, he wants that just like ... It's almost like twin sisters right here."
"Because you have one that wants Taiwan, I think, equally badly," he continued. "Somebody said, 'Who wants it more?' I think probably equally badly. But, no, Putin would have never done it, and Xi would have never done it [during the Trump administration]."
Trump said that be believed Putin saw the Biden administration as a "opportunity" to invade Ukraine, while crediting his close relationship with the Russian president for no incursions during his presidency.
"I think he sees this opportunity," Trump said. "I knew that he always wanted Ukraine. I used to talk to him about it. I said, 'You can't do it. You're not gonna do it.' But I could see that he wanted it. We used to talk about it at length."
"I think nobody probably knows him better in terms of the discussions that we have or that we're having this morning," he added. "So I knew him very well. I got to know him. I got to know President Xi."
The former president also praised Putin as a "genius" for making the "savvy" move of declaring independence for the so-called Donetsk and Luhansk People's Republics as a pretext to move "peacekeeping" troops into Ukraine.
White House press secretary Jen Psaki said that the Biden administration would "try not to take advice from anyone who praises President Putin and his military strategy" when asked about Trump's comments during a press conference on Tuesday.
China maintains a close relationship with Russia and has so far offered only tepid criticism of Putin's moves toward Ukraine. China did not join a collective rebuke of Russia during an emergency meeting of the United Nations Security Council, instead urging restraint and diplomacy without mentioning troop movements.
While Taiwan has been self-governing since 1949, China seeks "reunification" with the democratic island and has never ruled out a military takeover.
However, relatively few of Taiwan's residents appear to believe that a takeover is imminent, regardless of the situation in Ukraine and China recently ramping up military displays of force near the island.
A Taiwanese Public Opinion Foundation poll released on Tuesday found that 63 percent of Taiwan residents did not believe that Russia invading Ukraine would prompt a Chinese invasion, while only 27 percent said they believed it would.
Newsweek reached out to the Chinese Embassy in Washington, D.C., and Trump's office for comment.