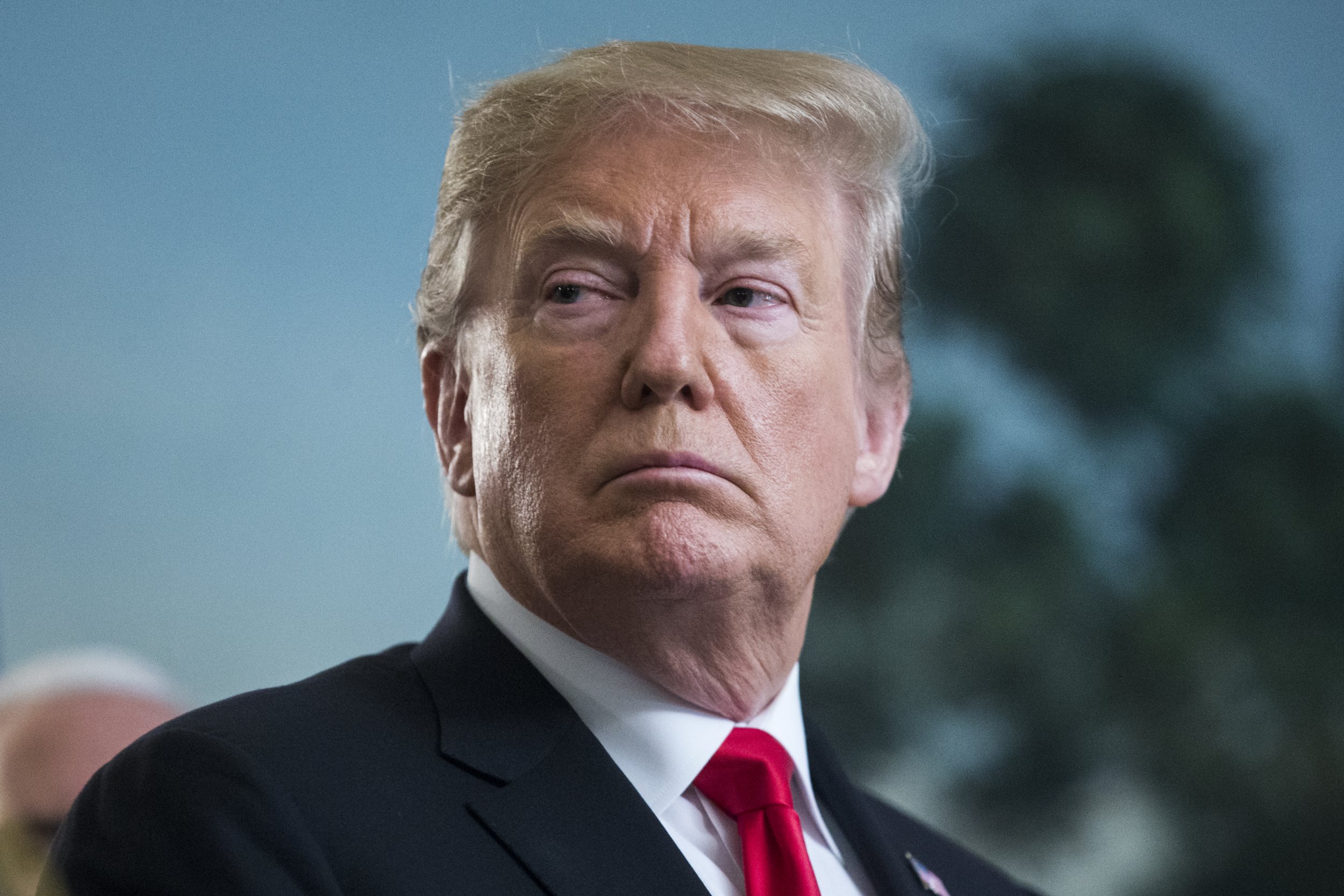 Americans have tweeted more about embarrassment since President Donald Trump took office, according to researchers who analyzed millions of Twitter posts.
Researchers analyzed tweets posted between June 2015, toward the end of Barack Obama's presidency, and June 2017 to find out when mentions of terms related to embarrassment spiked. They found Trump's presidency coincided with a 45 percent increase in references to embarrassment, from 909 per million on average in the last year of the Obama administration to 1,319 in the first half-year that Trump was in the White House.
"Overwhelmingly, the number-one thing most consistently related to spikes of the word embarrassment on Twitter is Trump," Dar Meshi, assistant professor of advertising and public relations at Michigan State University and co-author of the study said.
The authors of the study published in the journal Frontiers in Communication argued that, compared to other politicians, Trump appears to violate social norms "as if he did not care that they exist." In turn, as the leader and representative of the U.S., his faux pas seem to make citizens cringe. They believe this behavior is symptomatic of a changing global political landscape where politicians attempt to relate to those they are elected to represent, which has seen Trump define himself in contrast to what is perceived as the "aloof" political class.
Embarrassment was defined in the study as an emotional reaction to a person feeling a break in the laws of social etiquette has harmed their public or social image.
The researchers argued "vicarious embarrassment is widespread," pointing to polls taken since Trump became president. That included three NBC/Marist polls taken in the summer of 2017, where more than six in 10 voters in Michigan, Pennsylvania and Wisconsin said the president's behavior had embarrassed them—particularly when the he purposefully broke social norms.
Mentions of embarrassment by users located in the U.S. spiked on October 10, 2016, when the presidential debate between Trump and Democratic candidate Hillary Clinton was held. Another was noted in March 18, 2017 when Trump appeared to decline to shake German Chancellor Angela Merkel's hand; and again in May 26, 2017, when he appeared to push Dusko Markovic, prime minister of Montenegro.
"Looking at the word clouds for these three peaks of embarrassment, we can see that words such as Trump, debate, @ realDonaldTrump , POTUS, country, America and NATO are most-heavily used," said study co-author Frieder Paulus at the Department of Psychiatry and Psychotherapy, Universität zu Lübeck, Germany.
Similar spikes happened when the U.S. withdrew from the Paris Climate Agreement; and when Trump made comments following the Charlottesville, Virginia, rally, said Paulus.
The authors also looked into other terms which citizens might use in relation to a political leader, including shame, guilt, pride, happy and disgust between June 1, 2015, and December 31, 2017.
Paulus told Newsweek the team was surprised that embarrassment, rather than anger or disgust, was the most prominent terms linked to Trump's leadership. He said the idea of embarrassment as a political emotion is relatively unexplored but "seems to spark specifically due to the change in politics and use of willful norm violations as a means of politics."
"We believe that what we observe here is a pattern of behavior that is present in political discourses around the globe," said Paulus.
"Certain politicians and populist movements actively engage in social norm and etiquette violations in order to demonstrate strength and show that they stand against a political system of rules and regulations. In literature this is known as a specific form of affective politics which aims at forming and strengthening an affective bond with the 'people'," he said.
However, this could have the opposite to the intended effect, said Paulus. "What becomes visible with our study is that such affective politics also have opposing effects which are equally affective but in a negative, disapproving way."
Anastasia Denisova, lecturer in journalism and expert in digital politics, viral cultures and internet memes at the University of Westminster, was not involved in the study, and described it as "rigorous" to Newsweek.
She highlighted that the authors acknowledged that the correlation they found doesn't mean there was causation, and that researching Twitter data has many pitfalls.
"What I particularly appreciated about this study is the link between embarrassment by Trump and national identity," she said.
"When people are embarrassed, they are ashamed for a behavior of someone from their group—the one that does not live up to the agreed standard or norm. The spike in embarrassment by the U.S. leader shows that people notice the toxicity of his public communication and don't want to be identified on similar terms," she said.
"In my study on political persona of the leader and their media presence I've noticed that a president can often embody the country for its citizens, especially if it comes to the less democratic rulers. However, a president can also be seen as the helper of the country, or as the 'groom', or the 'father' of the nation. In the case of Trump, his opponents deny associating him with American identity and being a US citizen.
She continued: "I agree with the authors of the paper that Twitter spikes in embarrassment may indicate the rise of 'compensatory behavior,' when people embarrassed by Trump will be driven to take action to make up for the shameful words and deeds of the leader."