Fewer Americans Say Donald Trump Is Intelligent Than Ever Before
A mere 51 percent of voters believe President Donald Trump is intelligent, a new low for a president currently facing accusations of mismanagement and a lack of fitness to serve from damning books and even people within his administration, according to a new poll released Monday.
The 51 percent mark represented a significant drop when compared to results just under two years ago, according to the Quinnipiac University Poll. Forty-two percent of respondents answered they did not believe Trump to be intelligent.
In November 2016, the same poll found 74 percent of voters believed Trump to be intelligent, representing a stunning 23-point decline since the president's election victory. The poll from nearly two years ago was taken less than two weeks after Trump defeated Hillary Clinton.
Earlier this summer, Quinnipiac found 57 percent thought the president was intelligent. That was an improvement compared to the 54, 53 and 52 percent results from three polls in January and December.
Overall, the new poll indicated that most voters do not think much of the president. Sixty-five percent, compared to 30, said Trump was not "level-headed," while only 48 percent said he was "mentally stable" and 55 percent said he was not "fit to serve as president."
The dwindling number of voters who have faith in the president's mental acuity runs parallel to claims made in several books about the Trump White House, most recently Fear by veteran reporter Bob Woodward and Unhinged by former White House aide Omarosa Manigault Newman.
Each book describes a White House in chaos and Trump aides shielding the president from information in efforts to curb potentially dangerous policies or actions. Woodward's book, which is viewed as particularly credible, recounted the stopping of a tweet that North Korea could have taken as a sign of an upcoming invasion or attack.
Trump was also the subject of an op-ed written by a claimed senior administration official and published by The New York Times on Wednesday. The anonymous official wrote that the Trump administration had been successful despite the president's actions, and said Trump was amoral while claiming to be part of a "resistance" inside the administration fending off the president's ill-advised impulses.
But according to Quinnipiac's most recent poll, 70 percent of respondents labeled the economy as "excellent" or "good," which has allowed Trump to hold on to his base of Republicans. Eighty-four percent of GOP members are behind the president, while his overall approval rating was 38 percent.
The Quinnipiac poll was conducted between September 6 and 9, smack in the heart of the controversy surrounding The Times op-ed. The results were based on the surveys of 1,038 voters and had a margin of error of 3.7 points.
"American voters believe those tales of intrigue coming from the Trump White House, but they think it's wrong to tell those tales anonymously," Tim Malloy, assistant director of the poll, said in a statement.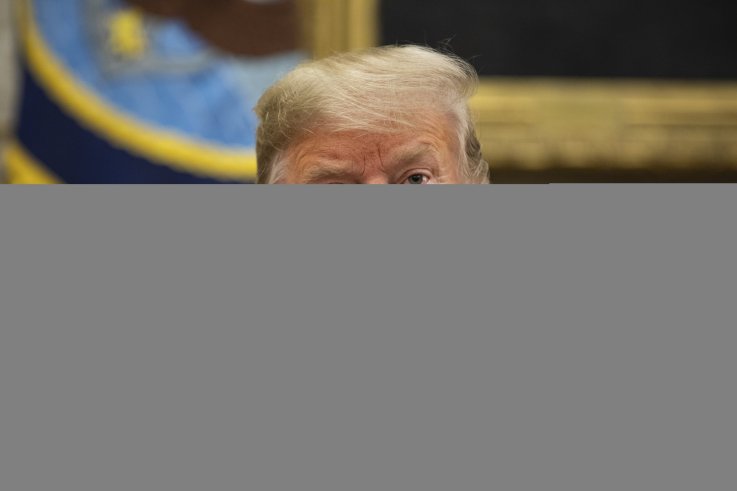 Trump has lashed out at the op-ed writer as "gutless" and a "coward" while the White House has reportedly conducted a search within the administration to root out the writer. White House press secretary Sarah Huckabee Sanders had called for the person to resign, and Trump said on Twitter that the writer should be handed over to the government.
This story has been updated to include further results from the poll.
Fewer Americans Say Donald Trump Is Intelligent Than Ever Before | U.S.