Rights Groups Fear Worsening Race Relations Under Donald Trump's Presidency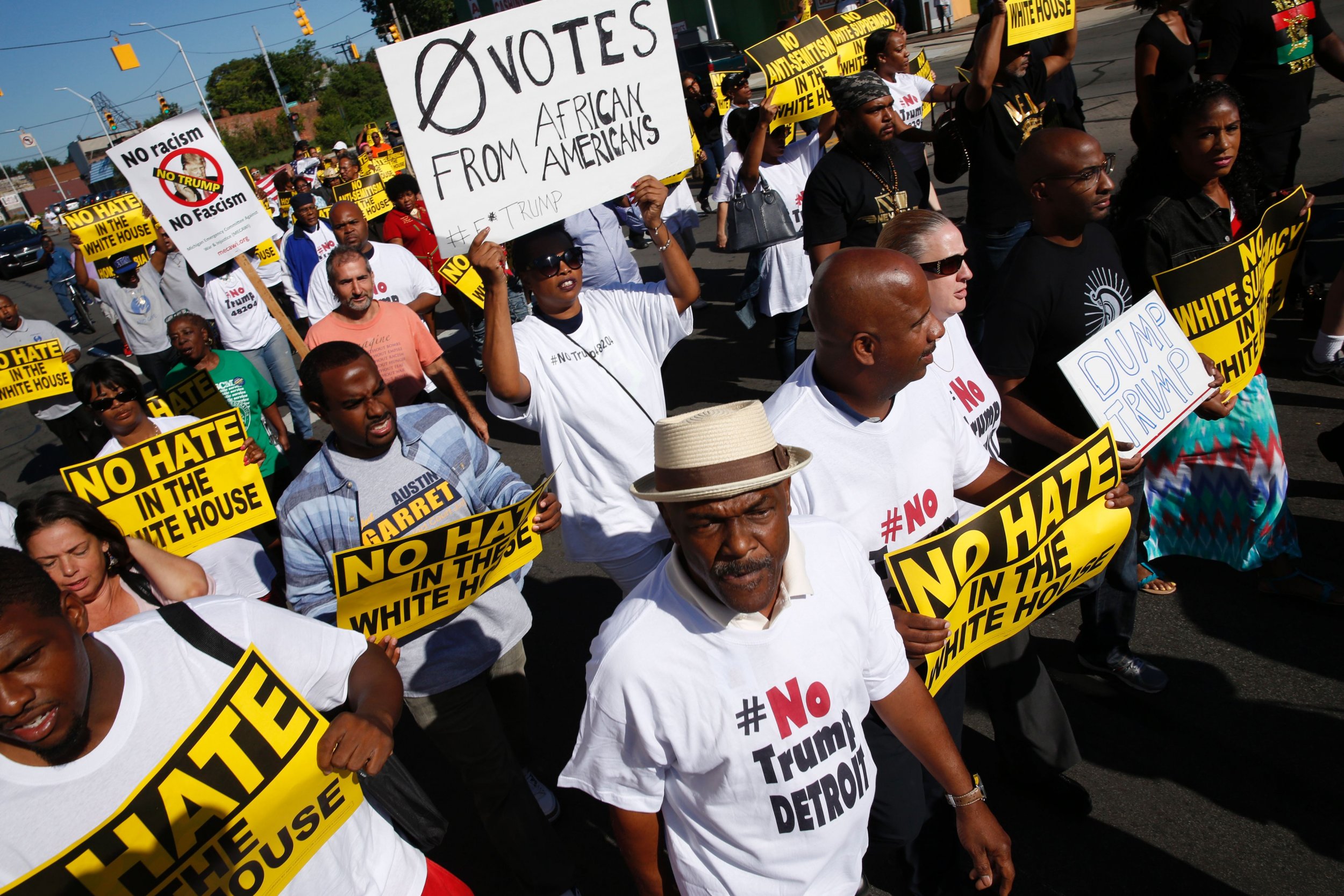 There were around 200,000 people in Chicago's Grant Park the night that Barack Obama won his first presidential election. Amid the cheering crowds, standing a head above many of the people around him, was the civil rights activist Reverend Jesse Jackson, a finger to his lips and tears running down his face. Speaking afterwards Jackson said that he cried both for Obama's historic victory as the first black U.S. president and for "the price that [civil rights campaigners] paid to get him there."
On November 8, as Donald Trump won the 45th presidential election, Jackson was not among the crowds celebrating his victory. His old enemies, however, were. Days after Trump's surprise win, the Ku Klux Klan announced that it would hold a victory parade in North Carolina on December 3. (Trump's campaign, which was at times slow to disavow the support of white supremacists during the presidential race, said it "condemns [the Klan's] message of hate.")
In spite of this, and Trump's conciliatory tone in the days after his election, reports of hate crimes have gained prominence. On November 9, Janae Cummings, a black woman from Indiana, wrote on Facebook that a white man told her: "Hey nigger, pick that up, keep my streets clean," while pointing to a Burger King takeout cup. (Facebook deleted Cummings' original post for not following community standards, but it can be read here.) According to students at Southern Lehigh School in Pennsylvania, classmates were heard using the n-word and calling black pupils "cotton-pickers." In Tuscaloosa, Alabama, photos showed a dummy of a black man hanging over a coffee shop.
Across the U.S., black, Hispanic, Muslim and LGBTQ people, as well as women, reported instances of violent and aggressive behavior in the aftermath of Trump's election. After two terms under President Barack Obama, who commanded 95 percent of the African-American vote in 2008 and 93 percent in 2012 ( compared to Trump's 8 percent ), many civil rights groups and their supporters believe that U.S. race relations could be about to get a whole lot worse.
To support this argument, they point to Trump's past history with black people: In 1973, the federal government sued realtor Trump Management, where Trump was president, for racial discrimination based on allegations that it avoided renting homes to African-Americans; in 2011 Trump accused President Obama of not being born in the U.S., forcing the president to release his full birth statement to prove that he was; and the day after a rally on November 21, 2015, Trump said of a Black Lives Matter protester who was beaten up by rally attendees: " Maybe he should have been roughed up. It was absolutely disgusting what he was doing."
In his victory speech on November 9 Trump said that he wants to be "a president for all Americans," but civil rights groups are not buying that—at least, not just yet.
In a statement published the same day, one of the oldest civil rights groups in the U.S., the National Association for the Advancement of Colored People (NAACP) expressed concern about the consequences of Trump's campaign: "During this critical period of transition, we are now calling upon the next president to speak and act with the moral clarity necessary to silence the dog-whistle racial politics that have characterized recent months and have left many of our fellow citizens snarling at one another in anger and even whimpering in fear."
One of the country's youngest race rights movements is more blunt in its reaction. "Trump egged on people at his rallies to attack protesters and he once watched on as grown white men attacked a young black woman for speaking out against him," Black Lives Matter spokespeople write in a lengthy document provided to Newsweek . "With this election," the statement continues, "the ugly face of white supremacy—the caricature bigots and violent hate groups—has been overtly sanctioned."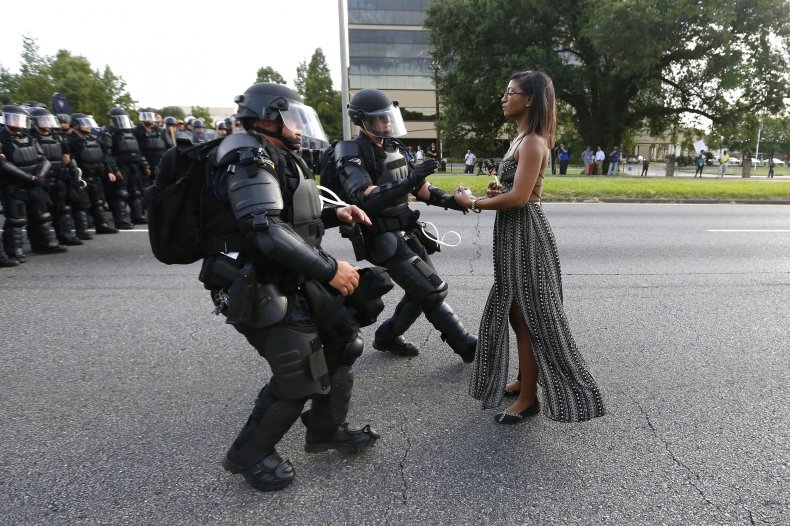 In 2012, three women—Alicia Garza, Opal Tometi and Patrisse Cullors—founded Black Lives Matter in response to the killing of Trayvon Martin, a 17-year-old black teenager at the hands of George Zimmerman, a 29-year-old white Hispanic man. That the movement started—and grew so quickly (it counts more than 230,000 followers on Facebook )—during the Obama administration is an indicator of the frustrations that many black people felt towards the president, who they perceived as not doing enough to address racial issues—particularly the police's use of fatal force against black people.
Despite the problems the black community faces, Black Lives Matter—and the majority of the African-American electorate—did not buy into Trump's appeal to black voters on August 19. "Look at how much African-American communities are suffering from Democratic control," Trump said during a rally in Dimondale, Michigan. "What do you have to lose by trying something new like Trump? What do you have to lose? You live in your poverty, your schools are no good, you have no jobs, 58 percent of your youth is unemployed."
Trump's election, and the reactions from groups such as the KKK, will require mobilization from minority groups, believes Black Lives Matter. In its statement to Newsweek the group writes that this election only "underscores the urgency at which we must stand up and speak out to mobilize and dismantle white supremacist patriarchy."
"We are working in a context of opposition and threat, the cause of which is certainly not the angers which lie between us, but rather that virulent hatred levelled against all women, people of colour, LGBTQ people, poor people, immigrants, Muslims," the document continues. "We strategize and organize around these issues because, rest assured, our opponents are quite serious about their hatred of us and of what we are trying to do here. [Fighting against the injustices in] a U.S. governed by Trump will be a long, hard battle, but we will win this war."
Theirs is similar rhetoric to that espoused by civil rights groups across the U.S. In several post-election press conferences in Washington, D.C. on November 10, groups representing black, Hispanic, Arab, Muslim and Jewish people—who rarely have cause to all come together—said that if Trump did not start practicing more inclusive, kinder politics, they would defy him as a collective movement. As Newsweek's Emily Cadei reported, Sherrilyn Ifill of the NAACP used almost the same words as Black Lives Matter: "We intend to fight."
After the shock of the election result, and the immediate rash of hate crimes that followed, the message coming from U.S. minority groups is clear: Trump must stop his dog whistle politics, or they will bite back.