Donald Trump's Press Coverage Over 30 Years, Reviewed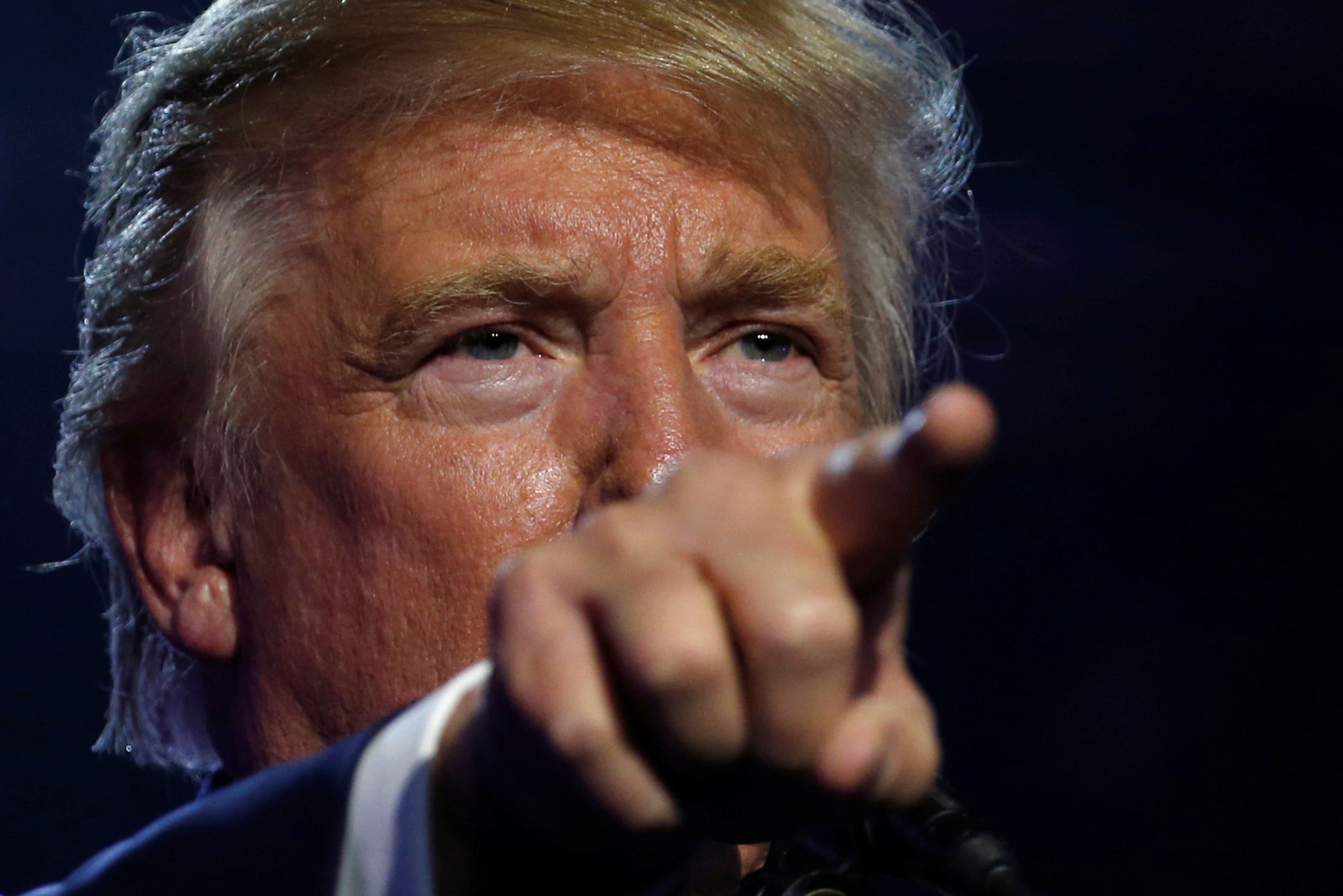 A few days ago, I posed a question on Twitter that had me totally perplexed: Where was the Republican opposition research on Donald Trump?
I wasn't being flippant, and nor were the many others wondering the same thing. The portrait of Trump being painted so effectively by the Clinton campaign could easily have been painted by the campaigns of Jeb Bush, Ted Cruz or Marco Rubio, not to mention the 73 other Republicans who ran against him in the primaries. Sure, some of the details would have been missing, such as the testimonies of women who say they've been groped or otherwise harassed by him. But the Trump we know today is no different from the Trump who has been plaguing humanity for the last half-century.
How do I know this? Because I spent the weekend looking through newspaper archives from the 1980s and '90s, freely available courtesy of Google News Archive. This was a terrible to spend the weekend, but it made clear that we have known about Trump all along.
Below, a few of the more interesting clips I unearthed. Unless otherwise indicated or plainly noted, the reports come from the Associated Press.
Let's start with Trump the humanitarian. During the height of the AIDS epidemic, in 1991, Trump responded by joining activists in a march on…just kidding. He made women he was dating take an AIDS test. (Note, also, that this article claims Trump was dating Carla Bruni, who would become the first lady of France. This appears to have been wishful thinking by Trump. Bruni later said he was "obviously a lunatic.")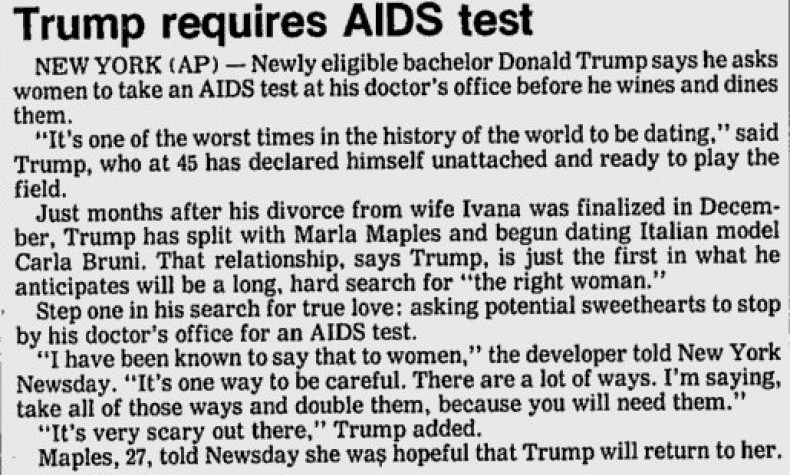 Trump has frequently sought out European women. Several months after she died in a car crash in Paris in 1997, Trump mourned Diana in that special way of his: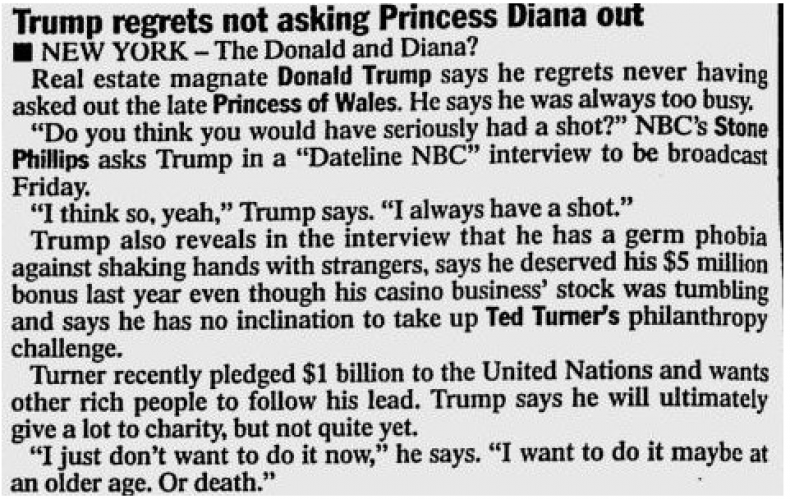 Trump contemplated running for the presidency several times during the 1980s and 1990s, most seriously in 1999.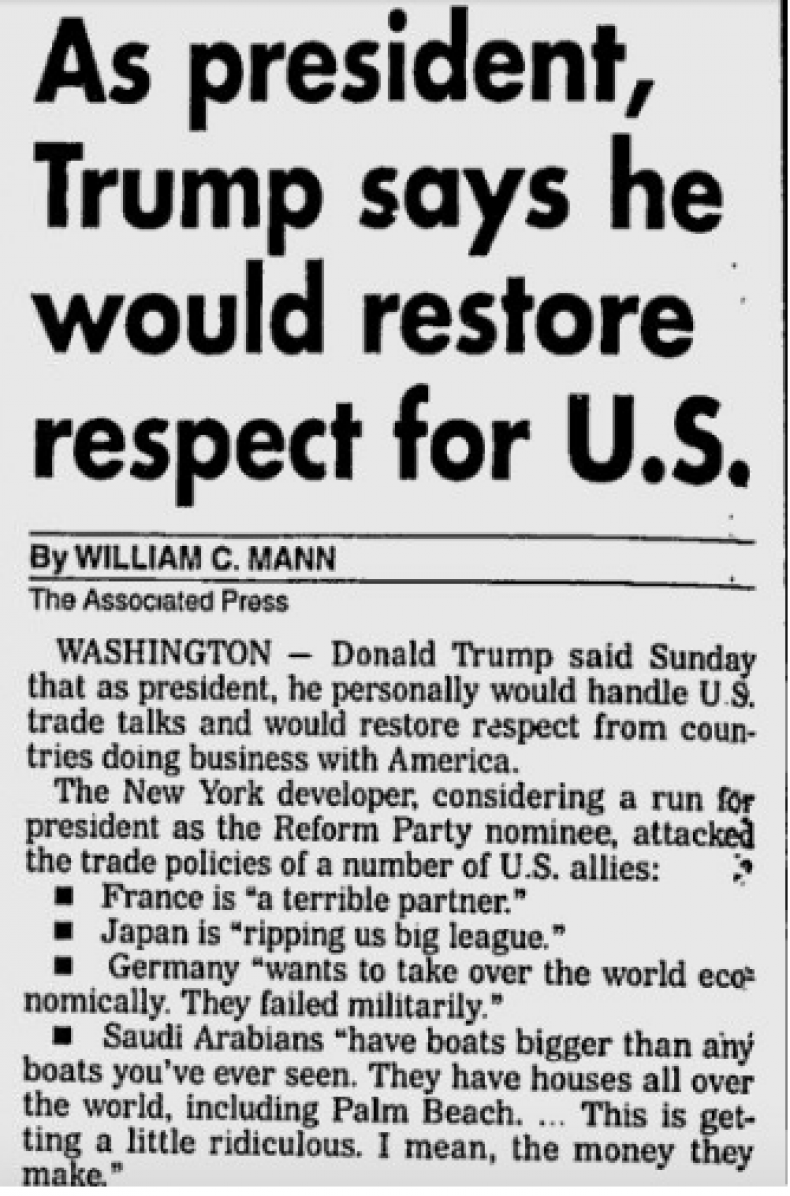 Trump appeared to know that running for president would be complicated by his treatment of women. Here he is in 1998: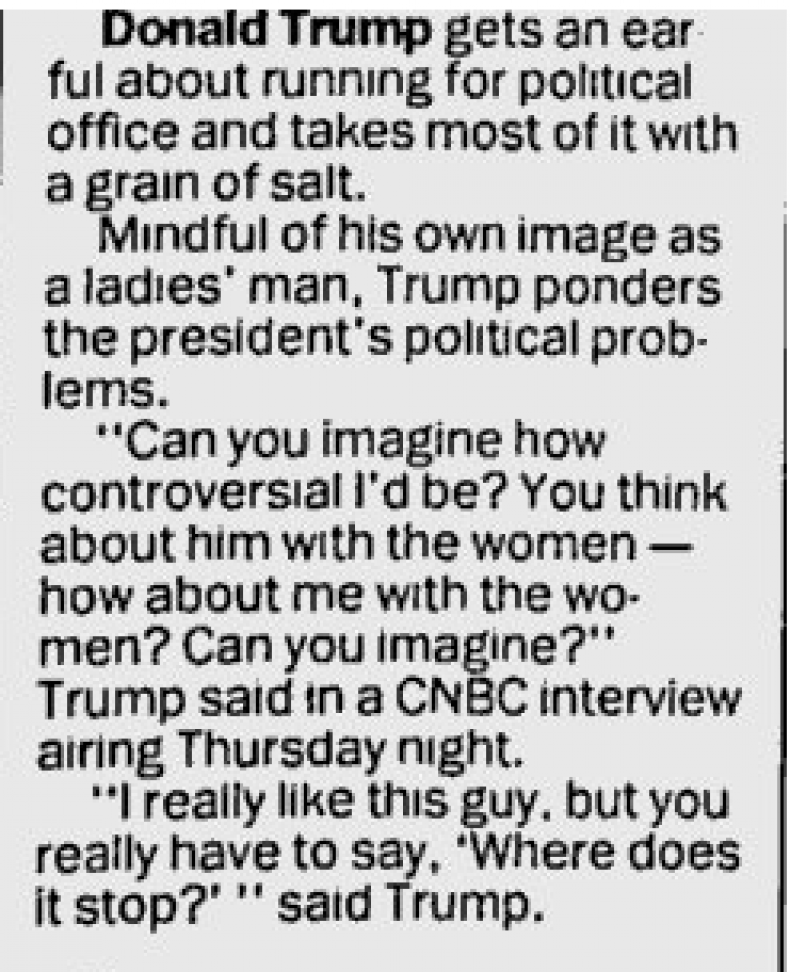 Maureen Dowd, the New York Times columnist, spoke to Trump about his presidential aspirations in 1999. He returned to the topic of women, this time in the context of Bill Clinton's impeachment. The lesson, for Trump, was clear: Monica Lewinsky wasn't hot enough.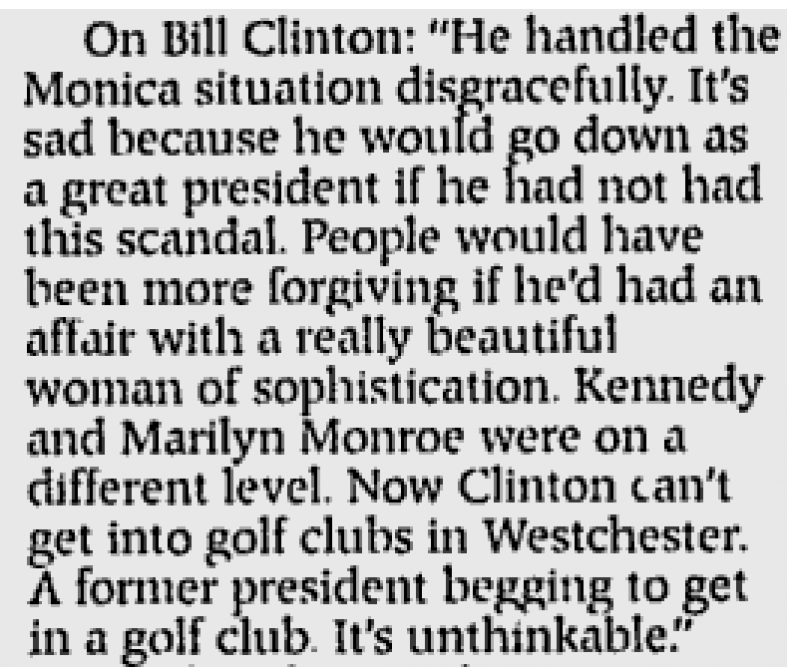 Really, though, all we had to do was listen to the maid: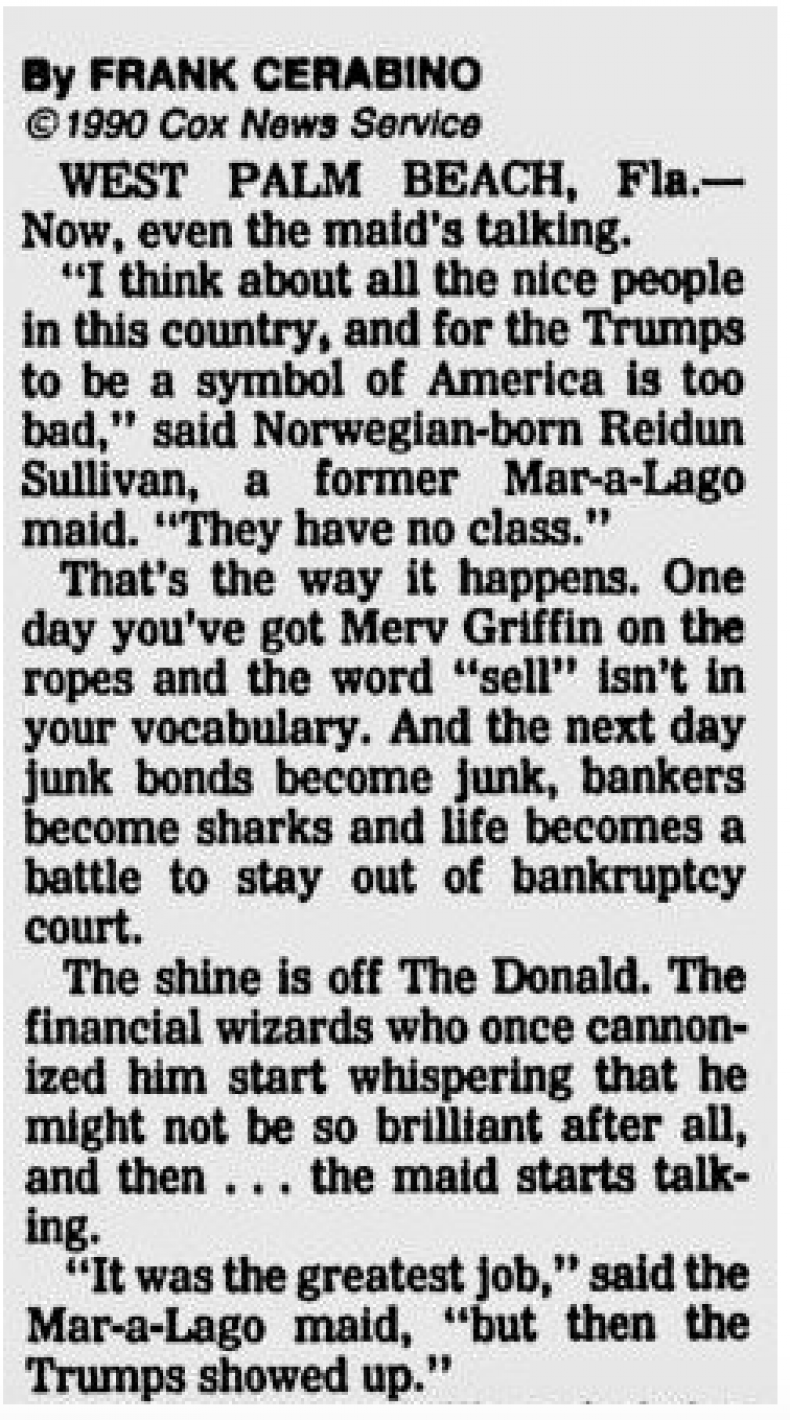 Or the Trump Organization executive. In 1991, John R. O'Donnell published a book called Trumped! about his time with the Trump Organization. Here is an excerpt of a review of that book written by Pat Widder of the Chicago Tribune: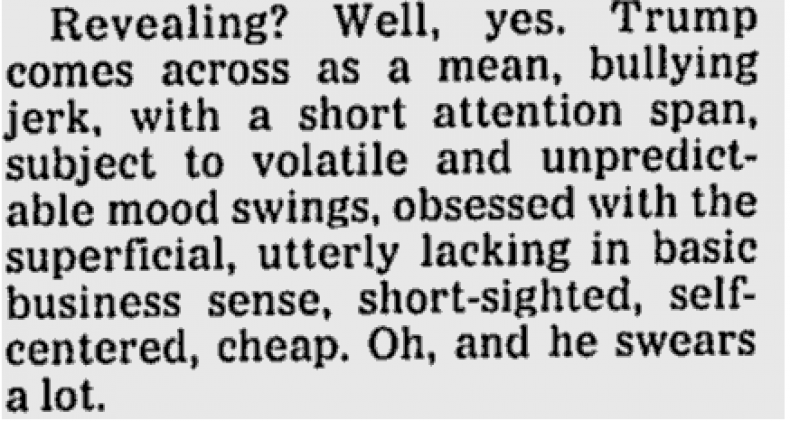 Among the more curious details I found was not from a newspaper but a book, Private Parts by Howard Stern, the radio host and gleeful misogynist. The following is about the model Sandi Korn, whom Stern spends several pages mocking. He ends with this:

I reached out to both parties, but received no comment.
Our greatest politicians inspire with language that transcends partisan politics. Abraham Lincoln (a Republican, just like Trump!) summoned "the better angels of our nature"; Ronald Reagan (also a Republican and also, like Trump, sort of orange in complexion) proclaimed it was "morning in America again."
As for Trump?
"I want to see the bodies that won the swimsuit contest," he said, according to this article from 1991: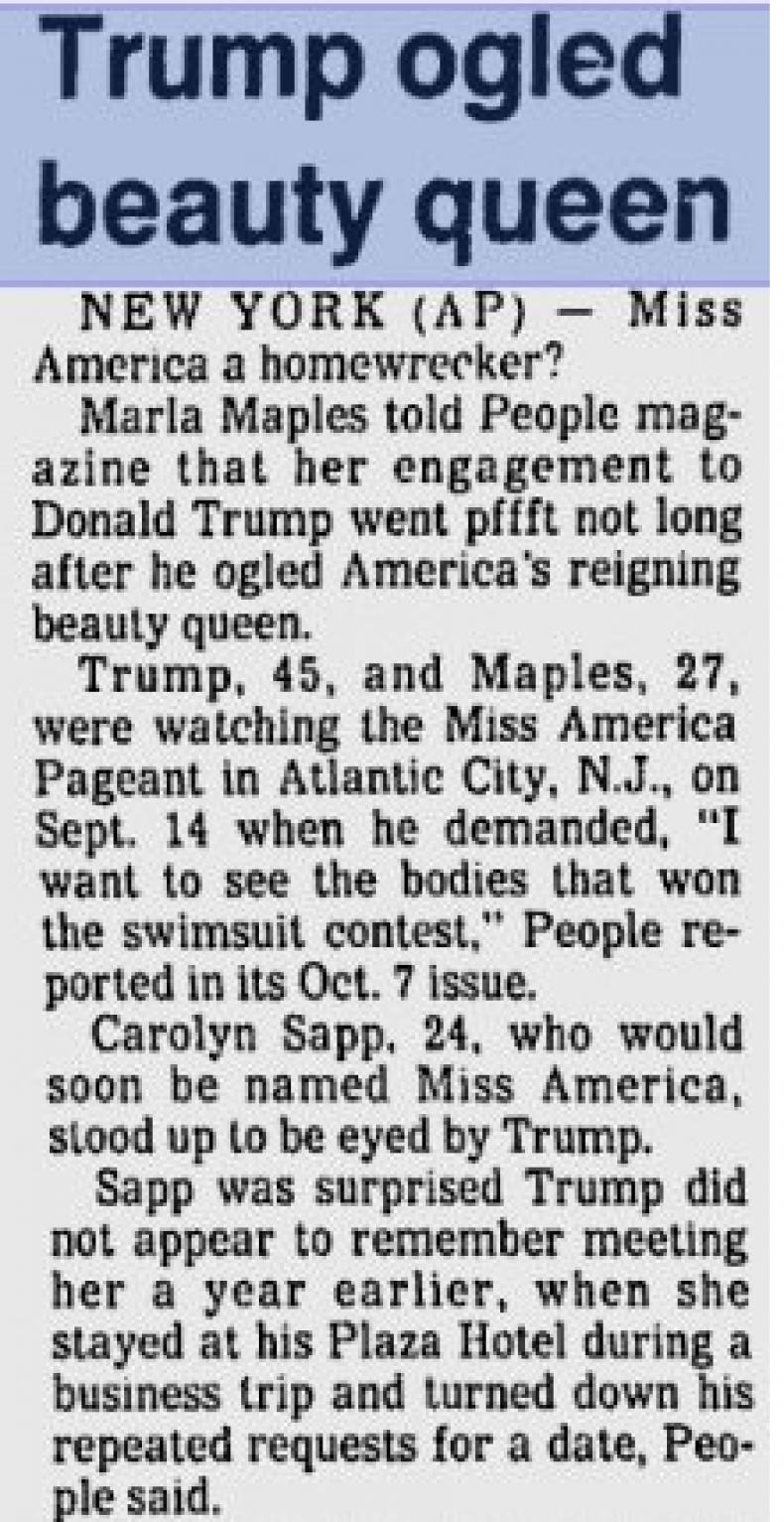 Trump once tried to make a deal for the former heavyweight boxing champion, Mike Tyson, who was convicted of rape in 1992. He proposed that Tyson hold boxing bouts and use the proceeds to pay off the woman he'd assailed. Though a thorough newspaper chronicle of this proposal exists, nothing tops this defense of Tyson, which Trump made to Charlie Rose:
We should have listened to the maid.