"I thought we had won, I thought it was over," said President Donald Trump on Wednesday afternoon regarding an official impeachment inquiry launched by House Speaker Nancy Pelosi on Tuesday afternoon. The president used familiar language when referring to the inquiry calling it a "hoax," a "witch hunt" and a "lie" created by Democrats because, he said, they can't beat him at the polls.
Trump spoke to reporters from the Intercontinental Hotel in New York City at his first official press conference following Pelosi's announcement the day before.
The impeachment inquiry directly followed revelations that the president had a July phone call with his Ukrainian counterpart, Volodymyr Zelensky, where he asked the foreign leader have Joe Biden and his family investigated. Trump asked Zelensky to look into why the former vice president and 2020 presidential candidate pushed for a former Ukrainian prosecutor, who had been accused of corruption by the Obama administration, to be ousted.
"No push, no pressure, no nothing. It's all a hoax," the president said of the investigation during the press conference. The president said Congress and reporters should ask for the transcript of an earlier conversation he had with Zelensky as well as two conversations Vice President Mike Pence had with the Ukraine leader. "You can have it anytime you need it," he said but later clarified that he would release the transcripts "if it's important for you."
He also repeated multiple times that all of the conversations he and Pence had with Zelensky were "perfect."
The president, according to the White House summary of the call released earlier in the day, said, "I would like you to do us a favor," before bringing up Biden.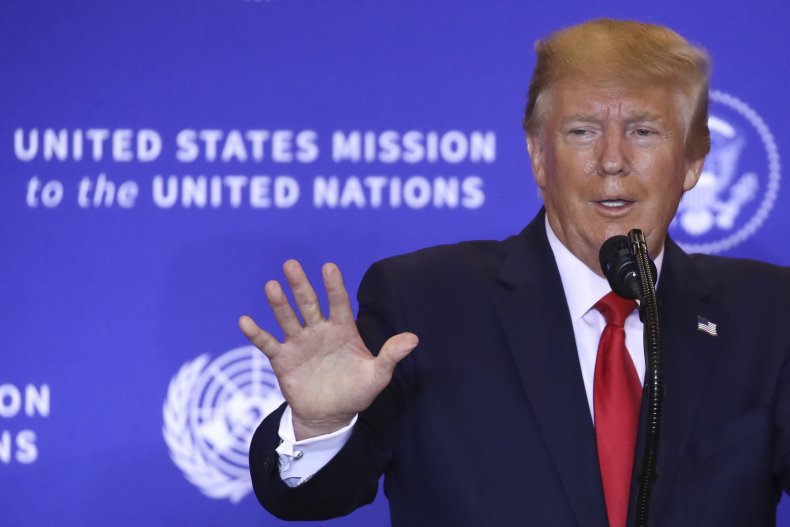 "I would like you to find out what happened with this whole situation in Ukraine...There's a lot of talk about Biden's son, that Biden stopped the prosecution and a lot of people want to find out about that," he said. "So whatever you can do with the attorney general would be great. Biden went around bragging that he stopped the prosecution so if you can look into it...it sounds horrible to me." The president then said several times that he'd have his personal lawyer Rudy Giuliani and Attorney General William Barr check up on the matter.
Reports of the president's request first came from a report filed by an anonymous whistleblower who claimed he was aware of the call and possible other incidents involving the president's interactions with foreign leaders. A redacted version of the complaint was expected to be sent by the White House to Congress this afternoon.
The president, meanwhile, met with Zelensky at the United Nations earlier Wednesday morning. There the president assured the press that their phone call was norma. Zelensky said that he did not feel pressured by the United States to investigate Biden but also that he did not want to get involved with the accusations.
"I'm sorry, but I don't want to be involved to democratic open elections. Elections of USA," he said.