Donald Trump Press Conference Live Stream: Watch President Speak Following United Nations General Assembly
There will be no shortage of topics in the air when President Donald Trump holds a rare solo news conference on Wednesday at 5 p.m. in New York City. Trump is hosting the press conference, only the second during his 20 months as president, following the United Nations General Assembly. Trump's remarks can be watched on CSpan, with a live stream available on the White House's YouTube channel below.
There will be much to discuss from the U.N. meeting, including Trump's claim Wednesday that China was interfering in the 2018 midterms in an effort to harm his administration as a result of the steep tariffs he has placed on Chinese goods. Trump also hinted earlier in the day that he will give further information about a planned second summit with North Korean leader Kim Jong Un. During the assembly, Trump has also spoken in harsh terms about both Iran and Venezuela.
But there is also sure to be plenty of interest in getting Trump's response to major domestic issues. Just hours before Trump's scheduled press conference, a third woman came forward with an allegation of sexual misconduct against the president's Supreme Court nominee Brett Kavanaugh.
The claim, by Julie Swetnick, was released by lawyer Michael Avenatti, who has also been representing adult film star Stormy Daniels in her cases against the president. Following the allegation, Trump hit out directly at Avenatti.
"Avenatti is a third rate lawyer who is good at making false accusations, like he did on me and like he is now doing on Judge Brett Kavanaugh," Trump wrote on Twitter. "He is just looking for attention and doesn't want people to look at his past record and relationships - a total low-life!"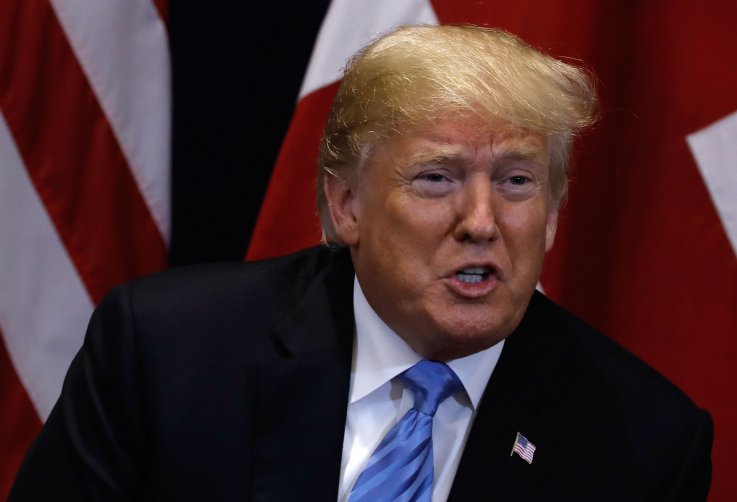 Trump has stood firmly behind Kavanaugh and cast doubt on his accusers, which also include Christine Blasey Ford and Deborah Ramirez. Ford and Kavanaugh are scheduled to testify before the Senate Judiciary Committee Thursday.
Trump could also face questions about his Deputy Attorney General Rod Rosenstein. Earlier in the week, it was widely reported that Rosenstein had either resigned or was about to resign amid fear of being fired following a New York Times story that claimed he had discussed secretly recording the president and invoking the 25th Amendment to remove him from office.
White House press secretary Sarah Huckabee Sanders later clarified the situation, stating that Rosenstein and Trump had talked over the phone and would meet on Thursday once the president had returned to Washington D.C. from New York City.
Donald Trump Press Conference Live Stream: Watch President Speak Following United Nations General Assembly | U.S.