Trump Didn't Mention Pride Even Once Throughout All of June. That Matters.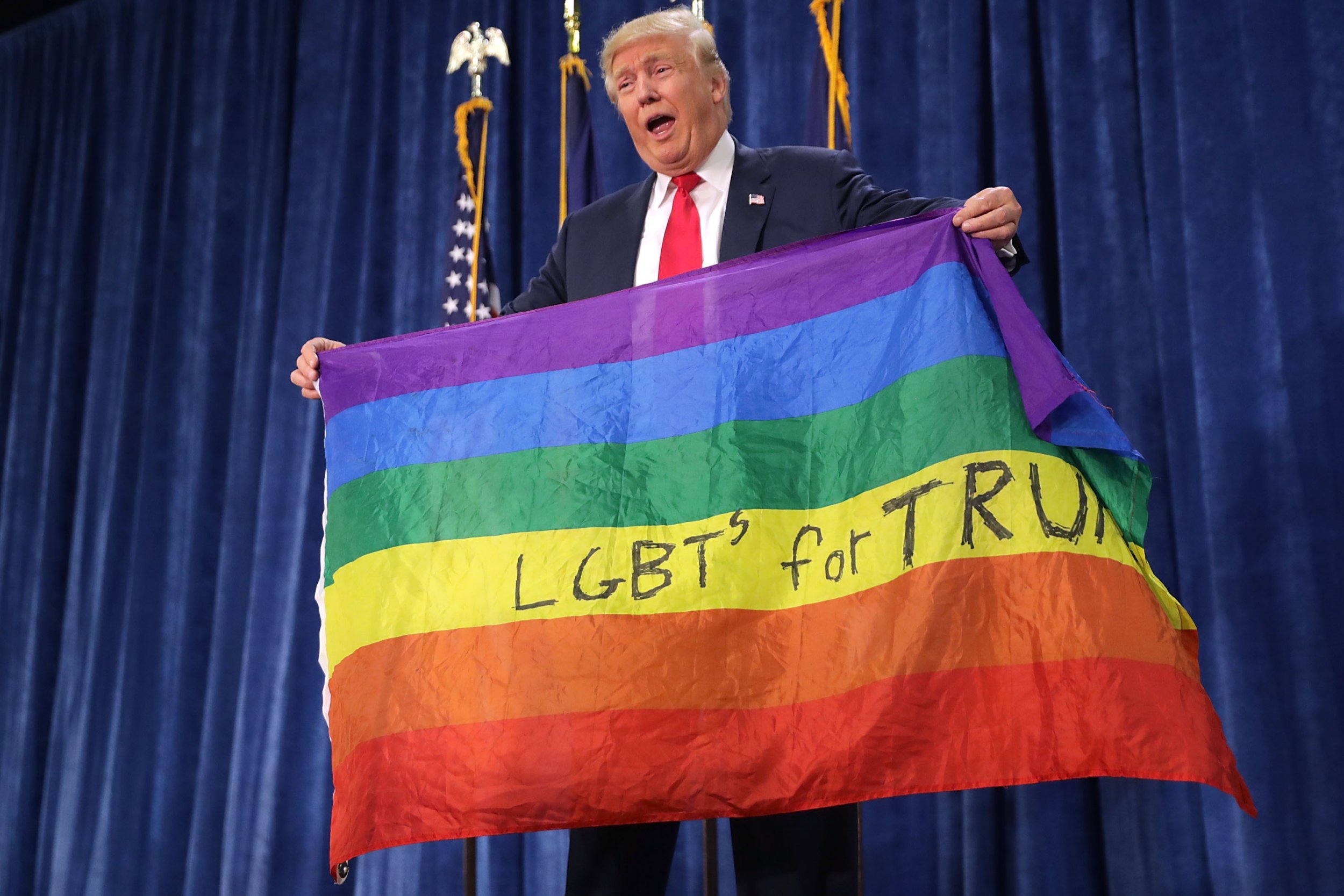 My president appeared on the cover of OUT, a gay magazine I used to flip through in Barnes & Noble as a curious little boy.
He officially proclaimed June as Pride month throughout his two terms in office—my entire adult life—to recognize and celebrate those of us considered to be "other." My president was the first president to push for marriage equality, which eventually happened under his watch.
For a young American man coming to terms with their own identity in a society that stresses heteronormativity, these acts genuinely mattered. For the first time in this nation's history, queer folks saw their commander-in-chief embracing them, supporting them and bringing their community's voices to the forefront. President Barack Obama made the fight for tolerance his fight, implementing a series of federal policies over the course of eight years to defend marginalized groups. My president seemed to genuinely care about us—the others.
Then came along my next president, who promised to "defend and protect our LGBT Americans" along the campaign trail. Donald Trump offered an alternative to the traditional Republican candidate: despite numerous concerns over statements he made about women, minorities, his apparent enemies and the left, the New York business mogul seemed to boldly endorse the LGBTI community, at one point unfurling a rainbow flag at a rally and posing for photographs while holding it.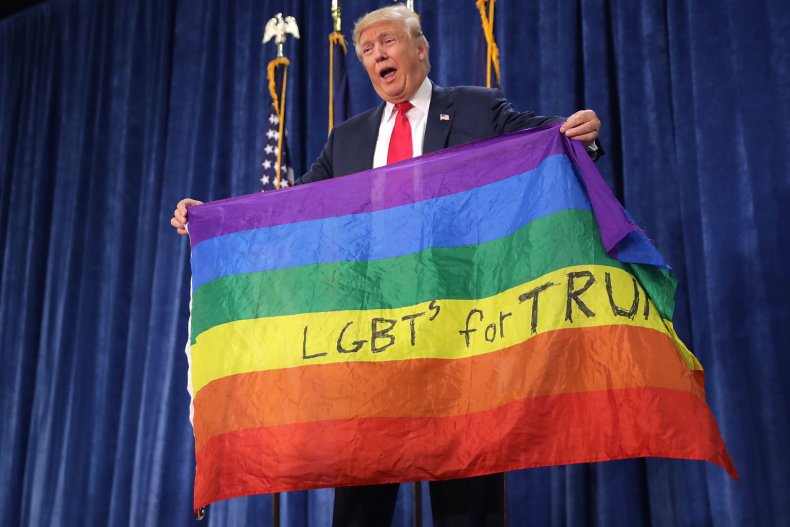 "Trump made history," gay conservative strategist Chris Barron wrote of that October night in 2016. "He's the most pro-LGBT [presidential] candidate ever nominated by either party."
Leading up to Inauguration Day, I was cautiously optimistic a Trump presidency may not completely derail the many leaps forward my community has been fighting for in this country for decades. But a few months into his tenure in the White House, Trump has steadily rolled back many of the freedoms we've only just recently begun enjoying.
During the campaign, Trump said states passing controversial "bathroom bills" like North Carolina, which restricted a person's restroom use based on their sex, should instead allow transgender people to "use the bathroom they feel is appropriate."
Just one month into his presidency, Trump revoked federal guidelines for the nation's schools stating exactly that: transgender children should be allowed to use a bathroom that matches their gender identity. He did it with the help of his Education Secretary, Betsy DeVos, who yields zero experience in academia yet believes LGBT students don't need the department's help defending against discrimination. She's just one of many Trump picks to oversee the federal government who have presented no interest whatsoever in defending and protecting LGBTI citizens.
In fact, many of the people the president surrounds himself with have unabashedly denounced the LGBTI community. Ken Blackwell, domestic policy chair of Trump's presidential transition team, very poignantly stated: "I believe homosexuality is a compulsion that can be contained, repressed, or changed...that is what I'm saying in the clearest of terms." He also openly discussed his own theory that homosexuality could be changed in someone, and that it's a choice similar to "kleptomania" or arsonism.
This was one of the people guiding Trump into life as a politician, alongside Vice President Mike Pence, whose strong opposition to gay marriage and track record of anti-LGBT measures speak for themselves.
And, through it all, he never once recognized Pride month. That should cause anyone to question whether Trump's campaign promises for an entire community were nothing but falsities.
As hate crimes rates are increasing across the country amongst virtually all marginalized groups, the United States needs a president who is truly willing to stand up for the beliefs he says he holds.
"We know that the normalization of violence, particularly against marginalized people, creates a culture of complicity and acceptance of hate-based violence," Sarah McBride, national press secretary for the Human Rights Campaign, told me in a wide-ranging conversation on Trump, the election and fake news playing into a spike in violence throughout the nation. "We also see that the political climate fosters violence. As anti-transgender measures are introduced across the country and the rhetoric is turned up, we are hearing from the community an increased vulnerability of harassment in their daily lives."
That isn't to say there has not been some effort to confront the crises the community is facing in Trump's America. It was announced Thursday Attorney General Jeff Sessions would begin reviewing the murders of transgender Americans after at least 14 were killed since January, speeding toward 2016's total of 22 trans deaths—the most in any year on record. His statements were just about the strongest defense of the LGBTI community any Trump Cabinet appointee has stated since the president took office.
"I personally met with the department's senior leadership and the civil rights division to discuss a spate of murders around the country of transgender individuals," Sessions said Thursday. "I specifically directed that the files of these cases be reviewed to ensure that there is no single person or group behind these murders, or to what extent hate crime motivation lies behind such murders. I receive regular updates on the status of that review."
Queer outlets applauded the Justice Department's move to publicly tackle the emerging crisis head-on. And rightfully so: to take a string of nationwide murders seriously from the top down should be the Justice Department's exact job, regardless of anyone's sexuality or political beliefs.
But in a time where it seems that there's been so much rapid progress made in advancing tolerance, the idea of being queer is just as taboo as ever. LGBTI citizens throughout the country feels as though they no longer have a seat at the table—one that was only just provided to us after decades of battling for equality. And now, just seven months into a Trump presidency, it seems the community that's finally been brought to the forefront of politics and the national conversation is once again being erased.
And when your president doesn't even speak about Pride month, it's hard to feel that progress is being made at all. Perhaps Trump could learn something from Sessions by using his office to address and advance LGBTI causes.
Or perhaps instead of solely attacking him on Twitter, my president could learn a thing or two from his predecessor.
Now, I worry for the young kids growing up as "other" under President Trump. Hate, fear and a wind of division seems to be sweeping over the globe; who will be their ally in the Oval Office? An American child growing up in 2017 should not have to wonder whether the president even recognizes their existence.